In 1990, a group of community advocates formed a non-profit organization to tackle low-income housing needs.  The group focused on purchasing older homes, rehabilitating the building, and ultimately renting the property to low-income tenants. These homes would have been destroyed or remodeled into market-rate housing.  Now called Homes First!, the organization has grown to own 22 buildings, leasing 42 low-income units including 15 units for developmentally disabled low-income adults through partnerships with local service providers like Kokua.
Trudy Soucoup, Executive Director of Homes First!, describes the organization as serving the niche between Habitat for Humanity (building affordable housing) and Rebuilding Together (improving homes for low-income owners).  "There is a large group of people where owning a home is never part of their life plan," says Soucoup.  Homes First! steps in and rents a clean, well-maintained home to low-income tenants.  Homes First!! believes that everyone deserves a decent home to live in regardless of his or her economic status.
"Our tenants like having us as a landlord.  When the roof leaks, we fix it.  If there is mold, we remove it," comments Soucoup.  As a result, tenants stick around.
Beyond managing homes rented to low-income tenants, Homes First! also serves as a property management firm for social service agencies.  The partnerships include shared living arrangements for developmentally disabled adults and transitional housing for people returning from substance abuse rehabilitation.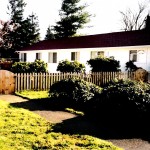 "Our relationship with Kokua, LGH Residential, Community Resources, Place One, and the Oxford Houses gives their tenants decent, reliable housing.  Their leaders can focus on service to their clients and we take care of the property management of their shared living facility," explains Soucoup.
Rental income covers 100% of the organization's administrative costs.  All additional donations go straight back into purchasing or building new homes.  Homes First!! conducts an extensive evaluation on a home prior to purchase, including considering the age of the home, type of tenant, remodeling needs, and availability of grants.
Olympia Federal Savings has supported the organization since inception.  "Oly Fed holds our loans and gives us the best possible rate.  Plus, the Chief Lending Officer is a board member and consistently provides solid financial advice when we are considering a new purchase," explains Soucoup.
Soucoup indicates that there are opportunities for interested volunteers.  "We are always looking for people to help in the office, paint a house, clean up a backyard, for example.  But above all, we want to educate our volunteers on the lack of affordable housing so that they can advocate for improving the situation in our community."
To learn more, visit the Homes First! website.