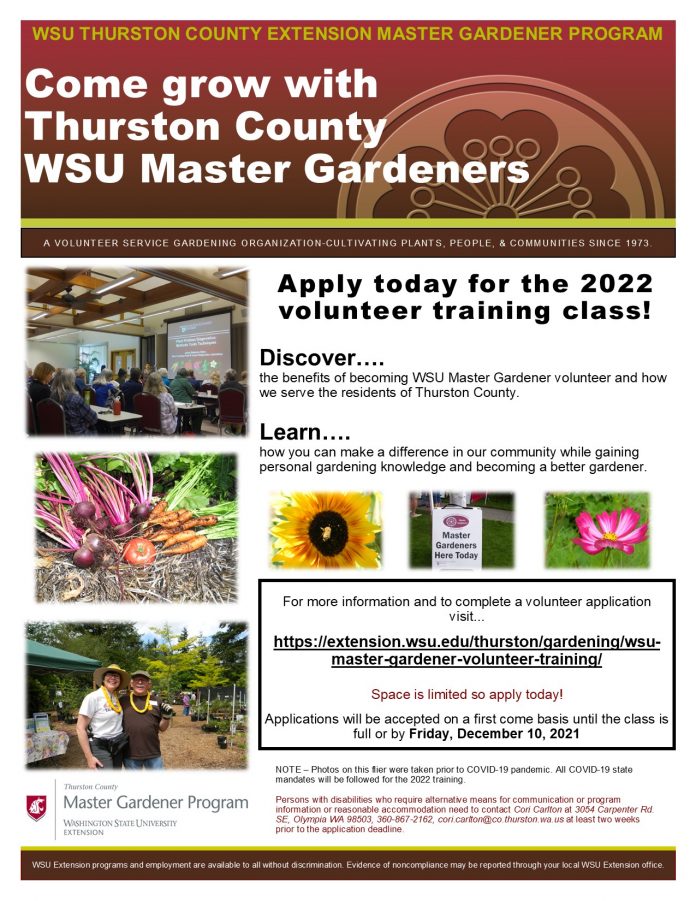 When:
2021-12-06T00:00:00-08:00
2021-12-07T00:00:00-08:00
Where:
Application Period Now Open

Calling all Thurston County Gardeners! The Application period for the 2022 WSU Master Gardener Volunteer Training is now open. This training is provided by the Washington State University (WSU) Thurston County Extension Master Gardener Program.
WSU Extension staff and regional experts will teach trainees how to use resources to research and educate best gardening practices. Trainees will also learn how to answer horticulture questions from the general public. Training topics include basic botany, integrated pest management, soil science, plant identification, pest, and disease diagnosis, and more.
The 2022 training course has about 75 hours of comprehensive virtual, classroom, and field-based instruction, starting Friday, January 28, 2022 and ending Friday, June 10, 2022. In addition, trainees will have to complete lesson assignments at home between class sessions. After completion of training, participants are asked to share what they learned via horticultural-related community service.
The WSU Master Gardener program is following all COVID-19 statewide mandates and safety procedures. To participate in the course all trainees must be fully vaccinated by the first day of class on January 28, 2022.
Tuition for the training is $325 and covers all course training supplies and field trips. Payment plans and a limited number of full or partial scholarships are available.
Applicants must be 18 years of age or older.
The deadline to submit a volunteer application is 5pm on December 10, 2021. For more information, and to apply for the 2022 WSU Thurston County Extension Master Gardener Training, please visit: https://extension.wsu.edu/thurston/gardening/wsu-master-gardener-volunteer-training/