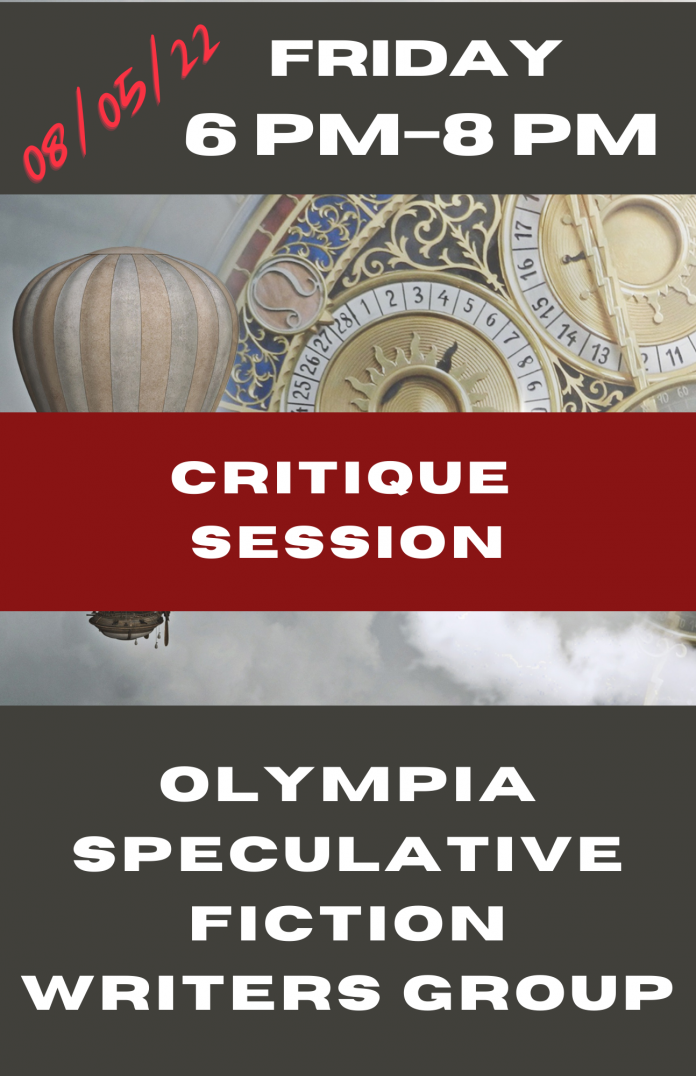 When:
August 5, 2022 @ 6:00 pm – 8:00 pm
2022-08-05T18:00:00-07:00
2022-08-05T20:00:00-07:00
Where:
Slack
Stay Home and Stay Healthy
We're the Olympia Speculative Fiction Writers' Group. We've been meeting every Friday for the past two years via Slack (no video or audio. only text). We're a mixed group of writers just starting out and writers who have been writing for years. Our aim is to get better at our writing and advance our careers through honest and knowledgeable feedback, deliberate practice, and community building.
This Friday @ 6 PM, we're doing our bi-weekly critique session. Local writers of speculative fiction are welcome to come and share their speculative fiction of 3,500-words or less. Invite link to Slack channel available on our page https://www.reddit.com/r/Oly_Spec_Fic_Writers/
Olympia Speculative Fiction Writers is modeled after the North Seattle SciFi and Fantasy Writers, intensive speculative fiction workshops, and Brooklyn Speculative Fiction Writers, all writing communities with the mindset of helping writers improve as professionals through workshops, exercises, and informed critiques. These groups aim for more than simple critique exchanges like most writing groups and prepare people for careers as writers and authors. Oly Spec Writers was designed with all of that in mind!
Ultimately the goal and aim of Oly Spec Writers is to make writers better so that they can reach their career goals. Our setup isn't great for hobby writers, journalers, or writers who have generally given up on publishing. We're writers who take writing and our careers seriously while having fun learning how to make this crazy thing called writing work.
Writers who come to the group and participate are there to learn, grow, and become professionally published authors, whether full-time or part-time. This group is excellent for beginners and pros (we have both!) and all those in-between.
Critique Guidelines:
-All stories or excerpts shared must be speculative fiction stories up to 3,500-words
-Writers need to give critiquers focus areas for their stories so they have an idea of what state or draft the story is in and what issues writers want critiquers to focus on while reading.
-Writers sharing their stories for critique must also include with their focus areas content warnings.
-Sex, violence, and curse words are okay. But listen if someone says something makes them uncomfortable (you're not writing in a vacuum)
-All writers asking for feedback must give it to others. No showing up just for your story.
-Be open to feedback, critiques, and comments, and understand there is more than one way to approach writing a story
-No copy editing (our critiques are developmental and content-based)
For more information about our critiquing practices, check out the post linked with this event.
If you can't make it this Friday, no worries! We meet every week on this schedule:
First Friday- Critiques
Second Friday- Workshop/tutorials
Third Friday- Critiques
Fourth Friday- Decompress and talk shop
Occasional Fifth Friday- Reading Workshop