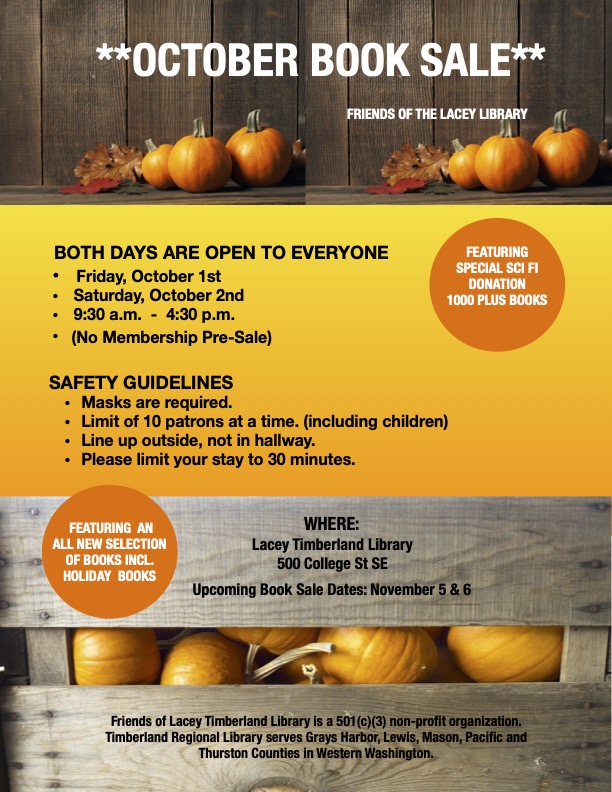 When:
October 1, 2021 @ 9:30 am – 4:30 pm
2021-10-01T09:30:00-07:00
2021-10-01T16:30:00-07:00
Where:
Lacey Timberland Library
500 College St. SE Lacey
WA 98503
Contact:
Rosemary Conor
3602597482
Friends of Lacey Library October Book Sale: Friday & Saturday, October 1 & 2 from 9:30 am to 4:30 pm! Both days are open to everyone. For Your Safety: masks are required, a limit of 10 patrons at a time, line up outside, limit your time to 30 minutes.
Where: Lacey Timberland Library Meeting Room at 500 College St. SE, Lacey 98503
Our featured collections this month include a special Sci Fi donation and an all new selection of books including holliday books – first time on sale!
Upcoming Book Sale Dates: November 5 & 6.
Friends of Lacey Timberland Library is a 501(c)(3) non-profit organization. Timberland Regional Library serves Grays Harbor, Lewis, Mason, Pacific, and Thurston counties in Western Washington.