At Capital High School (CHS), the CorePLUS Aerospace Program gives students huge head starts on their career paths. The advanced manufacturing curriculum, through hands-on learning, prepares them for high-demand jobs as soon as they graduate. Since 2015, CHS has been a partner school with Boeing. Graduating seniors are poised to step into precision manufacturing jobs. These Boeing positions offer competitive pay with benefits. William Murray, shop instructor, believes this program answers the question, "How can we set these kids up to succeed?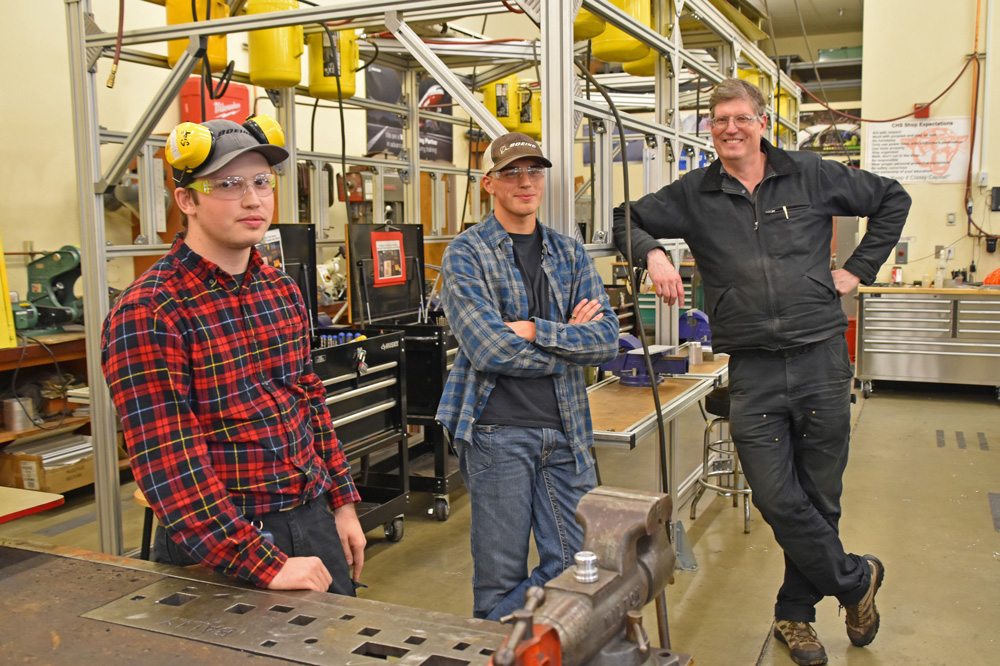 CorePLUS Leads to Employment Following High School
Not every student has sights on going to college for a four-year degree. Finances play a role for some, as college is expensive and many want to remain debt-free. Others see that a degree does not guarantee a job. Income potential is something others consider.
CorePLUS students accepted at Boeing can begin as soon as they are 18. Entry wages are approximately $24 an hour with designated pay raises every six months, a 401K matching program, and health benefits. After six years, their wages move up to the top pay for that position. That means initially the annual earnings with benefits exceed $50,000. Six years later, the pay will be over $80,000/year. It's clear to see that time spent in the shop pays off well.
Boeing employees also can take advantage of having their college tuition paid if they choose to take classes.
Capital High Shop Classes Lead to Jobs
Capital High School CorePLUS students are hired into precision mechanics. They agree to work in that sector for the first year, and after that they can apply for other positions within the company. Brodie James Gay, who graduated last spring, started at Boeing when he turned 18. Though he did not specifically do the CorePLUS program, Brodie took nearly every shop class offered and gained multiple skills, which the company appreciated. "I'm putting insulation and hydraulic lines in the belly of the plane," he says. Brodie is already planning to take classes at Clover Park and move upwards to be a machinist. "It's nice to have real money," says Brodie. Even at this young age, he can picture buying a house before too long.
Precision Mechanics
Calm and well-spoken, David Hooper is a senior who completed an internship at Boeing this past summer. He'll complete the CorePLUS program this year. A job awaits him. "I wanted to be a welder, but there are not so many opportunities at Boeing as they sub out welders," he explains. He shifted to precision manufacturing. "I like riveting. It's a tedious process, but it's awesome."
David happily demonstrated riveting. Riveting has a front and back side, and they both need to be correct. The quality control is very specific. When working with the metal, it takes only a second to go too deep, get a ding, nick the surface, or leave a lip. Concentration and practice lead to consistent accuracy. "You do get a feel for it the more you practice," assures David. To this observer, it looked easy to make an error.
In 2017, Mylo Lang, a Capital High School senior, was the State Champion Aerospace Assembler for SkillsUSA, an organization that empowers students to become skilled, career-ready leaders and professionals. As the first CHS CorePlus student hired by Boeing, he started work right after graduation. Through his diligence and planning, he is now a machine apprentice, which requires higher-level skills and offers greater income potential. Boeing has paid for his college classes.
"Those students who achieve a CorePLUS certification go straight to the interview process," says Murray. "For every job there are about 2,000 applicants." CorePLUS students get to skip that application process.
"We are totally up to speed," adds Murray explaining that he, too, has had training to teach skills that match what Boeing wants with things like drilling holes, blueprint reading, safety wiring and rigging heavy weights for a crane. The CorePLUS curriculum also teaches critical job skills such as professionalism, being self-responsible, and showing up on time. Boeing estimates that the CorePLUS program saves them $7,000 per person hired in training costs.
All Training is Done at Capital High School
Shop classes include welding, wood shop, precision manufacturing, sign design and metal school. CorePlus Aerospace all happens in the shop, so students stay in the building, as opposed to needing to school at another site. As freshmen or sophomores take classes, Murray mentors those who show interest or talent in pursuing a career with technical skills.
Boeing and Capital High School are working now on Computer Numeric Control (CNC). There is one machine in the shop and the school is working on getting a second one. It's an entirely different skill that Boeing wants students to be able to perform proficiently.
Shop Classes are Inclusive
Shop classes formerly excluded females. It's still predominately males but young women are welcome. Sign design has become more popular with female students. Murray suspects it is because the sign class begins with design. The model is to first design and then make, while most other shop classes give you the blueprint and that's what you make.
If you or a student you know has an interest in a manufacturing career at Boeing or you want to know more, go to the Capital High School website.
Sponsored