Kids grow up so fast! Luckily, there are plenty of places to get pictures with Santa in Thurston County this holiday season. Capturing special moments on camera keeps those memories of Christmas' full of wonder and magic alive even when they have kids of their own. Plus, they are great to pull out when they bring their significant other home to meet you for the first time. Here is a guide to 2023 Santa Photos near Olympia and throughout Thurston County.
Cabela's Lacey
600 Gateway Boulevard NE, Lacey
Now through December 24
Santa's Wonderland is back at Cabela's, where you can get a free 4×6 photo with Santa. They have all kinds of kid's activities, so be sure to take some time and explore. Your child can even write and post their letter to Santa. Reserve your timeslot on the Cabela's website.
Capital Mall
625 Black Lake Boulevard SW, Olympia
November 18 – December 24
Santa will be visiting the Capital Mall from November 18 through December 24. Reservations are available and recommended but not required. Bring your pet to the dog-friendly Capital Mall on November 29, December 6 and 13 for Pet Night!
Soothing Santa photos for those who want a sensory-friendly experience will be on December 3 and 10 for 2023. For this event, email info@capitalmallolympia.com or call 360.754.8098, do not use the online reservations.
JCPenney inside the Capital Mall is having their Santa photos at the JCPenney Portraits Studio on November 27. Call 360.754.8041 or visit the JCPenney Portraits website to schedule an appointment
LoveOly WinterFest
222 Market
222 Capitol Way South, Olympia
November 26, 12 p.m. – 6 p.m.
Head to Winterfest in downtown Olympia and visit Santa Sweeng and Santa Pat with Mrs. Claus. No reservations are necessary. Bring your camera for a wonderful memory to cherish forever. Then stay and enjoy all the WinterFest activities, including free horse-drawn carriage rides at State Avenue and Columbia. For more information, visit the Olympia Downtown Alliance website.
Signing Santa
Chambers Elementary
6501 Virginia Street SE, Lacey
December 1, 6:30 p.m. – 8 p.m.
Signing Santa will be returning to Chambers Elementary on December 1. 2023. Santa knows sign language, allowing every child to tell him their wishes and get a photo. For more information visit the Signing Santa website.
Cookies and Coco
3020 Willamette Dr NE, Lacey
December 2, 12 p.m. – 3 p.m.
Meet Santa and the Dogs of Monarch at a fun event that fosters a safe place for children to interact with Santa on their terms. Enjoy delicious treats and meet the Dogs of Monarch. Reserve your spot on the Community Action Council website.
Sensory-Friendly Santa
Sensory Tool House
5831 Lacey Blvd SE Suite J, Lacey
November 26, 10 a.m. – 2 p.m.
November 27, 2:30 p.m. – 6:30 p.m.
December 3, 10, 17, 10 a.m. – 2 p.m.
December 11, 2:30 p.m. – 6:30 p.m.
The Sensory Tool House will have sensory-friendly Santa visits in December 2023. Each family gets 15 minutes with the jolly old elf, in a low-light, sensory room. "If playing in the rice table is how the 15 minutes are spent, Santa will join in," shares Lauren Howard, director of operations at Sensory Tool House.
The visit includes one print photo in addition to digital copies of all photos taken. Cookies, cider and hot cocoa will be provided and each child will receive a small gift. To register, visit the Sensory Tool House website.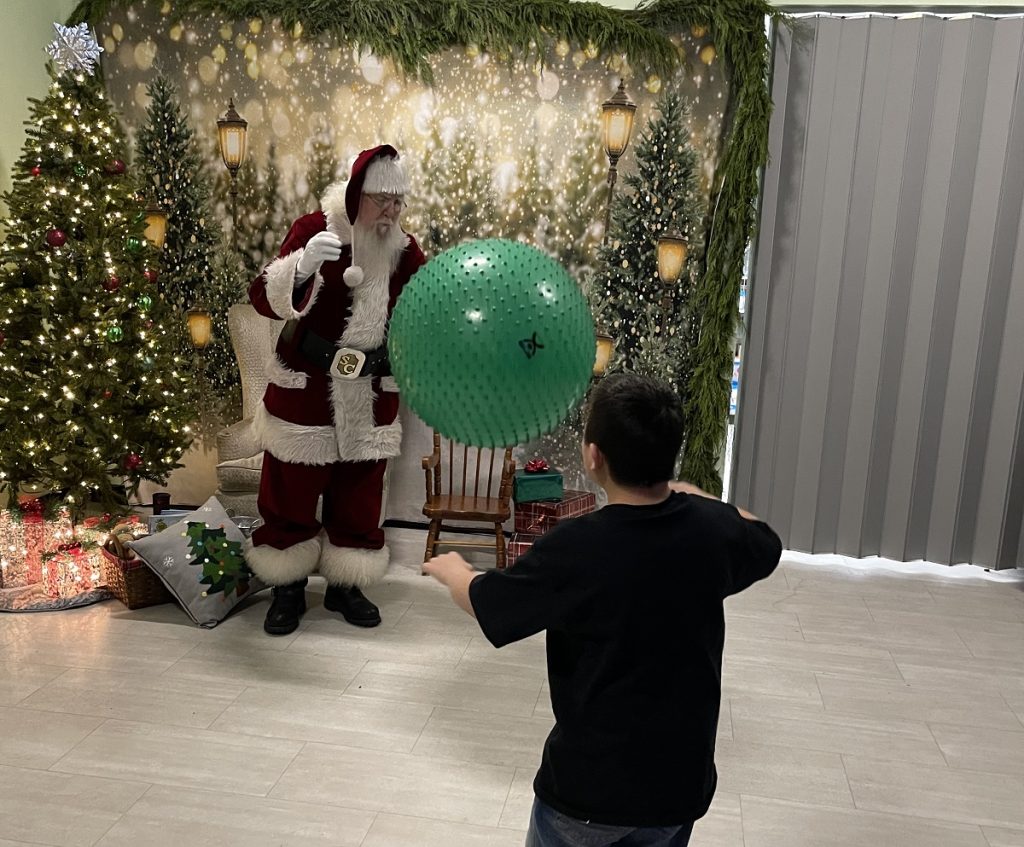 City of Lacey
Huntamer Park
618 Woodland Square Loop SE, Lacey
December 5
After the City of Lacey Lighted Parade on December 4 at 6:30 p.m., Santa will be at Huntamer Park for photos! Free hot chocolate is available while supplies last and there will be snack vendors too. Take a moment to enjoy the lights at Huntamer Park.
Breakfast with Santa
West Thurston Fire Station
10828 Littlerock Road SW, Olympia
December 9, 9 a.m. – 11 a.m.
The West Thurston Regional Fire Authority is having breakfast with Santa on December 9 and all are invited! Tickets are $6 and include breakfast and a photo with Santa. Proceeds support the community. Cash or check only, pay at the door.
Breakfast with Santa
First United Methodist Church
1224 Legion Way SE, Olympia
December 9, 7:30 a.m. – 11:30 a.m.
Come enjoy a delicious breakfast of pancakes, ham, scrambled eggs, coffee, and juice in holiday style. Get your photos with our amazing Santa as well. Only $10 per person or $40 for a family of four or more. Toys for Tots donations are encouraged. All proceeds help support Troop 48's Scouting program building Citizenship, Character, and Fitness!
Know of another Santa photo op? Email us at submit@thurstontalk.com!