The holidays will be here before you know it – are you ready? Instead of ordering everything on your phone, head to local holiday markets and bazaars for unique items supporting local businesses for everyone on your gift list. No matter the person on your list – grandmother, nephew, co-worker or that friend on Facebook you've never met but swear is your soul sister – these local artists, craftsman and business owners have something they will love. And spending the time at these fun events is a gift to yourself! Grab your cocoa and head to the 2023 holiday markets and bazaars near Olympia.
Homemade for the Holidays Bazaar
November 3: 4 p.m. – 8 p.m.
November 4: 9 a.m. – 4 p.m.
Thurston County Fairgrounds
3054 Carpenter Road SE, Lacey
Head to the Thurston County fairgrounds and get a jump on your holiday shopping! There will be food, including a bake sale by Lacey Presbyterian Church, and plenty of handmade items – from stocking stuffers to Hanukah gifts. They ask that you bring a can of food for the food bank.
4th Annual Holiday Bazaar
November 4-5: 10 a.m. – 4 p.m.
Prosperity Grange
3701 Steamboat Loop Road, Olympia
The Schirm Loop Homestead Lavender Farm's 4th annual Holiday Bazaar kicks of the shopping season early! Get your list crossed off, find some fun seasonal décor to deck your halls and enjoy warm drinks and music. There will of course be plenty of lavender goods!
Fall into Christmas Bazaar
November 11: 9 a.m. – 3 p.m.
Tumwater United Methodist Church
1401 Lake Park Drive SW, Tumwater
360.753.8804
The Tumwater United Methodist Church will once again hold its Fall Into Christmas Bazaar near Olympia in Tumwater. There will be all kinds of handcrafted items, baked goods, preserves, pet goods and more. If you are looking for stocking stuffers – they got them! There will also be raffle items. If you need more information, call 360.753.8804.
Kris Kringle Market
November 17: 5 p.m. – 9 p.m.
November 18: 10 a.m. – 6 p.m.
Thurston County Fairgrounds/Lacey Community Center
3054 Carpenter Road SE, Lacey
The Kris Kringle Market, a European-style holiday market in Lacey put on by the Spouses' Club of Lewis-McChord. There will be tons of fun vendors to check out for the whole family! The market raises money that directly benefits military families in the JBLM area. There will also be a beer hall, food trucks and even a visit from Santa. Kids can enjoy free hot chocolate and crafts. Purchase tickets online and save!
Holiday Bazaar at Affinity
November 18: 9 a.m. to 3 p.m.
Affinity at Lacey
6950 Birdseye Avenue NE, Lacey
Affinity at Lacey is having their Holiday Bazaar on Novmeber 18! There will be baked goods, candy and all sorts of crafts. Santa will be there for your photos and live holiday music will put you in the giving spirit.
Bearzaar
November 18: 9:30 a.m. – 4 p.m.
Olympia High School
1302 North Street SE, Olympia
Head to Olympia High School to shop over 150 local vendors this holiday season! The event is free, but you can pay for early admission at 8:15 a.m. for just $5. Proceeds goes to Olympia High School students. They will also have raffles!
Spirit of Christmas
November 18: 9 a.m. – 3 p.m.
First United Methodist Church
1224 Legion Way SE, Olympia
Shop all kinds of gift items from vintage to handmade as well as tasty treats! There will even be a cookie walk! Proceeds benefit children, youth and woman through local and nonprofit agencies.
Swede Hall Bazaar
November 18: 10 a.m. – 6 p.m.
November 19: 9 a.m. – 4 p.m.
18543 Albany Street SW, Rochester
Head to Swede Hall for a Holiday bazaar in Rochester mid-November. There will be all kinds of things to shop for – from birdhouses and Scentsy to handmade fishing jigs and rugs. They will have fresh wreaths for the holidays as well as food to keep your energy up.
Holiday in the Northwest Market
November 24: 12 p.m. – 6 p.m.
November 25: 10 a.m. – 4 p.m.
Thurston County Fairgrounds
3054 Carpenter Road SE, Lacey
Black Friday and Small Business Saturday can be spent at Holiday in the Northwest Market at the Thurston County Fairgrounds! This European-style market is put on by the South Sound Makers Market. There will be over 80 vendors selling all kinds of things and plenty of food trucks to keep your shopping stamina up. Admission is free and there will be photos with Santa as well.
South Sound Artisan Guild Market: Black Friday Event
November 24 – 25: 8 a.m. – 10 p.m.
Capital Mall
625 Black Lake Boulevard SW, Olympia
Heading to Capital Mall on Black Friday? Be sure to check out the South Sound Artisan Guild Market: Black Friday event. There will be plenty of booths spread out in the Grand Courtyard by the food court, and throughout the mall. The mall has many LOC-OLY shops and this holiday market in Olympia is just another way to support more artists while doing your holiday shopping.
Tenino Holiday Market 2023
November 24-26: 10 a.m. – 5 p.m.
The Kodiak Room
225 Sussex SW, Tenino
Looking for a holiday market in Tenino? Look no further! The weekend after Thanksgiving is set aside for shopping, and the Tenino Holiday Market is the perfect setting. There will be many local vendors. Just select your items from each booth and check out once at the end! It's a fast and efficient way to shop local. Find out more by visiting the Tenino Arts Facebook page.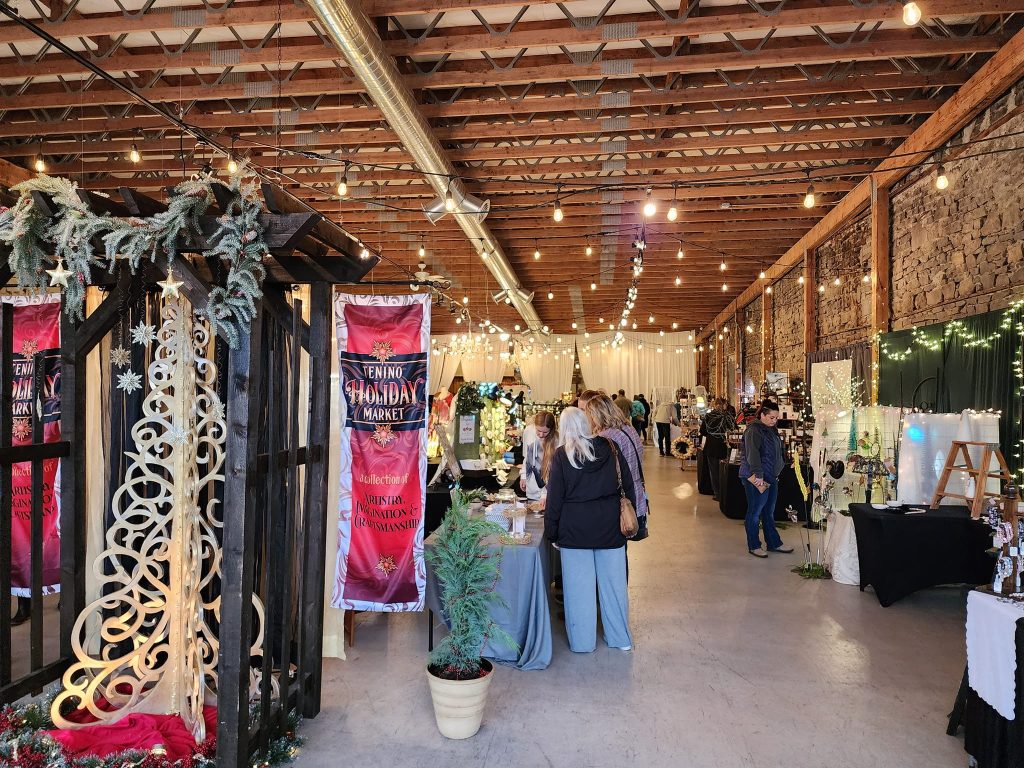 Lincoln Winter Market
November 25: 11 a.m. – 4 p.m.
Lincoln Options Elementary School
213 21st Avenue SE Olympia
The Lincoln Winter Market at Lincoln Options Elementary School is happening again on the Saturday after Thanksgiving. Live music, warm drinks and treats make for enjoyable shopping experience at this Olympia holiday bazaar. Look for the special market that has items for sales made by the kids. Visit the Lincoln Options Elementary School website for more information.
WinterFest Holiday Maker's Market
November 26: 12 p.m. – 6 p.m.
5th & Washington Avenue, Olympia (Heated Tent)

Organized by the Olympia Downtown Alliance, this fun Maker's Market will have plenty of gifts for everyone on your list. There will also be live performances by local school choral, jazz and orchestral ensembles and an Olympia Symphony quartet. Free hot chocolate and kid's activities from Hands On Children's Museum. Then, top it off with a visit from Santa and a tree lighting!
Hawks Holiday Happening Gift and Craft Fair
December 2: 9 a.m. – 4 p.m.
River Ridge High School
350 River Ridge Drive SE, Lacey
Find over 100 vendors to shop as well as music, door prizes, food and more at the Hawks Holiday Happening Gift and Craft Fair in Lacey. The event is a fundraiser for River Ridge High School Band Boosters. Visit the Hawks Holiday Happening website for more information.
Underhill Plants Maker's Market
December 2: 11 a.m. – 6 p.m.
117 Washington Street NE, Olympia
Upstairs at Underhill Plants there will be local Olympia artists sharing their planty goods. They will have a wide variety of plant art, candles, ceramics, jewelry, stickers, macrame, embroidery, and much more.
South Sound Artisan Guild Market: Holiday Celebration
December 9: 11 a.m. – 6 p.m.
December 10: 11 a.m. – 5 p.m.
Thurston County Fairgrounds
3054 Carpenter Road SE, Lacey
Head to the Thurston County fairgrounds once again for the South Sound Artisan Guild Market: Holiday Celebration. You will find all kinds of unique gifts and décor items made by local artists and crafters! Free parking and free admission.
Holiday Native Art Fair
December 9: 9 a.m. – 4:50 p.m.
The Evergreen State College House of Welcome Longhouse
2800 Dogtooth Lane NW, Olympia
The Holiday Native Art Fair at The Evergreen State College is a wonderful place to find something truly unique created by local Native American artists. Find jewelry, games, paintings and carvings. Snack on traditional fry bread while shopping, you won't regret it! Find out more on The Evergreen State College website.