With the Great Depression and World War II behind them, many Olympia families were ready to celebrate Halloween in style. During the Baby Boom years, 1946 – 1964, the holiday transformed from a night of mischief into a family holiday.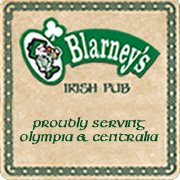 Olympia History: Baby Boomer Halloween
In the first decades of the 20th century, Halloween had been a night of pranks and vandalism. During the 1930s and war years, Halloween changed as children began going door to door asking for candy. In 1942 Garfield Elementary School students did "trick or scrap," asking for scrap metal as simple as a coat hanger instead of candy. With the end of sugar rationing, trick-or-treaters returned in force after the war.
But many people were not happy about the emerging tradition. In 1950, the City of Olympia's Recreation Department, in cooperation with the PTA and other civic organizations, tried to substitute "Tricks for Treats" for "Trick or Treat," to eliminate what they called its "gimme or else" threat. To earn their "handout," children were supposed to sing, dance, tell riddles or jokes or show off clever costumes. The Recreation Department tried to repeat the program the next year, but it did not become popular.
Despite trick or treating, pranks remained a problem as well. Soaping or waxing windows was popular. Wax was more difficult to remove than soap, so in 1947 Leslie Culp, manager of Schoenfeld's Furniture store, left soap outside the shop for children to use on the store's big glass windows. "The soap," he observed the next day, "was used generously."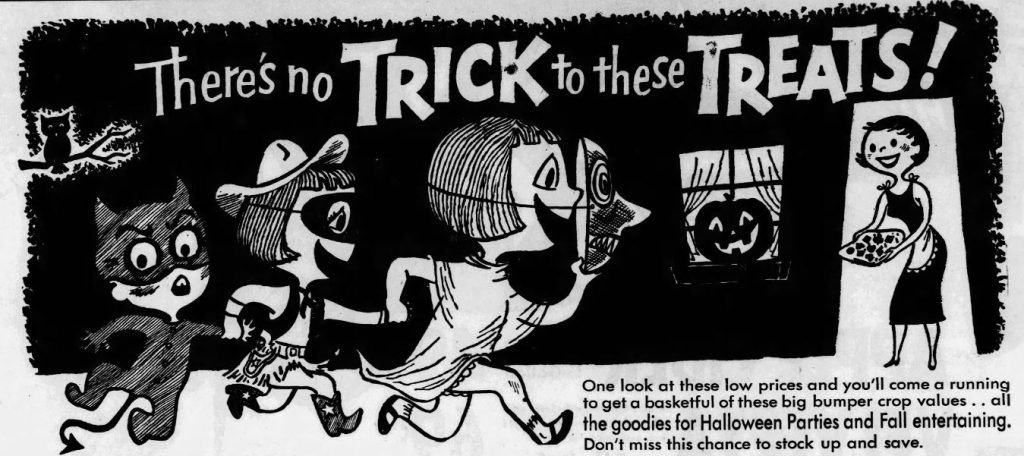 Other stores tried to redirect vandalism as well. In 1959 Tanglewilde Shopping Center had a window soap-drawing contest for children 12 and under. Everyone got ice cream and the grand prize winner got a bike.
With so many children out on their own, there was a new emphasis on safety. "Don't get a hobgoblin this Halloween night," Police Chief Roy L. Kelley urged the public in 1960, warning people to watch out for the "small pumpkin pilots." "Drive carefully and slowly Halloween night!" warned the Eastside Trading Company in 1962, "Keep our ghosts alive!"
Early Olympia Trick-or-Treating on a Mission
Groups used the holiday to fundraise. In 1949, women from the Disabled American Veterans Auxiliary held a Halloween sale at the Washington Gas and Electric Company, 413 South Washington Street. They sold candy, decorated cookies, candied apples, cakes, popcorn balls, etc. for people to give out at Halloween. The proceeds went to help their work supporting veterans' hospitals and rehabilitation facilities.
Beginning in 1950, local children began trick-or-treating for UNICEF. Armed with orange and black boxes marked with the slogan "A trick for a treat for the world's needy children," churches organized children and teens to go door-to-door to collect pennies.
History of Halloween Celebrations in Olympia Schools
Schools helped students celebrate Halloween. In 1963, Mountain View Elementary fifth graders put on two short plays, "The Real Witch" and "The Magical Pumpkin." They made their own costumes in art class. School lunches near the holiday often included a special dessert of "Halloween" spice cake. In 1969 the Olympia school district went all out with "goblin" stew, "witches" biscuits, "Halloween" molded salad, and a chocolate cake with orange icing and jelly beans – and milk.
PTAs also sponsored Halloween carnivals and parties. The McLane Elementary PTA held their party at the McLane Grange in 1953, showing free movies and holding dances and games for the costumed children and their families. In 1964, the Olympia Lions brought 130 special education students from John Rogers, Lacey and Morningside schools to celebrate Halloween at the Community Center. George Barner, noted local rock singer, performed holiday songs for the children.
Kids clubs and organizations also held parties, like the Boy and Girl Scouts. In 1946, Girl Scout Troops 22 and 25 combined to celebrate with a costume party at their "Little House" headquarters. The girls played holiday-themed games like pin the tail on the black cat, filled a "skull" with beans and enjoyed cider and donuts.
Community groups organized parties and dances for grownups. Others created events for the whole family, both kids and adults. In 1967, for example, the East Olympia Junior Firemen hosted a family Halloween carnival at the East Olympia Fire Hall. Guests enjoyed games, prizes, a cakewalk and other activities.
Halloween Night at the Movies in Olympia
Theaters began to show scary movies for Halloween. Many had a "pre-Halloween midnight" showing of horror films on Fridays before Halloween. The Capitol Theater also held annual Halloween parties during their Saturday children's matinees. They organized costume contests, staged events like a pumpkin pie eating contest and gave away free candy. Kids enjoyed cartoons and non-scary films, particularly westerns. In 1956 Halloween party-goers saw "Walk the Proud Land" and "Rawhide Tears."
Halloween remains a popular holiday today, enjoyed by many people. From trick-or-treating to parties or however you may choose to celebrate, here's wishing you a Happy Halloween, Olympia!