A day out at the field is an outing you won't forget, but driving to the city for a game can turn this fun afternoon into an all-day affair. With Oly Town FC right here in Thurston County, you can experience pro-am indoor soccer without having to hit any traffic. The Oly Town Artesians boasts amazing athletes on both men's and women's teams, bringing fast-paced, high-level soccer to the community. The coaches and athletes are rearing up for another great season, so be sure to get your tickets and come out to root for Olympia's very own pro-am soccer teams!
Passionate Coaching Builds High-Level Soccer in Olympia
Soccer has been a fan favorite sport around the world, and now Olympians and surrounding communities can enjoy professional level soccer right here. Hosted at the indoor field at The Evergreen State College, you and your family can conveniently head out for high-energy soccer games and see some of the most intense, exciting play soccer has to offer. The coaching team of Oly Town Artesians is deeply passionate about bringing this engaging sport to the local community, especially as current and past soccer players themselves.
Oly Town FC Women's head coach Matthew Herrera has been thrilled to participate as a player and now lead the Oly Town Artesians on the coaching side. Being a local soccer player himself who competed at North Thurston High School, it has been incredibly exciting to see opportunities for passionate professional-level athletes to compete in their home town. "What really matters to me is providing a platform for players," he shares. "As a community-based club, I believe having a local team based here in Olympia will really help this region develop young athletes and give them an opportunity to represent their home town when they are here."

The Oly Town Artesians come together through a combination of open trials to join the team and active recruitment to find some of the best talent out there. This has been an amazing development for athletes in or from Thurston County to show their skills on the field at a competitive level while representing the home they love. Soccer players as young as 16 can play for the Oly Town Artesians, bringing a range of ages and strengths to each team. Oly Town Women's Team assistant coach Vanessa Crisp is thrilled to see a space for youth to engage and grow into professional soccer, especially young women. "I loved having the chance to play on a designated girls' team," she shares. "It is extremely important for the community of girls soccer to have equality and equity in the sport, and it is one thing I really love about Oly Town's environment."
Oly Town FC Provides Opportunity for Competitive Soccer
Having fun and learning new things are key elements of playing sports at every age, and many athletes want to have a challenge too. Competitive soccer gives players a space to bring their best to the field and battle it out for the title. Oly Town FC goalkeeper coach Brad Hanson had dreamed of playing soccer competitively, but after starting a family at a young age, he didn't get to realize this dream in college. Thanks to Matthew Herrera, Brad was invited to play for the Oly Town Artesians and turn back the clock to experience the action and intensity of pro-am indoor soccer. "I am so grateful for the Artesians," he says. "It was great to get back some of the competitive years that I missed." Now as a coach, Brad can support other athletes in achieving their goals in soccer, literally and figuratively.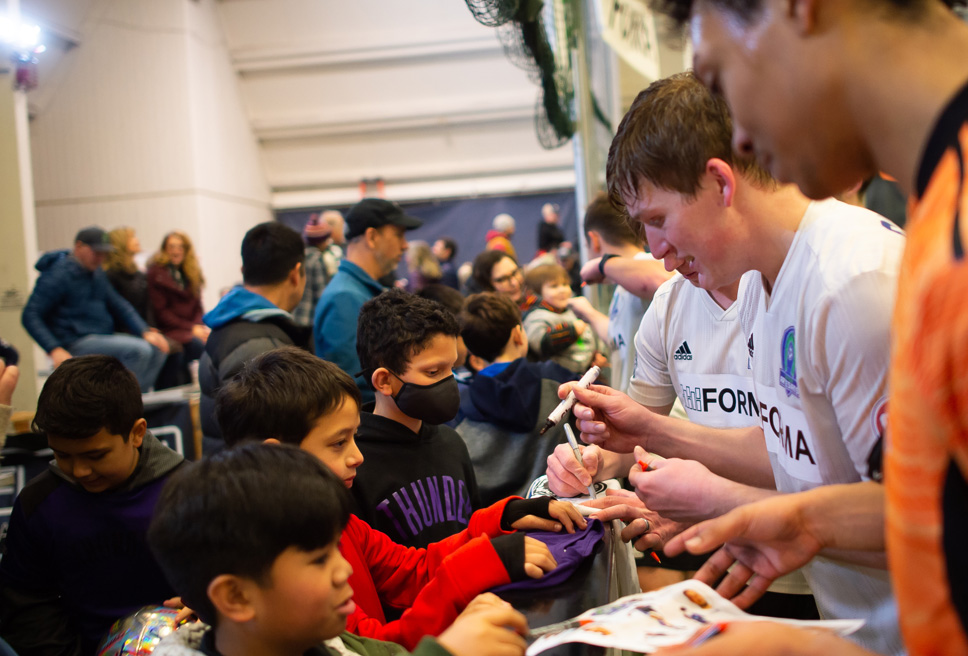 For all of the coaches, it has been incredibly exciting to see the varied and intense play that happens in indoor soccer. With the walls and smaller field, there are often higher scores for both teams and high stakes for every player in the game. "In indoor soccer, you get goals!" shares Vanessa. "It's a lot of action and is a high-energy, high-risk, and high-reward type of game. It's common to see scores get up into the teens or twenties most of the time." With this change of pace, indoor soccer is both more physically and mentally demanding than outdoor soccer.
"There is a whole different type of fitness than outdoor soccer," explains Matthew. "It is a team sport and there are patterns within the game to get to success, but it won't work if each player doesn't fight for it. If the players are winning those individual battles everywhere on the field, then they will win the game." This leads to a very engaging and exciting experience for fans in the crowd, with neck-in-neck scoring and the top players battling it out for the win. Olympians of all ages will find something to cheer for in every game, giving families, friends, and neighbors a new way to bond and connect. This season is one you won't want to miss!
Get Your Tickets for Oly Town FC's Upcoming Season
The Oly Town FC has brought an incredible soccer experience right here to our backyard, giving fans and athletes a place to really get into the competitive side of the sport. Thanks to a passionate coaching team and community partnership with Evergreen, pro-am soccer is heating up with the Oly Town Artesians this fall and winter in Thurston County. Tickets are available now for the upcoming men's and women's season, so be sure to get yours now!
Sponsored