When those rainy days and gray skies start to come back around, we still want to find ways to stay active, have fun, and connect. With a brand-new fitness center, indoor pool, and indoor tennis courts, Steamboat Tennis & Athletic Club has every option to help you keep up with your health and fitness all year long. From September 4 through September 30, STAC is running an enrollment special with 50% off all membership levels, as well as some complimentary activities to try the club out. Stop by for your tour and fall back into fitness with some great savings!
Recreation at STAC for Steamboat Island and Beyond
STAC first opened its indoor tennis club in 2015, and recently opened a brand-new fitness center in March of 2023. Their mission is to bring health and recreation to Steamboat Island and beyond, all with the community at the heart of what they do. "This community has been developing for years, and we are so happy to be a part of it in bringing better health to people's lives," shares Athletic Director Heather. "We really value the family element here, so we love to see people of all ages working out, swimming, or hitting the courts." STAC features programming and classes that are welcoming to a variety of ages and abilities, from youth swim groups to weekly open play pickleball times, making it the perfect place for the whole family to stay active and connect.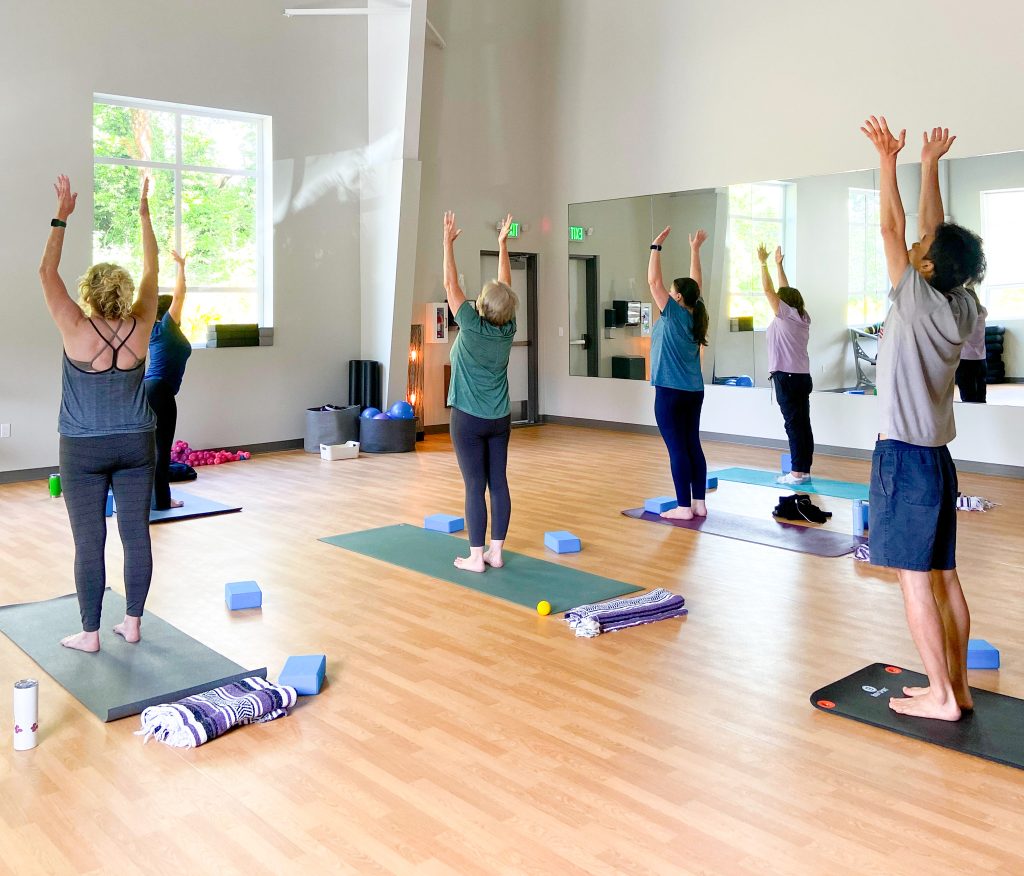 STAC isn't just for Steamboat residents, though. This public access facility is a wonderful choice for anyone living in Olympia, Tumwater, Shelton, and surrounding areas to find ways to get fit and care for their health. They are open 7 days week from dawn till dusk and boast plenty of open space and machines to easily get in a workout on your schedule. "We know that just getting to the gym is tricky sometimes, so we try to make it easy for you to get here and have lots to do," Heather says. "Our group fitness studios are open for use when we don't have group fitness classes, and we have a ton of great equipment on the main floor for lifting, cardio, and everything in between."
In addition to the well-equipped fitness areas, STAC features a 3-lane indoor pool that is heated and open year-round, plus a fully enclosed and covered tennis and pickleball club, all on the same premises. No matter how you like to stay active or connect, STAC really has everything you would need and gives you plenty to try so your exercise routine doesn't become stale. "Our group fitness classes and tennis classes are always offering something new to get moving," explains Heather. "Even our rec swim and our open court play give people something fresh and exciting to look forward to." As they continue to grow, you can expect to see even more being added onto their list of services, with massage therapy, nutrition, and water volleyball launching this fall.
Half-Off Health and Fitness at STAC
As an established club with an exciting new addition, STAC is eager to welcome the community into the space to support their health and wellness. "We know summertime is great for outdoor activities, like hiking, biking, and sports," Heather says. "With fall on the way, we certainly don't want the weather to get in the way of your wellness!" To commemorate this change of seasons, the STAC Fall Back into Fitness promotion is kicking off Labor Day, Monday September 4, and will run for 16 days until Wednesday September 20. This promotion will feature a 50% off discount on all enrollment fees, and a special $0 down offer for anyone leaving an existing membership to activate at their tennis level.
In addition to great savings, STAC will be hosting some complimentary classes and workshops to give you a taste of the club and all it has to offer. Guests can visit free on Saturday September 9 and 16 as long as they attend one group fitness class, giving them a $15 savings on guest fees. Heather personally teaches these Saturday classes, which kick off with 25-minute cycling at 8 a.m. followed by back-to-back 50-minute classes for strength training, stretching, step, and finally water aerobics. STAC will also be hosting multiple Wellness Workshops throughout this promotion focused on mindfulness strategies, nutrition development, habit coaching tips, and more, so contact them to stay tuned on their upcoming schedule!
For those interested in trying out tennis, Monday September 18 will feature STAC's first Happy Hour Tennis from 4 p.m. to 5:30 p.m., which includes open court time for members of all levels as well as food and drinks to get the week started right. The first event will be open to guests and members, so come out with your friends and discover a fun and exciting way to break a sweat. If you want to keep the party going, you can stick around for a free Court Cardio tennis class with Pro Eric from 5:30 p.m. to 7 p.m. where you will get a killer aerobic workout all while learning new skills and techniques on the court.
Start Your Wellness Journey at STAC
Fall is the perfect time to settle back into healthy routines and habits as summer vacations wind down and kids return to school. With STAC, you can find plenty to keep you busy, happy, and active all year long, so be sure to stop by during their enrollment special to save on your membership!
Steamboat Tennis & Athletic Club
3505 Steamboat Island Rd NW, Olympia
360.539.7877
Sponsored