Staying active can sometimes feel like a chore when life gets busy. Once you finally make it to the gym, there is a whole new feeling of overwhelm with what to do, where to start, and how these machines even work. Steamboat Tennis & Athletic Club (STAC) offers fun and engaging group fitness classes that guide you on safe and effective exercise strategies to maximize your time in the gym. Led by certified group fitness instructors and personal trainers throughout the week, you can easily find the right routine for you and get exceptional coaching along the way. Splash into water aerobics, Zen out in yoga, or bring on the burn in weight lifting with their exciting variety of group fitness classes. For first-time visitors, use code GROUP FIT to get your first guest pass free between now and August 31!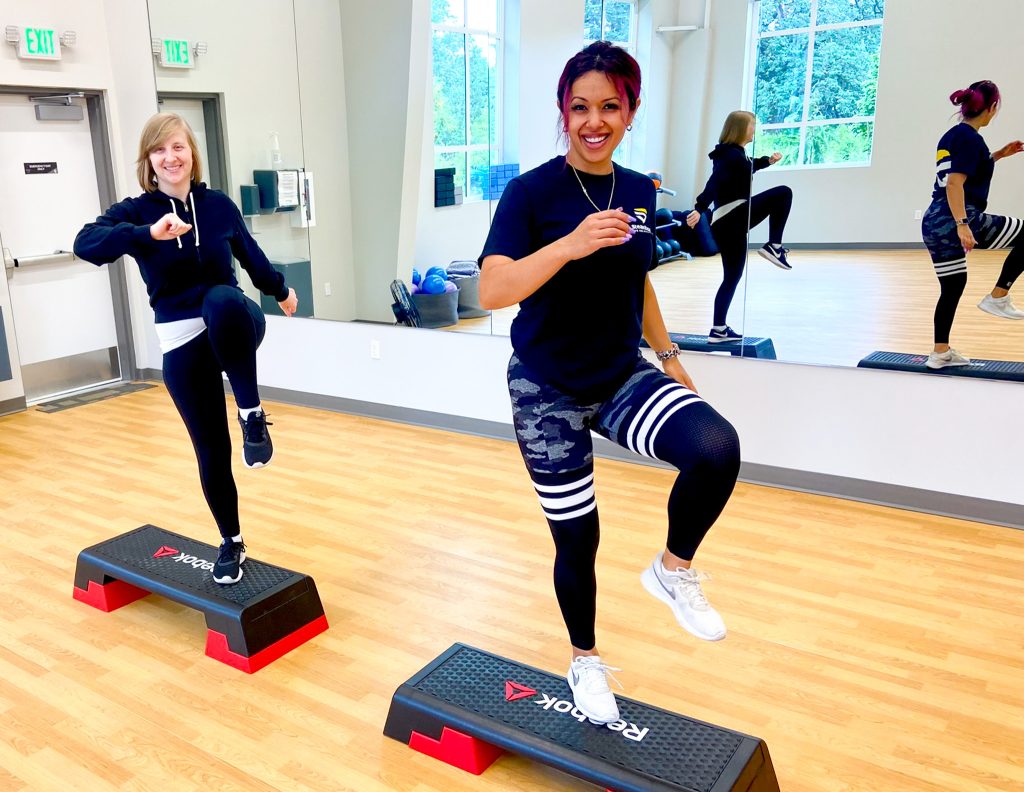 Get Support and Guidance with STAC Group Fitness
Group fitness classes are a great way to learn new ways to work out without the same financial investment as personal training. While having a personal trainer is extremely beneficial in reaching your personal goals thanks to custom training regimens, it can sometimes be out of the budget. Group fitness classes offer the perfect middle ground between private coaching and exercising alone on the gym floor. "Group fitness provides a space for people to come try new things and learn how to exercise," shares Wellness Manager Jacquelyn Roque. "Each class is a little different, but all of our instructors are committed to bringing you a safe and effective workout, no matter what the focus is."
All group fitness classes are developed and taught by a certified group fitness instructor or personal trainer, which means they are backed by science and data to get you the best workout. "Depending on the certification, it can take months to years to become fully credentialed and experienced teach accessible group fitness classes," explains Jacquelyn. "When you go to a group fitness class, you are getting a front-row seat with an exercise professional that understands a specific theory of movements and a wide range of anatomy and physiology to build lasting strength and function." STAC employs the top instructors in the area who come not only with the right credentials, but years of experience as well. Their team of instructors has decades of experience combined, resulting in only the highest quality of group fitness classes for the community.
Sometimes a group fitness class can seem intimidating, especially when you are new in a room full of people. At STAC, the group fitness instructors care deeply about each participant and strive to give everyone a positive exercise experience, even if it is their first time. "Our instructors recognize the courage it takes to try something new, and at STAC we have the space to connect with almost every participant," Jacquelyn says. "We want to learn your goals, motivations, and feedback, which is why each instructor will always offer regressions and progressions for exercises so you can pick the option that is right for your body." The STAC group fitness team is deeply committed to designing workouts that can meet almost any fitness level and ability so that every person feels welcome and comfortable.
Build a Fitness Community Through STAC Group Fitness
Aside from time constraints and life's demands, the toughest part about getting to the gym is usually our own motivation. With work, chores, school, kids, and everything in between, hitting the gym may not always sound that appealing. Group fitness classes have a natural community thanks to the intimate setting, which can help foster connections and build enthusiasm around coming to the gym. "Group fitness is a great place to start at the gym, both to learn what movements work for your life and body and to find others with similar goals and interests," says Jacquelyn. "The instructor and other participants work together to challenge and encourage each other."
Group fitness classes can vary in size, but most often there will never be more than 20 people in any one class. This gives class attendees a unique opportunity to really connect not only with the instructor, but with fellow participants as well. "Friendships grow in group fitness classes as regulars get to know each other and bring new members," says Jacquelyn. "Sharing fitness with friends and finding others that enjoy similar healthy habits is a great way to help you and our community stay health and fit, inside and out." STAC is equally committed to better physical health as it is to social and emotional health, which is why there is such a strong emphasis on community within the club. However you choose to stay active, you can easily find others to connect with and learn from at STAC.
Experience Fitness and Community with STAC Group Fitness Classes
STAC has a full and diverse group fitness schedule that includes water aerobics, yoga, Pilates, cycling, strength training, and more. The best part about all of these amazing classes is that they are included in most of the membership levels at STAC, so you can enjoy them as often and as much as you like without paying anything additional. Guests are also welcome to try the facility before committing to a membership by using a guest pass. Between now and August 15, your first visit free using code GROUP FIT, so be sure to check out the group fitness schedule to find the perfect class to kick off your next fitness journey!
Steamboat Tennis & Athletic Club
3505 Steamboat Island Rd. NW, Olympia
360.539.7877