Olympic Sotheby's International Realty may have far reaching resources, but Olympia is its hometown. Olympic Sotheby's knows how much locals enjoy getting out in their own neighborhoods to have some laid-back fun. And one of the best is getting out on the water during nice weather. Here is where to play in the water in Olympia, on the westside, downtown and the eastside neighborhoods.
Olympia Westside Woodruff Park Sprayground
1500 Harrison Avenue NW, Olympia
11a.m. to 7 p.m. seasonally from Memorial Day to Labor Day
Woodruff Park is a large, popular sprayground with room for lots of kids and shady spaces for families taking a rest from the heat. Eagan's Westside Drive-In is right across the street, and Woodruff has a picnic shelter and picnic tables.
"There's a variety of different fountains, and the space is large. It gives kids room," says Tim Lynch, Olympia resident and broker at Olympic Sotheby's International Realty. "You can take a break in the field and kick a ball around. You can bring a lunch or snacks and make a pretty good day of it."
The park is on the city bus route and is a walkable destination for many Westside residents. Additional park features include restrooms, courts for pickleball, basketball, tennis and a grass court for volleyball.
Downtown Heritage Fountain Park Waterspouts
330 5th Avenue SW, Olympia
11 a.m. to 8 p.m. from Memorial Day to Labor Day
A local family donation made the Heritage Park Fountain possible, and the 47 waterspouts that shoot up out of the ground make for both refreshing summertime play as well as a beautiful fountain display in the other seasons. Benches surround the edge under the shade of cherry trees. Visitors can access the fountain area from the larger Heritage Park, from the city bus or on foot, and heading off to other downtown attractions is convenient.
Stream at East Bay Public Plaza
325 Marine Drive NE, Olympia
10 a.m. to dusk April through September
LOTT Clean Water Alliance operates the East Bay Public Plaza shallow, concrete-bottomed, 250-foot-long stream. The low-key approach makes it a popular place to bring smaller children.
"One of our favorite places is the stream outside the Hands-On Children's Museum," says Lynch,"It's new and different. They've got a great water space there, and we visit the museum a lot. It's great for kids who don't want to get sprayed with water because it's not actively spraying, and they can explore water at their own comfort level."
The plaza is also a good spot for lunch, and visitors can purchase food and ice cream from the Play Day Café inside the adjacent museum. The park also has its own restrooms.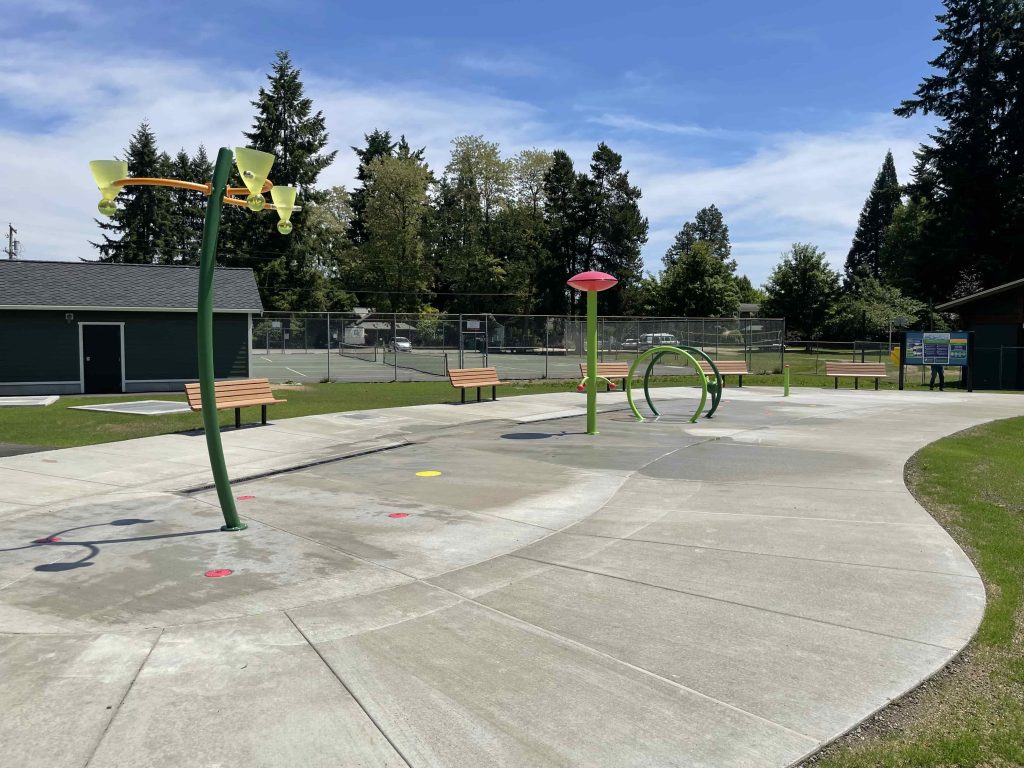 Eastside Olympia Lions Park Sprayground
800 Wilson Street SE, Olympia
11 a.m. to 7 p.m. seasonally
Lions Park is a walkable destination for Eastside Olympia residents and is a place that offers a variety of outdoor activity in addition to the sprayground. Water features such as two tall towers, spouts up from the ground and two little water arches for smaller children provide variety for families with children of varying ages.
"They appreciate having a place to bring kids where kids can have fun together, play and cool down, especially on the hot days we have been having," says Parks Planning and Design Manager for Olympia Parks, Arts & Recreation Laura Keehan. "You hear the kids shouting, playing together, running, and they are so excited."
New benches around the edges make a good visiting spot for caregivers and parents but also a convenient location for supervision. If you are bringing lunch, there are picnic tables and a shelter, playgrounds, restrooms and an open field for games or for just letting kids run out their energy.
Getting to the Deschutes River at Pioneer Park in Tumwater
5801 Henderson Boulevard, Tumwater
7 a.m. to 9 p.m.
Going down to the river from Pioneer Park on a hot day is refreshing and a popular activity for Olympia, Lacey and Tumwater residents. Deschutes River water access and beaches can be reached from Pioneer Park. Gravel and dirt trails lead down to the water from the parking lot. A paved pathway also leads to a picnic table overlooking the river, where people can watch others float by in innertubes. Once you reach the river edge, you'll find dogs playing, people enjoying the water, sunshades up and music floating on the air.
Back up the trail at Pioneer Park, restroom access, shady spaces and playground provide opportunities for families to refresh and regroup before calling it a day.
Local water parks are designed for families with varying ages of children and anyone's budget in mind. Each being on or near the bus lines and free of charge means getting there and getting access is affordable. Pack a picnic lunch, fill up your water bottle and plan a neighborhood staycation to cool off.
Sponsored