Escaping the urban buzz for a quieter space after work is one of the advantages to living out on Cooper Point. Stretching five miles past the last traffic light, the Cooper Point peninsula is a long arm of land that reaches out into Puget Sound, bordered to the east by Budd Inlet and Eld Inlet to the west. Water views either include beautiful sunrises with Mount Rainier in the background or sunsets with Steamboat Island views to the west. Home choices in the area range from small, single-family bungalows to high-end, custom home retreats.
Older Cooper Point Beach Neighborhoods Reflect Local History
Cooper Point has a Pacific Northwest atmosphere of water and woods. Older, established neighborhoods have shaded streets, mature landscaping and houses that all look different. As Cooper Point Road runs north, driveways stem to each side, leading to secluded customs homes in lush wooded lots or down on the waterfront.
Small beach communities such as Green Cove and Tamoshan have beach access. Beverly Beach has a community dock. Sunset Beach, Countryside Beach and Snyder Cove face Eld Inlet and Little Tyke Cove, Big Tyke Cove and Butler Cove are along the Budd Inlet shoreline.
Butler Cove was the location of a historical picnic spot for Olympia day visitors. Some neighborhood streets still reflect the names of early families who had donation land claims in the area, such as French Road. Old Port Drive is a hint to the historic Brown's Wharf, which was named after an early family and used to serve as a deep-water port for docking steamships.
Nestled into pockets on the peninsula are smaller-sized, single-family housing tracks. Plentiful sidewalks, shade trees and pocket-parks make for comfortable walkability. Cedrona neighborhood offers the traditional atmosphere of neighbors for sociability, spacious yards, narrow streets and sidewalks that meander from one neighborhood to the next. Cooper Crest Park is 13 wooded acres with a walking trail that runs the length of Cooper Crest Neighborhood on the eastern side. Cooper Crest streets make good walking loops for exercise or pushing strollers since the sidewalks are offset by a grassy strip. While Goldcrest neighborhood is home to Thurgood Marshall Middle School and Hansen Elementary School, the schools are just a short drive from the surrounding subdivisions.
Hiking, Biking, Golf and Getting to the Beach on Cooper Point
Getting out for a short hike doesn't mean having to leave the peninsula. Grass Lake Nature Park on Kaiser Road is 195 acres of woods and water nestled into a westside neighborhood. The trail is a narrow, one-mile loop of dirt and gravel through shady cover, great for bird watchers and those who want a nature walk close to home. Hikers, bikers and walkers also enjoy the many trails at the Evergreen State College through the woods, to access the Evergreen Disc Golf Course or Geoduck Beach.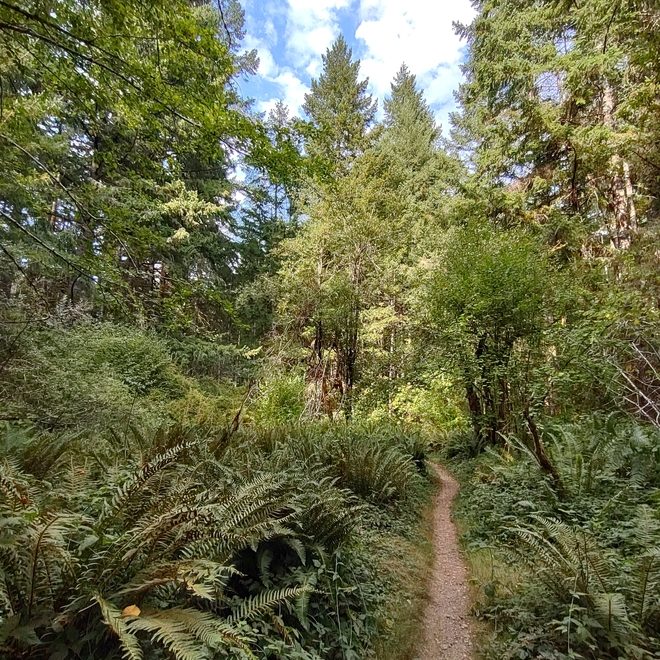 Olympia Country & Golf Club, at its current location since 1925, remains a staple for many in the surrounding community. Social memberships provide access to amenities such as the Terrace on the Green restaurant, fitness center, clubhouse and dock. Junior, family, individual and various types of memberships are available too. This championship, 18-hole course is shaded by towering fir trees, and the greens run parallel to the salt water for gorgeous views of Budd Inlet and Mount Rainier.
"I think the club provides a really great sense of community for everyone on Cooper Point," says Lindsey Simmonds of the Olympia Country & Golf Club. "Almost every time you drive down the road you see someone you know, and most of the time, in their golf carts driving down to the country club for dinner. I think the club provides a great sense of community even from childhood. There are generations that have grown up here swimming in the pool, then working at the club in high school, and becoming members as adults. The club is absolutely an integral part of living on Cooper Point."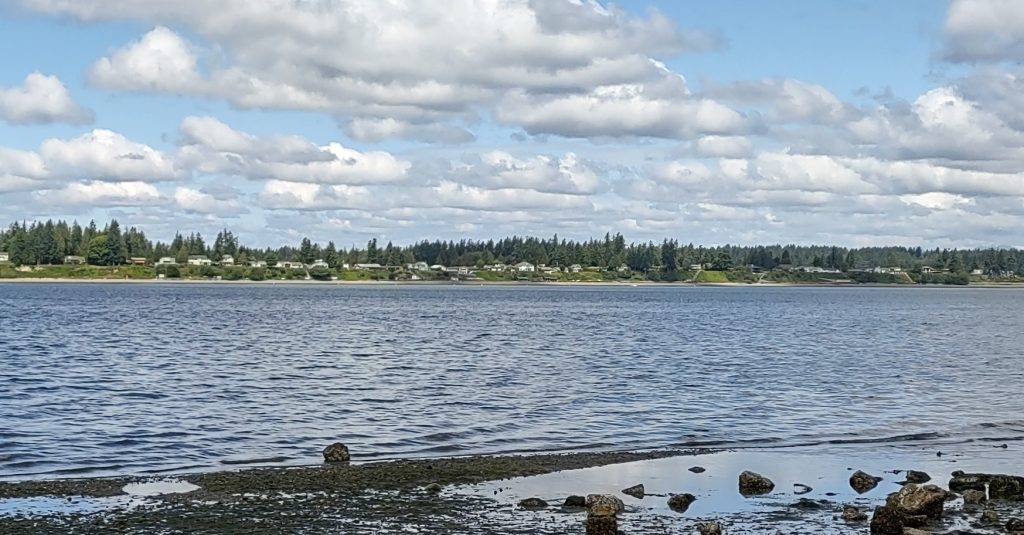 Cooper Point Neighborhoods Access to Shopping and Services
Living away from busy intersections and city lights doesn't mean being remote from what one needs or where one needs to go. The Evergreen State College is on the southwestern edge of the area and immediate to Highway 101. Capital Mall and grocery stores are accessible in West Olympia as well as MultiCare Capital Medical Center. Venturing out for a bit to eat or to nab some take out is easy with Vic's Pizzeria also in nearby West Olympia or Tug Boat Annie's on West Bay Drive. For last minute gas or grocery needs, there is a fuel station and the Madres Espresso stand on the way out to the point.
From one of Olympia's busiest intersections near the mall to its northern most point, Cooper Point Road will transport you away from your finished errands and workday. Head out the seven-mile stretch and get out of the hubbub quickly. Begin to and feel that out-of-town feeling of escape as busy activity gives way to water views and the seclusion that comes with living on a beautiful Pacific Northwest peninsula on Puget Sound.
Ready to move? Find listings on the Olympic Sotheby's International Realty website.
If you're dreaming of experiencing the serene escape that Cooper Point offers, you need a real estate partner who knows the area like the back of her hand. Enter Missy Watts of Olympic Sotheby's International Realty. With her, you don't just get a realtor, but a seasoned expert who knows every nook and corner of Cooper Point, from the sunrise views of Budd Inlet to the sunset vistas over Steamboat Island. Missy can guide you to the perfect residential retreat that fits your lifestyle – whether it's a quaint single-family bungalow or a high-end custom home. Don't just dream about the perfect life on Cooper Point, make it a reality today! Contact Missy Watts and let the adventure begin.
Sponsored