A near-capacity crowd of 4,000 people packed Saint Martin's College's Capital Pavilion (now the Hal and Inge Marcus Pavilion) in Lacey on the night of Thursday, May 1, 1975 to hear Canadian singer-songwriter Gordon Lightfoot. At the time Lightfoot was at the height of his career. He was, as the Daily Olympian newspaper described him, "probably the most popular contemporary folksinger in the world."
Gordon Lightfoot's Rise to Fame
Gordon Meredith Lightfoot Jr. – nickname Gord – was born in Orilla, Ontario in 1938. His father managed a dry-cleaning business. His mother was quick to encourage her son's musical talent and he spent his youth in church choirs, singing for the local radio and in musical competitions. He learned to play piano, guitar and drums.
After studying composition and orchestration at Westlake College of Music in Los Angeles, Lightfoot moved to Toronto. He joined the Singing Swinging Eight, a singing and dancing troupe, working as a bank clerk to make ends meet. He later formed the folk-duo Two Tones with Terry Whelan in 1962. Lightfoot put out his first solo album, "Lightfoot!" in 1966.
His fame grew in the 1970s when he signed a record deal with Warner Bros., under their Reprise label. He scored many of his greatest hits during this time. A number of groups also covered his songs.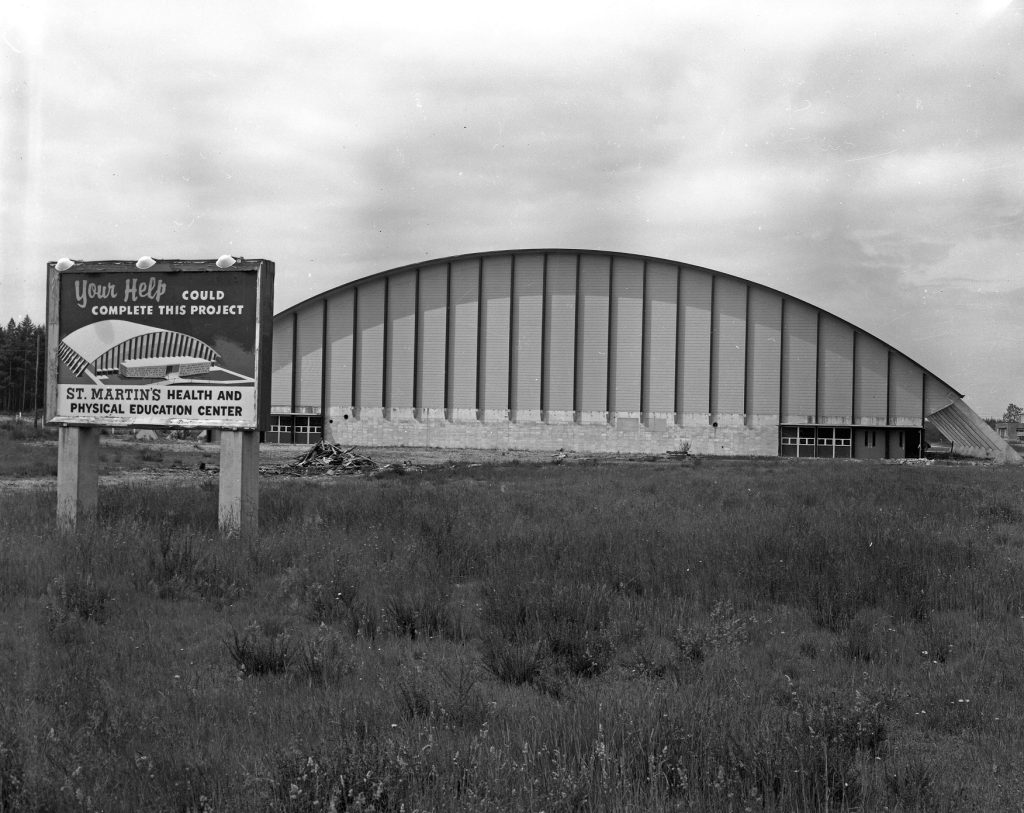 Lacey Lightfoot Concert
1975 was a busy year for Lightfoot as he crisscrossed the United States giving concerts, many of them at colleges. The day before the Lacey concert, he performed at the Gill Coliseum at Oregon State University in Corvallis.
Tickets for Lightfoot's May 1 concert in Lacey were sold at the Bon Marche (Tacoma Mall), Music Box, Pant Stop, Rainy Day Records, Tape Dock, Rags International and at the box office for $4, $5, or $6. The concert started at 8 p.m. and lasted two hours.
"Lightfoot Enthralls St. Martin's Hearers," ran headlines the day after the concert. Daily Olympian staff writer Chris Fruitrich gave a glowing report of the concert:
"Shaking off the 'rough' spots he said were created by an 18-day layoff and the obvious limitations of the St. Martin's basketball hall, Lightfoot carried on with a casual manner which kept the entire crowd loose all night. He bounded through his first set with little comment. But then little comment was needed as he sprinkled his most popular folk songs ("Sundown" and "Carefree Highway") through a selection which both provoked and entertained his audience."
A longtime anti-whaling activist, before performing "Ode to the Big Blue" Lightfoot commented that he "would like to take a year off to do something about the whales." He also performed over a half-dozen songs from his newest album, "Cold on the Shoulder," playing the title song and his current "biggie," "Rainy Day People" as an encore.
Lightfoot also sang older songs like "High and Dry," "Early Morning Rain" and "Pussywillows and Cattails."
"Though Lightfoot apologized repeatedly for his crew's rough spots because of jet lag and the layoff, he really did not have to," concluded Fruitrich. "With his singing and a stellar performance from lead guitar Terry Clements [who played with Lightfoot from 1971 until his death in 2011], Lightfoot demonstrated why there is no better concert evening in contemporary folk music than the one he presents."
Gordon Lightfoot Later Years
After leaving Lacey, Lightfoot continued his busy tour, entertaining a crowd of 8,000 in Missoula only three days later. He soon returned to the Pacific Northwest, playing in Portland on June 19, the Spokane Opera House with Mimi Ferina on June 20 and the Seattle Opera House June 21.
Later that year Lightfoot created one of his most famous albums, "Gord's Gold," a two-record set of his greatest hits. An advertisement for Pay 'n' Save at South Sound Center from the December 28 issue of the Daily Olympian advertised the album for $6.77. The next year he released his possibly most famous song "The Wreck of the Edmund Fitzgerald," about an ore freighter that sunk with all hands in Lake Superior on November 10, 1975.
Lightfoot's career waned in the 1980s, but he continued touring until near his death despite battling serious medical problems. A hero in Canada, he was inducted into the Canadian Music Hall of Fame, Canadian Country Music Hall of Fame, and Songwriters Hall of Fame as well as earning 16 Juno Awards and the Governor General's Performing Arts Award.
Lightfoot died on May 1, 2023 – 48 years to the day of his Lacey concert. He was 84. When he died Mariners' Church of Detroit chimed their bells 30 times – 29 times for the crew of the Edmund Fitzgerald, as they had after the wreck, and once for Lightfoot, who had done so much to keep their memory alive.
Gordon Lightfoot's music remains enjoyable today. But one legacy of Lightfoot's Lacey concert is a bit personal. 48 years ago, an Olympia High School senior plucked up the courage to ask out a shy classmate to the concert. She said yes. My parents have been married more than 40 years. "The Wreck of the Edmund Fitzgerald" remains one of my father's favorite songs.