KGY has long been a beloved staple of Thurston County, dating back to 1922 when its very first AM signal brought to folks the miracle of a new medium called the radio. General Manager Nick Kerry wants everyone to know that the best is yet to come for the 100+ year institution, even as he eyes the very real possibility of having to relocate KGY from its home of the last 63 years.
KGY's Early Years
It wasn't until 1939 when the Olsen-Kerry family took the proverbial reins that the station really hit the ground running, bringing to the masses everything from popular radio shows, sports and news, to weather forecasts and music. The latter formed the lives of generations of families in the area, providing young and old with the musical soundtracks of their collective lives. The piece de resistance of that Golden Age for the station hit a sweet spot in 1960 when visionary architect Stacey Bennett designed new digs for KGY at 1700 Marine Drive NE. And what digs they were: Boasting a mid-century modern design – or "ultra-modern" as our Space Age brethren enthused of it – this was a station for the ages, a genuine show-stopper lovingly placed smack dab over the water at the very far Northern tip of Olympia's famed Port Peninsula and offering up a breathtaking panoramic for all of the lookie-loos out there. All of these years later, KGY still keeps a proud vigil on the waterfront, a symbol for all that was and is and that could be great again about Thurston County. The station now plays a regular and steady stream of hits from the mid-1960s through the early 80s and has never been more popular.
KGY Building's Historical Status
Just last year, the building which has piped out the sweet refrains of everything from Glenn Miller to Rick Dees – whose syndicated show is one of the many highlights of the station's current program playlist – received a coveted nomination for inclusion in the local heritage register. What should have been a victory-lap for KGY has instead threatened to turn into a political windstorm: As of this writing, the register status remains unresolved. The Port, the owner of the land that the building is on, has expressed reservations about the nomination.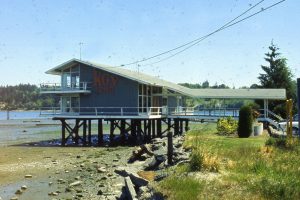 "We do have quite a legacy in our area here," Kerry muses philosophically, pondering the ultimate fate of the station's location even as he rightly celebrates KGY's continued relevance and importance in the community. "The station has weathered a lot of storms over the years with the economy and competition and changes in the media business. Preserving this building can happen and it might be important to preserve it as a historic place even if the radio station moves into another location."
Though the vote is still out on what the ultimate fate of 1700 Marine Drive is, there is thankfully no such ambiguity when it comes to the very bright future of KGY as far as Nick Kerry and a legion of fans are concerned.
The Future of KGY, Thurston County Local Radio Station
"We take quite a bit of pride in what we do here," Kerry enthuses about the current renaissance of KGY. "We're very passionate about radio. We're hip and cool. We're adapting to the times. Radio really remains relevant. You think about entertainment and broadcast entertainment. There's a lot of value to that. It's free. You just need to receive the signal somehow and you have all of these options of entertainment. It's entertainment that is diverse when it comes to music, there's tons of options. There's something more there than just music, too. There's a connection, there's community and being local. That's just something that local radio can offer that's different than a national streamer like a satellite radio can offer because it doesn't speak to your community and what's happening in your back yard."
KGY disc-jockey Kevin Huffer – known far-and-wide by his radio nom de plume "Kevin the Brit" –  agrees with Kerry's sentiments, explaining that :"KGY has always meant community to me, family if you will. It's unique in its continued philosophy of serving the communities of Olympia, Lacey and Tumwater, whether that be with a local guest, attending a community event or supporting a local charity. In this day and age, it's unusual to find a station so committed to local. Even today, being and showing you are local is key. KGY does that every single day – even in this "instant" world, and that is special."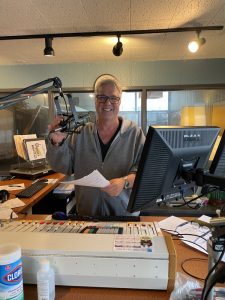 "KGY, to me, is Pure Olympia," says uber-popular afternoon drive-time DJ Michael Stein. "It has served as the voice of this wonderful place for a long time, telling the stories of our town and people, keeping us company, keeping us entertained and informed. What makes KGY special? We have fun. We care about the place we all call home. You can hear it in what we do each day. And we provide a unique 'flavor' that you only get here. The music evokes good times and memories, and the DJs tap into what's going on right now with a very current and Oly-centric point of view."
As the waves perpetually ebb and flow along the banks of the harbor, which KGY has stared out at for longer than many folks have even been alive, Nick Kerry celebrates the assured continuance of his family legacy even as he waxes nostalgic about the possible fate of their six+ decade tenure on Marine Drive.
"We might not always operate from here, but the building is still important to the community. I think that's what we hope to achieve," Kerry says before adding a final and wistful note. "It would be nice to broadcast from here forever."
Sponsored