There are many places around the world renowned for their vibrant art scenes, from New York to Paris. Unbeknownst to many outside the Pacific Northwest, Olympia boasts exceptional local spaces for performers, painters, musicians, and everyone in between to share their creativity. Harbor Heights, a 55+ community, is centrally located in the heart of Downtown Olympia and is within walking distance from theatres, art galleries and more. Harbor Heights resident Helen Pass recently relocated from the city of San Francisco and is overjoyed with the local activities and live performances available to art enthusiasts right outside her front door.
Olympia Offers a Competitive Art Scene That Rivals Big Cities
Helen had been considering a move out of Northern California for many years, but was finally pushed into taking the leap when her employment ended during the pandemic. "I was in Human Resources for 30 years in the Bay area and had started thinking about retirement," she recalls. "Some of my friends were living at a a 55+ community in the suburbs of Olympia, so I got on the waiting list and was on that for about two years when I was laid off from my job in 2020. I decided to get online to see what else is close in proximity, and Harbor Heights came up." After a virtual tour with the Harbor Heights team, Helen decided to rent an apartment sight unseen and quickly sold her home in San Francisco to start her new life in Olympia.
"It could not have worked out more perfectly," says Helen. "I was surprised with Olympia because it is such a nice mix. It is this tiny microcosm of cool things between the music you get at the Washington Performing Arts Center, the comedy, Arts Walk, and the galleries. I have had so much fun doing all these really different things."
Throughout her life, Helen has always had a passion for artists and makers, and is so impressed with the opportunities available for community members to connect with the arts in Olympia. Living at Harbor Heights made it easy for Helen to jump into the local art scene because  the community is so close to all of the wonderful downtown amenities. Additionally, the Harbor Heights team actively promotes local events and activities for residents, making it the perfect place for active adults looking for their next chapter.
Unlike San Francisco, where traffic, a high cost of living, and long distances between viewers and performers detracts from the overall cultural enjoyment, Olympia offers residents like Helen a truly unique experience where the art is part of the overall community and integrated into the downtown experience.
Olympia features many niche theatres and stages that provide variety and quality at affordable prices. One of Helen's favorite spots is the Olympia Little Theatre, which is within a five-minute drive from Harbor Heights and is currently in its second season.  "I love meeting the different artists, and everything is so close and inexpensive," Helen shares. "Tickets are so affordable, and you get to see some world class stuff right here in community theatre."
Harbor Heights Centrally Located to Olympia Amenities 
Helen was eager for a change of scenery, but was worried about how she would manage with a smaller space. Upon discovering Harbor Heights, she realized that square footage can be deceiving at first glance. "I had a 2,000-square-foot home in San Francisco, and just a ridiculous amount of stuff," says Helen. "Now I have 623 square feet and thought I would feel claustrophobic, but I have incredible, expansive views right out my window that make the space feel bright and open.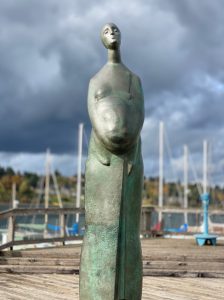 Nestled on the waterfront, Harbor Heights boasts stunning views of the Olympic Mountains and Puget Sound. The Sky Terrace is one of the most unique and exceptional amenities within the community, providing the perfect space for residents to relax and take in the amazing sights.
In addition to the wondrous natural landscapes, Harbor Heights residents can enjoy the amazingly diverse and engaging activities in Downtown Olympia. Art enthusiasts can visit local galleries such as Splash Gallery, Childhood's End Gallery, Van Tuinen Art, and more, all within walking distance of their luxurious apartment. A range of productions and shows are available year-round at local theatres including Capitol Theater of the Olympia Film Society, the Olympia Little Theatre, and the Washington Center for the Performing Arts. Downtown Olympia living is truly the perfect option for those looking for a fun and engaging arts scene, and with Harbor Heights, you can conveniently access these wonderful community amenities anytime you like.
Find Your Next Forever Home at Harbor Heights
If you're looking to upgrade your lifestyle, Harbor Heights provides everything you are looking for and more. You can find a plethora of wonderful amenities right inside this high-end 55+ community, and a world of arts, theatre, and excitement beyond. Schedule your tour today and explore the possibilities waiting for you at Harbor Heights.
Harbor Heights
500 Columbia Street NW, Olympia
360.227.6800
Sponsored