Ever wondered what owning an alpaca is like? Cross Creek Alpaca Rescue in Tenino is ready to help you find out if you're a good match to adopt an alpaca. Started by Jacklyn Glover and Sharon Bond in 2003, the nonprofit, volunteer-run organization rescues alpacas and works toward finding them forever owners in educated homes. Their work includes education and outreach as well.
Sharon grew up around animals, including horses, so was no stranger to livestock when she started working with her aunt's alpacas in 2003. "Jackie joined me and fell in love with them as well," Sharon says about the small camelid. "We soon realized that the market for alpacas was unstable and decided to pursue the idea of an animal rescue dedicated to alpacas. Rescuing horses is very expensive and we knew that financially, we would be able to help more animals if we focused on alpacas."
Cross Creek Alpaca Rescue has a mission to: "foster compassion and responsibility for Alpacas and other animals through rescue, intervention, education and outreach.  We will continue to help the North American alpaca industry grow and improve by promoting the value of non-breeding alpacas for their fiber."
Alpaca Rescue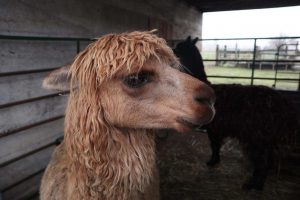 Like many animals, alpaca often find themselves in trouble when the economy gets bad. "Initially, the Great Recession – December 2007-June 2009 – caused many to lose their homes and land, unable to care for their animals any longer," shares Sharon. "Currently, inflation and droughts are increasing the cost of hay and other supplies putting animals at risk."
Sharon also notes that alpaca do have unique needs that other animals do not, and so sometimes well-meaning owners end up over their heads due to lack of education. Which is why one of the main focuses of Cross Creek Alpaca Rescue involves education and outreach – to help those who own or are interested in owning an alpaca learn how to properly care for them.
"They need to be in herds of at least three and we try to keep bonded animals together," explains Sharon. "Males and females must be kept separate and males should be gelded if there is no intent to breed them. Owners should also be prepared to provide a healthy diet of orchard grass hay, shear them annually in the spring and provide other care such as vitamins, deworming, and toenail trimming. With regular care and maintenance, owning alpacas can be so much fun!"
The number of animals Cross Creek Alpaca Rescue takes in varies from year to year. The alpacas come from voluntary release as well as seizures. The latter animals often need a lot of care before they can be potentially adopted out. "These animals are often in poor condition physically and psychologically and need extensive rehab, which we provide on-site," explains Susan. And not all are good candidates for rehoming. Those that are not, Cross Creek Alpaca assumes responsibility for. "Senior animals and those that need constant medical care are kept permanently at our physical location in Tenino."
Adopting an Alpaca
Cross Creek Alpaca Rescue rehomes over 50 alpacas a year to homes locally, statewide and even nationally. If you are interested in adopting an alpaca from Cross Creek Alpaca Rescue, you can contact them through their website or message them through their Facebook page. Potential adopters are screened. They ask that you do your research first to make sure you are a good fit to care for at least three alpacas. "For new owners who adopt from us, we provide education and ongoing support for them should they need it," Sharon says. "We require that should the animals need rehoming again, they return to us first."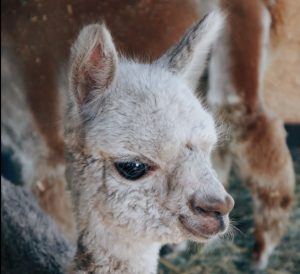 One of the biggest myths is that alpacas, like llamas or donkeys, make good guardian animals for your sheep or goats. Sharon wants to make sure people understand that alpaca are not guardian animals. "Alpacas are prey animals, are much smaller than llamas and are no better prepared to fight off predators than sheep and goats," she explains. "We find that the biggest predator to alpacas is roaming dogs. In addition to not providing protection to goats, alpacas should be housed separately from goats because they carry different diseases that alpacas are not used to."
Alpaca Rescue in Washington State Needs Your Help
Cross Creek Alpaca Rescue is an all-volunteer organization. They are always looking for volunteers, especially those with construction experience adds Sharon. Rescued alpacas often need veterinary attention and plenty of good food, so monetary donations are very welcome and you can donate via the Cross Creek Alpaca Rescue website.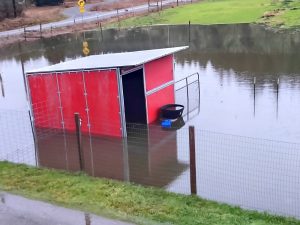 Can't adopt an alpaca but wish you could? Sponsorships are a perfect solution! "Sponsorship is one of the ways we fund our efforts to provide a safe-haven for alpacas in need of refuge," explains Sharon. "Many of the alpacas we take in require significant amounts of care due to physical and/or emotional trauma experienced prior to rescue."
Currently, their big need is recouping from the damage done by the floods in January 2022. They lost cross fencing as well as part of their exterior fence, gates and a small shelter. They are working on rebuilding in a better way, to avoid loss in the future. "The shelters will need some work to make them secure and we also need to install more secure fencing on almost 4 acres," explains Sharon. "To make these necessary changes, we need fencing material and materials for the installation of the shelters."
Whether you can open your land to a few alpacas or not, we can all help give them better lives through support of Cross Creek Alpaca Rescue. For more information, visit the Cross Creek Alpaca Rescue website.