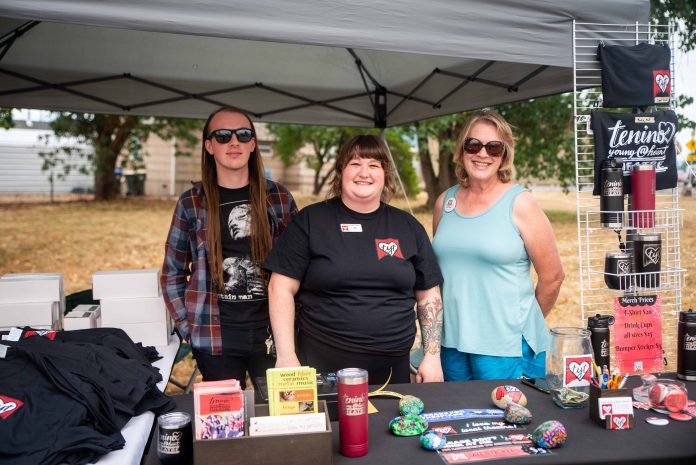 In the heart of Tenino, community members and supporters of local art gathered on the second Saturday in September to celebrate the past, present and future of the Tenino Young-at-Heart Theatre (TYT). At the New Theater Reveal Party and Fundraiser, current and former TYT cast members performed hit show tunes and scenes from past Tenino Young-at-Heart Theatre shows, including excerpts from their recent production, "You're a Good Man, Charlie Brown."
TYT also offered a range of family-friendly fun, including face painting, photo opportunities, picnic games, and ice cream and other refreshments. To help raise funds for the organization, TYT also offered a silent auction, raffle and TYT-themed merchandise for sale.
A Proposed Creative Space in Tenino
This event helped bring the community together as TYT considers plans for a permanent theater building. With the support of an anonymous donor, TYT was recently able to purchase property in downtown Tenino with the intention of building a theater and community-centric meeting space. TYT leadership hopes that this potential theater building, located within the Tenino Creative District, will not only be able to host future TYT productions, but can also serve as a gathering place for community art classes, gallery openings and other events.
"We're planning for it to be a real community art center," explains Isaac McKenzieSullivan, artistic director for Tenino Young-at-Heart Theatre. "Not just the place we do it, but for arts. And not just performing arts, too. We're planning to have a gallery area, so visual artists can also participate. In the third phase, we have a classroom and art studio that could be used for our classes. We do plan on really being a community center, not just our theater. So that's why we want feedback and buy-in from the community."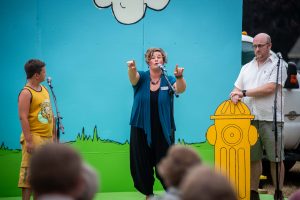 To ensure this future building is a true community-centric space, TYT plans to involve Tenino residents and theater supporters in the design of the building. Throughout the afternoon event, concept art and potential theater designs were displayed and shared with attendees. Attendees were then invited to provide written feedback that can then be incorporated into future drafts of the building's design.
Tenino Community Theater for Over Three Decades
According to Isaac McKenzieSullivan, the origins of TYT trace back to the summer of 1990, with an inaugural performance of "Johnny Appleseed," hosted at St. Peter Catholic Church in Tenino. As new shows continued through the years, the organization eventually moved their annual performances to Tenino High School, while also officially adopting the name, Tenino Young-at-Heart Theatre.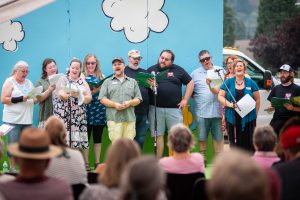 Featuring actors and performers of all ages, TYT puts on a family-friendly musical each summer. In addition to their main summer show, the Tenino theater group also hosts shorter and seasonal performances, including murder mystery dinners and scripted literary readings, called "TYT Reads." Tenino Young-at-Heart Theatre  also joins with community partners to perform at events like the BOO-CODA Spook-Tacular.
The Community Is Center Stage for Tenino's Local Theater
Saturday's design reveal event gathered the greater Tenino community, but it also brought together past and present cast members of Tenino Young-at-Heart Theatre. As TYT looks ahead to building a permanent theater space, there has also been an opportunity to look back on the organization's impact through the years on its current and former cast members.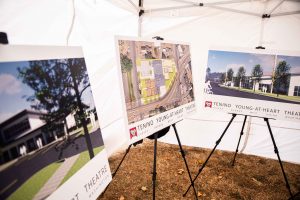 Performing with Tenino Young-at-Heart Theatre has left a lasting positive impact for many cast members throughout the years, according to TYT leadership. Couples who are now married, first met through acting in their productions. A number of young TYT cast members have also gone on to study theater in college, pursue theater careers, or become theater educators because of their time at TYT.
"I think a really big, important part of the 33 years, and I haven't been there for the entire part, but it's just the lasting impact we've had on so many people who've worked with this theater," says Michael Ready, board president for TYT. "My career has been based upon my work with TYT and having two wonderful mentors to help me through it all."
As TYT further incorporates the community in the theater's design, they are also looking ahead to the next steps in the process. That includes securing funding for future groundbreaking and construction, while also applying for grants that may help to build the theater. They look forward to hosting future productions and performances and to continued community support. And that as the project carries on, that this potential theater can create a needed space within the community.
"This is the place right now, right here," says Bob McKenzieSullivan, founder and managing director for TYT. "And we've spent time talking about what we feel the community, what we think the community needs. And what we need in order to do theater, and show the designs. That's the result of a lot of talking and thinking together."
To learn more about TYT productions or events, visit the Tenino Young-at-Heart Theatre website.