It's never too soon to get excited about the holidays. With the Lacey South Sound Chamber of Commerce's Winterfest 2022 just a couple of months away, it's the perfect time to pencil in a day of sipping, snacking, and shopping for the holiday season. The event will take off on November 12, from 9 a.m. to 3 p.m. so that you can start your shopping over a month early.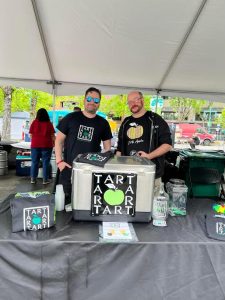 Blake Knoblauch, the South Sound Chamber executive director, took some time to speak with us about what to expect during this year's holiday bazaar. "It's really a great way to support your local artisans and small businesses," Knoblauch explained. "You can get your shopping done while enjoying some performances throughout the day."
Along with some incredible vendors selling great gift ideas for the whole family are some delicious food options along with wine and beer tastings. "It really is a sip, savor and shop event," Knoblauch said. "There will be all sorts of different tastings, and then there is a lot of really cool high-end holiday craft bazaar stuff going on."
Warm up With Local Libations and Tasty Treats at Winterfest
Sandstone Distillery and Tart Cider will serve some of their most popular spirits and ciders to help warm you up while you shop. If you find yourself getting hungry, you can pop over to the Tease Cakes by Francesca stand and pick out a personal-sized mini cheesecake treat.
Alongside those three vendors are so many more to ensure you never go hungry or thirsty while enjoying your time at Winterfest.
Other vendors to look forward to include Creative Iron Works, Swae Candles, Oly Sudz, Wild and Wanted Tees and Decor, Thrive Nutrition and more.
Shopping, drinking, and eating aren't the only things that will keep you entertained. The event will host live performances all day, including live music from local artists and even kid's group performances, like different ballet classes from around town.
The event takes place inside the Lacey Community Center, and there is a $5 ticket price for entry, which is half the price of last year's event.
Winterfest is a wonderful way for people in and outside of Lacey to get a real taste of the community. With a couple of stressful years for small businesses in America, attending events that focus on supporting and spotlighting small business owners is paramount.
Participate in Winterfest
"We are actively looking for vendors and sponsors who would like to get involved with this year's festivities," Knoblauch said. If you are interested in becoming a part of Winterfest 2022, there are three different sponsorship opportunities at various price points to help you both support your community and take advantage of a great advertising opportunity.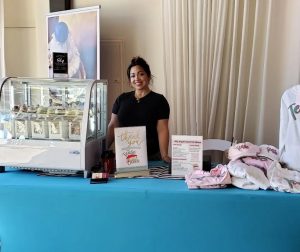 Do you have a small business and would like to get some exposure at Winterfest 2022? Knoblauch says there's still plenty of room to sign up. Vendor booth fees are just $125 for Lacey South Sound Chamber of Commerce members and $150 for non-chamber members.
On behalf of Knoblauch and the rest of the Lacey South Sound Chamber of Commerce, they would like to thank their current sponsors, Foot and Ankle Surgical Associates, Chicago Title, and Amazon, for helping make this festive event possible.
This event is inside, so come rain or shine!
If you want to help sponsor this year's Winterfest 2022 event, contact the chamber office at 360.491.4141. or fill out an application here.
Sponsored