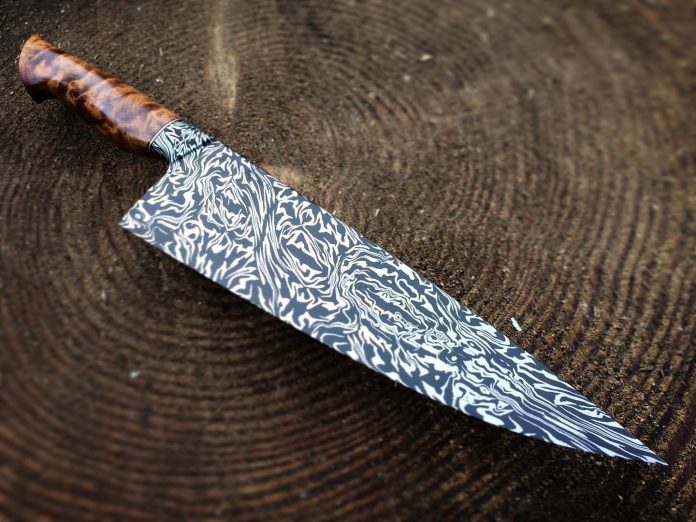 Mareko Maumasi has found through his experience as a bladesmith, that a piece of art can also be a tool that combines beauty, craftsmanship and function for everyday tasks. As the founder and owner of Maumasi Fire Arts, Maumasi has forged a range of blades through the years, but now specializes in culinary knives.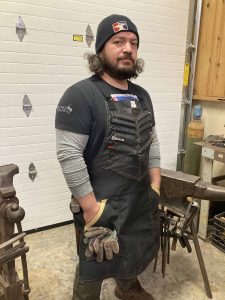 Drawing from his previous experience in the culinary field, Maumasi uses what he learned in a restaurant kitchen to create knives that make cooking a more intentional experience. According to Maumasi, a quality knife can help to streamline the preparation process and can help tasks like vegetable chopping to be more pleasant.
"I love that idea of community and family," says Maumasi. "And that my tools, the things that I build, help create that in people's lives and help bring that experience. Or at least, help to bring it to a higher level, versus it being drudgery. Often when people have to go prep and prepare for a bunch of cooking, it's not necessarily the funnest thing. But if you have a tool like a really great culinary knife that just falls through food, it makes it so much more enjoyable."
Maumasi: From Jack of All Trades to Master of One
A longtime resident of Thurston County, Maumasi says he has been a jack of many trades throughout his career. In his mid-20s, Maumasi worked back-of-house at a local restaurant, while also working as a salsa dance instructor. And it was Maumasi's dancing partner who eventually introduced him to the expert knife maker, Bob Kramer. At the time, Kramer was looking for extra help around his blade smithing shop. Maumasi then decided to go work with Kramer in his shop. And after working with Kramer for three years, Maumasi then ventured out on his own as a bladesmith.
During the initial years of Maumasi Fire Arts, Maumasi worked with individual clients to create bespoke knives. After establishing his business and growing a steady following, Maumasi has been able to shift the format of his business. Maumasi is now able to share his creative vision through knives that are both artistic and functional.
Although Maumasi is familiar with crafting various types of blades, like hunting knives or swords, he specializes in fixed-blade culinary knives. Maumasi says his previous experience in restaurants helps him to know what features are most important to culinary knifes. And, as a reflection on his culinary history, Maumasi continues to help feed people through his work as a bladesmith. Instead of spending time in the kitchen, though, he helps to create tools that make meal preparation an experience that both home and professional chefs can look forward to.
"Why I love making culinary knives is that culinary knives are used to prepare food, but it's in that experience of taking that time and putting forth that effort and skill that helps bring people together," explains Maumasi. "You're helping to feed somebody, which gives them nourishment and vitality. And also, the process of sitting and eating, or even the cooking process too, helps bring people together."
Learn About Blade Care from Maumasi Fire Arts
In addition to the creation of specialized culinary blades, Maumasi has also set out on a new mission: to become a primary resource for blade care and maintenance in the local community. Both Maumasi and his wife, Sarah Maumasi, who helps to run the front end of Maumasi Fire Arts, have taken time to reflect on the blade smithing business and the steps they can take to evolve with the business in future years. And part of that evolution is in education and becoming more connected with the Thurston County community.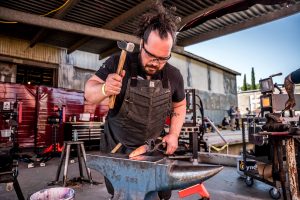 "I've started just in the last few months but trying to help people understand how to better take care of the knives that they have," says Maumasi. "Whether it's my knives or knives that they got as a wedding gift, or as a graduation gift or they got for themselves. Knives, especially culinary knives, are a really important part of our day-to-day life."
Alongside fellow bladesmith business owners at Chop Knives and Feder Knives, Maumasi hosts the Knife Talk podcast, which covers topics related to creating knives and collecting knives. To help forge a connection with the Thurston County community, Maumasi has also started to set up shop at the Saturday Market at the West Central Park in Olympia, where he sharpens knives and discusses specialty blade care with those who stop by his booth.
"Sharpening has been a great way to get out and socialize," says Maumasi. "And also, to engage with this community more."
Maumasi says he has enjoyed being able to sharpen dull blades, while also providing education about proper blade storage and maintenance, so that blades can continue their optimum use for the months and years to come.
"I want to help people understand how to take care of their tools," says Maumasi. "Have a relationship with their tools, so that those tools continue to perform well for them. To help create a better cooking experience and also to make it more sustainable."
To learn more about Maumasi's culinary knives, the Knife Talk podcast or sharpening services at the Saturday Market, visit the Maumasi Fire Arts website.