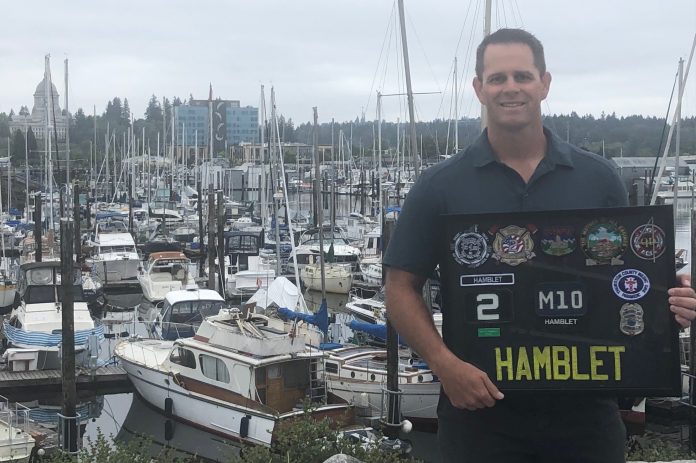 When Reid Hamblet decided to invest his signing bonus after being drafted at age 21 by the Baltimore Orioles in 2005, he probably did not envision that his career would later involve helping others manage their finances. But that's exactly what happened to the former Olympia High School (OHS) standout pitcher: Hamblet is now a financial advisor at Edward Jones in Tenino. He is also a paramedic and a volunteer OHS baseball program assistant coach.
A Career Filled with Exciting Innings from Pro Ball to Financial Planning
Hamblet says being drafted by Baltimore while in college was a great adventure. "It gave me a wonderful opportunity," he says, describing his playing days and the wide-ranging travel that was part of his stints with his assignment to two minor league Orioles affiliate teams on the East Coast.
Hamblet's career has been filled with many exciting innings. Although playing professional ball was his dream, he acknowledges it's a challenging profession. He was ultimately released from the Orioles organization, which he said was heartbreaking. "It was time to move on," he says. "It was time to do something different." His next inning had arrived. He finished his degree, got his teaching credentials and coached baseball in the Midwest.
And then it was again time for a new inning. His family returned to the Northwest where he served in the Bellingham and Olympia fire departments. "I had a bigger ability to impact people," he says of his firefighting and paramedic days. "I could really help people in an emergency response. I could really impact people's lives." But he says firefighters see a lot of tough stuff and are often scheduled nights and weekends. He needed to find more time to spend with his family.
That's why, after several years in firefighting, his next inning is underway as he recently joined the Edward Jones team. Edward Jones is an investment and retirement planning firm where its local office advisors help clients achieve their financial goals. "I've always enjoyed finances," he says. "I like seeing my money work for me."
While pitchers utilize assorted pitches including fastballs, sliders, curves and changeups, they all have the same goal, to get the batter out. In the same way, while Hamblet's careers have varied, they all have one theme: they offer opportunities to work with people. As a financial advisor, he says he can assist people to plan for their future, like finding ways to retire and spend more time with their children and grandchildren. "I ask, 'how can I help people in a different way?'" he says. "Money is a source of stress. How can I help reduce that stress? I want to help them make wise decisions. When they retire, I want them to enjoy being here with a feeling of a 'job well done.'"
Balancing Family, Community and Olympia High Baseball
That caring philosophy is why Hamblet and his spouse Samantha, optometrist at Eye Love Olympia, volunteer in the local community. They not only work hard plus parent four busy children, they also give their time to many organizations, including the youth outreach ministry Young Life as well as OHS baseball. Hamblet is on the coaching staff that guided the OHS varsity baseball team to its first 4A baseball state championship this spring when it defeated Puyallup 7-6. "This year was tremendous," he says. "They are a great group of kids. It's just fun. The relationships with the kids are fun."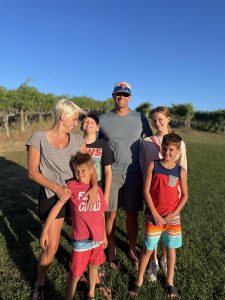 Derek Weldon, OHS head baseball coach, says Hamblet's volunteering is vital. "Reid is really a selfless guy," he says. "The things he does are for all the right reasons." Weldon says Hamblet helps not only with coaching and team conditioning, he also mentors the players. "I rely on him a ton," he says. "He is a very calming presence in the dugout." Weldon adds that Hamblet's desire to help people will serve him well as a financial advisor.
Chris Woods, CEO of the Boys & Girls Club of Thurston County, calls Hamblet "phenomenal." Woods is a longtime family friend, and a former local educator and school administrator. "One of the first things I noticed about Reid is he is a hard worker," Woods says of the days when he coached Hamblet in baseball at OHS. "He has great determination. He is good about not letting things get in his way as far as his goals. He is even keeled and steady."
Woods says that even when Hamblet was busy firefighting, he volunteered to help kids with homework, sit with them, and just be available for them. "It says a lot about him as a person," says Woods. "A lot of people invested him as he was growing up and it's important to him to do the same for others."
As they say of baseball pitchers who deliver the highest performance in all nine innings, that is a perfect game.