In 1972, Bud and Mary Johansen founded the Johansen School of Ballet in Olympia. For 50 years, Bud and Mary have continued to inspire the creative dancers in our area with positive and nurturing instruction. Friends, former and current dancers, and admirers of what is now called the Johansen Olympia Dance Center are invited to their 50th Anniversary Celebration on September 10, 2022 at the South Puget Sound Community College's Student Union Building. Secure your tickets today!
"The mission of Johansen Olympia Dance Center is to offer high quality dance training for people of all ages, backgrounds, and abilities in a positive and nurturing environment," shares Ken Johnson, co-director for the Olympia Dance Center. "We will encourage all students to excel to their fullest potential while developing confidence, discipline, self-expression, appreciation for the art form, and a healthy lifestyle, all while having fun."
Not a newcomer to the dance school, Ken was first a student in the 1980s and danced professionally on the East Coast before returning to Olympia. Ken and Josie Johnson started teaching at the Center in 2004 and became directors in 2008 when Bud and Mary "retired." While they stepped down from the directors' seats, Bud and Mary never really left. They continued to teach at the dance school in Olympia and are still there to this day. "They love being part of the studio and are still both teaching weekly classes," says Ken. "Mary is the studio receptionist acting as a main point of contact with students and parents, and they both still rehearse the Battle Scene and Mother Ginger dance in 'The Nutcracker.'"
Celebrating 50 Years of Top Dance Lessons in Olympia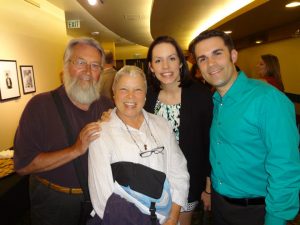 You can meet Bud, Mary, Ken and Josie at the Olympia Dance Center's anniversary event, sponsored by South Puget Sound Community College. Budd Bay Café will be catering the event with a heavy hors d-oeuvre buffet. There will also be a no-host bar featuring local beer and wine. "We will be showing a retrospective film featuring clips of recital dances over the years, with a few live speakers," shares Ken.
"We're so excited for current and former studio dancers, staff, and families to come together in recognition of the studio's 50th anniversary. I know Bud and Mary are excited as well to see generations of dancers they've reached come back for this monumental celebration."
They were given the award for best dance school in The Olympian's Best of the South Sound 2022. Come to the anniversary party and learn more about this prestigious dance school, whose alumni have gone on to train at some of the top schools – through year-round and summer programs – including San Francisco Ballet School, Pacific Northwest Ballet, Kirov Academy of Ballet and dozens more.
Fond Memories From Johansen Olympia Dance Center Alumni
Alumni of the Olympia Dance Center's top-notch yet affordable dance lessons look back fondly at the solid foundation they were given by the talented and caring instructors. "Alumni have gone onto professional training, professional careers, and college dance programs, but so many more have taken the grace, discipline and friendships nurtured at the studio into their lives and other studies and careers," says Ken.
"The studio was my second home. From my childhood years until I left for Stanford, I treasured every moment with the purple walls, twinkling piano, and my dearest friends. Many of my most beloved memories of Olympia took place by those wooden ballet barres. Dance shaped me into who I am today with lessons on determination, creativity, and leadership — lessons I will carry with me into my master's degree in Management Science and Engineering at Stanford University." – Monica Tsien
"The encouraging environment and community of Johansen Olympia Dance Center is the reason I am living my dream of being a professional ballet dancer. The studios became a second home to me in my student years and fostered the passion for ballet that has led me to a ballet career. After my training at Johansen Olympia Dance Center, I went on to study at Pacific Northwest Ballet before becoming a company dancer with Ballet Idaho, where I am currently beginning my sixth season. Johansen Olympia Dance Center shares the joy of dance with countless students, and I feel incredibly grateful to have been among them." – Ashley Baker
"This studio was a second home for me growing up. It was and still is a family and a community that has supported me through so many chapters in my life. I'm forever thankful not only for the relationships I built here but for the life lessons I learned as well. Today, I'm an associate producer for NBC News in New York City. In many ways, it may seem like an entirely different path than what I anticipated for myself as a young dancer. But I know that if it weren't for Ken & Josie, Bud & Mary and everyone who built this incredible community, I wouldn't be where I am now. Johansens is where I first learned what it meant to truly dedicate myself to something I was passionate about and to be a leader among my peers. Those lessons in hard work, commitment and creativity have translated in so many wonderful ways in my adult life. I owe the biggest thank you to Johansen Olympia Dance Center. Cheers to 50 years and 50 more!" -Natalie Rawson
Step into the world of dance at the Johansen Olympia Dance Center's 50th Anniversary celebration on September 10. Tickets are on sale now via Eventbrite. Purchase tickets by September 3.
Johansen Olympia Dance Center 50th Anniversary Celebration
September 10, 2022
6 p.m – 9 p.m.
South Puget Sound Community College
Student Union Building
2011 Mottman Road SW, Olympia
Purchase tickets here
Sponsored