It's not easy balancing a family, volunteer duties, a job, college and military life. In fact, it's one tough hill to climb. But local teacher Alicia Dufay was recently recognized twice for successfully meeting those challenges head-on. Western Governors University (WGU) and Lifetime TV's "Military Makeover Special Edition: Operation Career" both applauded Dufay's hard work.

Dufay teaches second grade at Olympia's Garfield Elementary School. She received a surprise award of a $4,000 Military Spouse Scholarship from WGU, which is where she obtained her bachelor's degree in elementary education and is now studying for her master's. WGU gave Dufay her scholarship check in her classroom, in the presence of her students and husband Ben, a military veteran. "Having them be part of that special moment was really special," Dufay says of her students. "They were like, 'why is she crying?'"
WGU is an accredited online nonprofit university that is a good fit for many working adults. WGU offers 60 degrees in internet technology, health professions, education and business. WGU Strategic Partnerships Manager – Military Outreach Angela Condon says WGU also ramped up efforts to educate military members, their families and veterans. She says that from July 2021 to June 2022, WGU had 378 military spouses and dependents enrolled in Washington, with an estimated 16,000 to 17,000 military-affiliated students nationwide. "WGU wanted to walk the walk and become more military focused," she says. "We brought in people to lead that effort."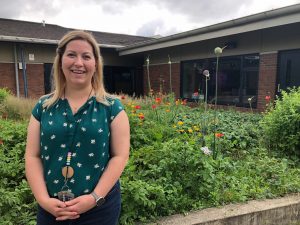 One of those leaders is WGU Director of Military Engagement and retired U.S. Navy Rear Adm. Jeff Harley. "WGU is a military-friendly and military-focused university," says Harley. "We are delighted to offer scholarships to help military spouses such as Alicia continue their education. We are grateful to Alicia and her family for their service to our nation and thankful for Alicia's continued service to the community as an elementary school teacher."
Olympia Teacher on Lifetime TV's "Military Makeover Special Edition: Operation Career"
To top it off, Lifetime TV featured Dufay in one of its Military Makeover career-focused episodes. The TV program profiles organizations and businesses that offer educational and employment opportunities to veterans to ensure their successful shift from military life. As the show's website explains: "Transitioning out of the military back to civilian life brings a variety of challenges. Military Makeover's Special Edition: 'Operation Career' is traveling the country capturing stories of military veterans who are transitioning out of the military and back to civilian life."
Military Makeover acknowledged WGU's support of Dufay as a military spouse and her balancing of college, family and work. In the episode titled "Learning with Warriors," Dufay describes that her husband was stationed at Joint Base Lewis-McChord (JBLM) near Lakewood prior to retiring from the military. He served in both the U.S. Army and U.S. Navy at various bases. The family decided to stay in the South Sound after weighing what would be best for their daughters, including one who has special needs aided by local medical professionals at the Madigan Army Medical Center.
Meanwhile, Dufay had experienced starts and stops in her higher education during her family's military moves over the years. She says that when she decided to complete her degree, she sought a university she could attend around her schedule. "I was searching for online programs to give me flexibility," Dufay says. "I had to work in the kids' school day hours. I wanted to still do pick-up, drop-off and field trips."
WGU fit that bill. WGU transferred her credits from other colleges, let her enroll at a convenient time, attend part-time, take classes around her schedule, test for her current skills and take exams when she was ready, and provided a mentor she met with weekly. Condon says the WGU model often allows students to graduate more quickly and with less debt than at a traditional campus. "With our competency-based education, students can present credits for evaluation to see if they can be applied to achieving their degree," she explains.
Dufay says she would be at Garfield in the mornings initially as a volunteer then as a paraeducator, come home and do her online classes for a few hours, then go back to pick up her two daughters. She also did classwork evenings and weekends. She says both her husband and the Olympia School District supported her path. Dufay was then hired as a teacher is now continuing her education once again. "That was always the plan," she says. She started her WGU master's degree program July 1. Her recent scholarship will help with those studies.
For others who are climbing their own hill of life's challenges and may also be considering returning to college, Dufay offers these tips. "Apply for every scholarship you can," she says. "Don't compare your trail to anyone else's. Do your best and keep going."