One of the greatest things about food in America is it encompasses cultural favorites from all around the world. Even here in the Pacific Northwest, we have unique and inspired businesses creating exotic and delicious products right in our backyard. HOTBABE-HOTSAUCE is a women-owned hot sauce business offering specialty hot sauces that infuse the authentic heat of the Caribbean. Co-founders Sandra Bocas and Fiona Douglas-Hamilton have loved being able to bring such incredible flavors to the local community and are thrilled to be recently recognized as the winner of the 2022 Scovie Award. Together, they have flourished in the community with their creative and exquisite sauces.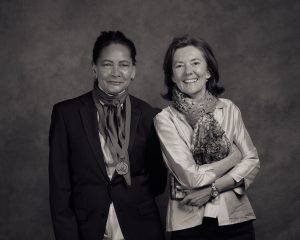 All of the HOTBABE-HOTSAUCE products stemmed from Sandra's family recipes. "The first hot sauce I made was my grandmother's recipe from when I was growing up," she recalls. "It was a lime-based hot sauce that was actually one of the first fresh hot sauces in the area." Originally a fashion designer in Europe, Sandra relocated to Olympia 10 years ago with a desire to pursue something new in a smaller town.
"I had already made some hot sauces that Fiona tasted, and she told me she thought I should go into business," Sandra shares. "I made 10 jars and went around selling them one day. I sold nine and the rest is history." Sandra established her business in 2013 and began selling her hot sauces in local farmers markets in the area.
Coming from a business background, Fiona had decided to shift gears in 2017 to work alongside Sandra and help her grow her business. "At the time she was doing this all by herself, and it was clear she needed help on the backend," Fiona says. She set out to find resources that could help them successfully run their business in the local community. Fiona found the Thurston Economic Development Council (EDC) and their Center for Business & Innovation (CB&I) and received help to revamp their website and learn QuickBooks accounting through the Washington Center for Women in Business (WCWB) and Small Business Development Center (SBDC).  And then began learning how to properly scale their business through the ScaleUp training series. "ScaleUp truly focuses on everything and has been very useful," she shares. "It enables you to look at your margins, breakdown, and see how you can improve your business by spotting inefficiencies. I have done it twice and could absolutely do it again!"
Aslan Meade, the EDC's director of strategic alliances, has known Sandra and Fiona for many years now and is one of their biggest supporters. "We've literally turned Sandra and Fiona into one of our poster children for the EDC!" grins Aslan. "Our Center for Business & Innovation in Lacey offers the most comprehensive suite of business support services in the entire State of Washington. Whether your business is starting up or scaling up, we have coaching and training programs that can assist with every need a business has. Sandra and Fiona have used so many of our services over the years, that we've literally created a giant poster of them that we bring to events and trainings, showing the path they've taken utilizing our resources to help build their business."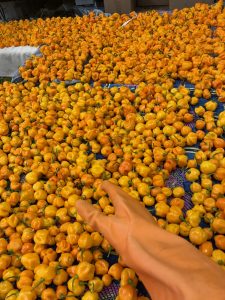 HOTBABE-HOTSAUCE has also become involved in the Thurston EDC's Southwest Washington Food Hub as a vendor. They recently became one of the featured products in the gourmet food boxes, which has been going very well so far. One of the greatest benefits of this collaborative effort is the chance for food producers to connect with one another and source ingredients locally. "Our grower Roots & Stems had some staffing issues at one point and wasn't able to continue growing for us," recalls Fiona. "Luckily the Food Hub put out a call and that's how we got connected with Five Hearts Farm, who is still a partner for us to this day." These two local farms provide all of the genuine Caribbean peppers that are used to create Sandra's amazing and diverse series of hot sauces.
"I really think of Fiona and Sandra as my partners in the regional agriculture development work we do at the EDC," reports Aslan.  "They attended one of the earliest design charrettes for the SW WA Agricultural Business & Innovation Park the EDC is developing in Tenino, and have provided letters of support for grant submission.  We hope to eventually provide them a permanent home for their processing operations once the Park is up and running next year."
"Also," continues Aslan, "in the way they are sourcing their produce locally from Five Hearts Farm and selling through the Food Hub, they are helping us build a truly local food supply chain. Certainly, the pandemic has shown that we need to be more resilient within our own region, and so be more responsive to disruptions. Ultimately, we need to be growing more food regionally for our own regional consumption, and to do that we need to build up every level of the local food supply chain, from our farmers growing more food, to local processing, storage, distribution and market development. The EDC's Regional Agricultural Development (RAD) program, in partnership with the Thurston WSU Extension and the Northwest Agriculture Business Center, is doing just this. We call the program RAD, and that's exactly the kind of partners Fiona and Sandra are!"
Together, Sandra and Fiona have been able to keep their footprint small and support each other's efforts in the community.  And the support of the local community didn't stop at the business support partnership with the EDC…During the pandemic, HOTBABE-HOTSAUCE felt the sting of the economic shift that occurred, but they prevailed with the devotion and love from their Olympian neighbors. "The Olympia area really rallied and supported local people, and we are grateful for that," says Sandra. "As a women-owned business people really appreciate us and love to support us. Our customers come back every year and tells us they are glad we are here!"
The love between locals and HOTBABE-HOTSAUCE is mutual, with Sandra and Fiona placing high priority on connecting people to their process and products every chance they get. "We want to inspire people to cook well and have encouraged people to try our sauces in their recipes," Sandra shares. "We have really helped people to expand in their own kitchen."
This year, the love didn't stop at Thurston County's borders. The panel of judges for the internationally recognized Scovie awards also felt the same spark when they tasted HOTBABE-HOTSAUCE's contending spicy sauce Chill n Grillin'. They declared HOTBABE-HOTSAUCE the official winner of the 2022 Scovie Award within their category, which came as a pleasant shock to the co-founders. "We were kind of chubbed," Fiona says. "We knew our customers liked our sauces, but it was truly something to have a third party saying we did a really good job." With such a high honor as the Scovie award in the hot sauce community, the recognition brings an even stronger reputation to newcomers to the HOTBABE-HOTSAUCE brand. "It's a real feather in our caps," says Sandra.
For the co-founders, being a part of this community and being recognized for their work has been an exceptional honor. "We don't want to grow to become a national brand and really feel like our roots are quite literally in Thurston County," says Fiona. "The pepper plants are here in the ground, we have our commercial kitchen in Tumwater, and there are plenty of people in the whole of Washington for us to be quite content and do well. We love doing what we do." In line with their commitment to local connection, Sandra and Fiona are finally able to return in person to local farmers markets in Thurston County and the surrounding areas. If you want to bring some kick into your kitchen, check out HOTBABE-HOTSAUCE and experience the heat of this authentic Caribbean hot sauce for yourself.
Sponsored