In just a few short weeks, the grounds of Huntamer Park will play host to the Lacey South Sound BBQ Festival and its over 25,000 guests and vendors. The event takes place on July 9 from 11 a.m. to 6 p.m. Lacey South Sound Chamber brings this iconic summer tradition back to the community after a two-year hiatus and the event promises to be bigger and better than ever.
"There are still many opportunities to get involved as a vendor or participant," reminds Lacey South Sound Executive Director Blake Knoblauch. "The festival offers a great opportunity and large audience for promoting local businesses as well as encouraging local business owners to connect with each other." Wondering how to feature your business at this year's Lacey South Sound BBQ Festival? Here are some ideas to consider.
Sponsor the Beer Garden
Three levels of sponsorship are available in the Beer Garden ranging from $100 up to $1,000. Perks include, but are not limited to, access to a VIP reception, company name placement on market materials and complimentary tickets to the Beer Garden.
Contribute to the Recipe Book
When you sign up to sponsor the Recipe Book, you not only get a chance to advertise your business, but to contribute your own favorite barbecue recipe for others to enjoy.
Participate as a Vendor
The Lacey South Sound BBQ Festival isn't just about food. There is room and opportunity for non-food vendors and pro-food vendors alike, with discounts for businesses that are current members of Lacey South Sound Chamber.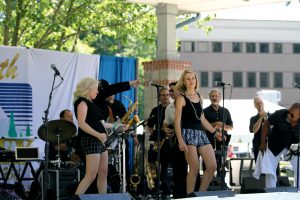 A full list of sponsorship opportunities can be found on the Lacey South Sound BBQ Festival Participation Menu.
While Lacey South Sound BBQ Festival is famous for its professional BBQ competition, there is a quieter, but equally delicious contest open to all of us, Backyard Joe.
Stephanie Hemphill, co-founder and principal of Kesh Marketing and former Lacey South Sound Chamber executive director, has had the pleasure of watching the Lacey South Sound BBQ Festival and its beloved Backyard Joe competition grow from its early beginnings in the Cabela's parking lot to its new home at Huntamer Park. "From the beginning," shares Stephanie, "the intent of Backyard Joe was to feature and celebrate the everyday guys and gals that painstakingly prepare delicious barbecue at home for their families and friends. It may just be a hobby, but you do it really well, and Backyard Joe is your opportunity to show off that talent."
"There are five categories to the Backyard Joe Competition," she continues, "beef brisket, chicken thighs, seafood, baby back ribs and open. There is a chance to earn a medal in each category, or you can compete for the honor of Overall Grand Champion by entering in at least three of the categories. How you cook the meat matters, only traditional methods are permitted and while only the panel of judges get to sample the barbecue, community members are welcome to ask questions and engage with the contestants."
Remember, the Lacey South Sound BBQ Festival is at its heart, a fun, free, family friendly event. Attendees of all ages will enjoy the two performance stages, variety of vendors and delicious food. Those young at heart, and in age, will have a blast in the Kid Zone that includes fan favorite face painting, a bounce house and even a dunk tank. Those 21 and over can connect with friends and relax in the Beer Garden. The Brat Booth returns as well, offering Lacey South Sound Chamber candidates a unique opportunity to connect with the community they hope to represent.
"When the Lacey South Sound BBQ Festival first moved into Huntamer Park," reflects Stephanie, "it was exactly what the city had in mind for a community event. Booths lining the street. Families and businesses mingling. Bands playing and just a vibe of all around fun. The Lacey South Sound BBQ Festival is a beautiful coming together of all things Lacey."
Time is running out to become a vendor or participant at this year's event. Visit the Lacey South Sound BBQ Festival website or contact Executive Director, Blake Knoblauch today by calling 360.491.4141 or emailing Blake@laceysschamber.com.
Sponsored