Downtown Olympia's waterfront is a year-round destination for residents and visitors alike. At its heart is the bustling, vibrant Olympia Farmer's Market. People swing through for fresh produce, a rainbow of cut flowers, on-site or to-go meals, artisan goods and locally made gifts. April through October is the Market's high season, and they're open from Thursday through Sunday from 10 a.m. until 3 p.m.
As the spring growing cycle kicks into gear, high season brings back many of the region's local farms and farmers as well as those selling plant starts, seeds and garden-related items for guests with a green thumb. Recently returned for the 2022 season are RainSong Farm's tomato and pepper plants, Wiser Worm Farm with their fresh wigglers and worm tea and Coffey's Ground ferns and rustic wooden benches.
They are joined by Alamere Herbs & Botanicals, Kiona Native Plants, I & E Enterprises, Spring Creek Farm, Piece by Piece Farm, Cedar Slope Farm and Constellation Farm for budding starts and fresh produce. Ojeda Farm and Heaven's Meadow Flowers provide amazing cut flower bouquets.
But it's not just all returning fan favorites. The Olympia Farmer's Market is excited to welcome fresh new faces to their expansive vendor list. Paper Scissors Rock sells whimsical clocks and artwork, Sunflower Clay offers sculpted pieces and Rowan Green Fiber Arts crafts warm, soft accessories out of recycled cashmere.
Kjell's Pottery crafts with local clay and Silva House Market pours scented candles in an amazing array of fragrances. Earthling Food Company, Summit Farms, Riverbird Farm, Little Big Farm, Mak's Garden and Natural Family Farms try to tempt your palate into trying new flavors with every meal.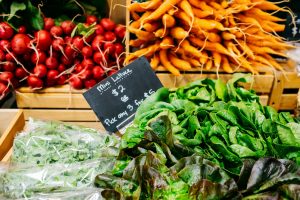 While you explore these fresh faces, keep an eye out for activities and special Olympia Farmer's Market celebrations. Nora Hantula, Olympia Farmer's Market assistant manager, says they hope to provide more community events this year. These include a Summer Berry Celebration, National Farmers Market Week festivities in August, and autumn Harvest Celebration.
The Olympia Farmer's Market gladly accepts EBT and SNAP funds and will even match up to $40 a day spent on fruits, veggies and edible plant starts when purchased with a state provided EBT card. "Many farmers accept Senior and WIC Farmers Market Nutrition Program checks," explains Hantula. "These checks are valid to purchase fresh fruits and veggies from June to October. Women and children certified to receive WIC Program benefits are eligible for WIC FMNP and can ask their local WIC clinic about the checks. Seniors 60+ can apply to receive their checks online."
Don't miss out on the weekly Senior Thursday discounts for guests aged 55 and better. They also have a weekly Thursday Raffle. Shoppers are encouraged to enter for a chance to win items created by Olympia Farmer's Market vendors. "The Raffle is free to enter and open to all visitors who shop at the market on Thursdays," explains Hantula. "New for 2022, the Market is partnering with Senior Services for South Sound for Senior Third Thursday at the Market. Every third Thursday, now through October, Senior Services will host a special performance or social activity at the Market stage from 10 to 11:30 a.m."
The Olympia Farmer's Market stage also showcases live music each day for guests to enjoy. Combine that with plenty of free parking, eight delicious dining options and close proximity to strolling along the Percival Landing waterfront and you've made a brunch, afternoon, or entire day to remember. Weather not being cooperative? There's plenty of covered shopping and seating.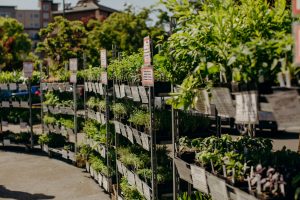 Vendor rotation changes weekly so if you're looking for someone or something specific, check out the vendor schedule, which is updated every Wednesday. Their website is also where you'll find directions, seasonal information, history, the entertainment calendar and safety guidelines.
You can follow the Olympia Farmers Market on Instagram, Facebook and Twitter or through emailed newsletter sign-up. Then stop by for a springtime refresh by sampling the best of the Northwest. Farmers, artists, chefs, crafters and performances of all kinds are ready to show off their wares Thursday through Sunday and shopping green and local is a win/win/win for everyone.