Long-established learning styles—visual, auditory, reading and writing or kinesthetic—are the established norm to address most public-school students. But for highly capable students, sometimes referred to as gifted, a different approach may be a better fit for their unique mindset. At Olympia's NOVA Middle School, they focus on innovative methods and tailored learning to help kids grow, thrive and succeed.
At NOVA, teachers and administrators experience highly capable/gifted learners as a complex formula. HiCap doesn't just refer to learners deemed smart or who test well. "Many, but not all, highly capable students perform or show potential for performing at significantly advanced academic levels when compared with others of their age, experiences, or environments," says Enrollment and Communications Manager Ellen Lindstrom.
But these students don't necessarily excel in every subject. "Some may have specialty areas such as math, writing or leadership," Lindstrom explains. "It's not uncommon for highly capable students to shine in some areas and struggle in others. Not all highly capable students score well on standardized assessments. Sometimes learning disabilities such as dyslexia, anxiety, and other complications mask traditional HiCap identifiers. Thinking outside the box, creativity, a heightened sense of social justice, and intensity are common characteristics."
To address these types of learners, NOVA Middle School was founded in 1992 and has graduated more than 600 students to date. They offer classes for 6th through 8th grade and limit enrollment to approximately 100 students each school year. The sixth-grade cohort has their own time in the mornings while grades seven and eight are mixed. Everyone spends the afternoon in elective-style enrichment, field trips and activities. "We focus on social and emotional growth as well as academics, with thoughtfully designed curriculum for both," says Lindstrom.
Maintaining such a small footprint of students and staff allows the school to enjoy nontraditional activities too. When winter weather makes P.E. classes muddy, they head into town for bowling, rock climbing, swimming and even trapeze yoga. For afternoon electives the students can choose classes like card game strategy, meditative walking and web design.
They also host yearly trips each year to places like Camp Colman for all three grades, summer ice cream socials and drive-in movie nights for families, and the morning coffee klatch for parents dropping off their kids.
During the summer months, NOVA is home to Discoveries Camp for students moving into grades 4-6. Running two, weeklong sessions during the month of July, campers can enjoy learning about robotics, tie dye designs, theatre and stagecraft, art, games and the stock market.
"There are many misconceptions about gifted and HiCap education," explains Lindstrom. "It's not all about testing, and this isn't a high-pressure academic school. It's rigorous but we're providing executive function and social emotional skill building and developing a sense of agency and identity and self-confidence. We work to create an intentional environment that is geared to the developmental needs of early adolescents."
The National Association for Gifted Children explains that: "Gifted does not only mean smart. Gifted is a brain-based difference that is sometimes a gift and often times comes with a challenge, especially when trying to fit in with the general public."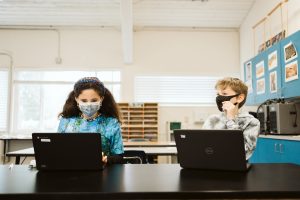 NOVA welcomes Twice Exceptional children, those who show HiCap and learning differences at the same time. NOVA maintains a certified mental health counselor for faculty, staff, students and families and encourages things like gum, wobble stools and fidget toys, which help kids focus in the classroom.
Many local school districts use testing to identify HiCap students, but those scores are only a portion of the NOVA program's enrollment criteria. NOVA's portfolio-style application  includes records and scores from previous schools; written material from the prospective student, parents and former teachers; the Cognitive Abilities Test (CogAt); and an on-site visit shadowing current NOVA students to truly experience whether or not it's the right fit.
NOVA allows for rolling enrollment so families can apply after the admissions deadline. But Lindstrom warns that since there are several steps to the application process, sooner is always better. This applies to families seeking financial aid as well. Because they're not affiliated with any of the regional school districts, there is no residency requirement but also no bussing available. With a maximum of 36 incoming sixth graders each year space is limited. Call 360.491.7097 or go online to visit, apply or ask questions today. "Gifted and HiCap education may not be what you think!" says Lindstrom.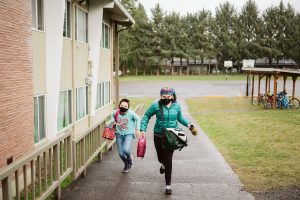 Follow NOVA on Facebook and Instagram for events, activities and other family-friendly fun. They're hosting a free viewing of Screenagers Next Chapter: Uncovering Skills for Resilience on May 11. Their annual fundraising Gala is also on the horizon on May 22. Find out more on their website.
There is no right or wrong way to think, learn and experience life. Finding a school environment where your child feels safe, heard and encouraged lets kids discover problem solving, life skills, interpersonal relationships and the little things which develop healthy, happy adults. NOVA could be just the fit you've been looking for.
Sponsored