The outside spaces around your home can provide daily beauty, fragrance and peace. Jeff Glander wants you to love and utilize all the areas around your home or business. He is a Professional Landscape Architect (PLA) and principal at SCJ Alliance, a 100% employee-owned company. SCJ specializes in engineering, construction management, environmental planning, and landscape architecture and design, among other things. Jeff and his team can help you with plans to actualize the dreams and desires for your outdoor spaces.
"There is art and science to planning the outdoor environment," says Jeff, who was attracted to the combination. "I always had a garden and I like art," he adds. Landscape architecture has allowed him the joy of both. He serves both residential and commercial clients.
For the homeowner, the ideal time to talk with Jeff is as soon as you acquire your property. It is easy to get caught up in the building construction and forget to consider the lay of the land, which is a crucial element. The value of site planning cannot be overlooked. Which way will you face the front of the house? Where is the sun in the morning? How is the afternoon light? What's the topography? Do you want solar power? Which type of plants need what sort of light? An initial meeting with Jeff allows him to get a feel for your personal tastes. Together you can imagine your unique outdoor environment. "My favorite thing is working with my associates and helping our clients achieve their goals for their property.," says Jeff.
It helps to write a list of all the amenities you want in your yard. That could include garden spaces, a play area for the kids, patios, decks, walkways, driveways and water features. How do you integrate all these into the landscape? Jeff helps with the grand plan. It's a puzzle that is different with every client and every property.
If you have ever watched HGTV, the home improvement reality channel, and seen disastrous yards transformed into gorgeous outdoor kitchens or oases with pools, waterfalls and mood lighting, then you get the idea. You might not have the budget for everything, but it is important to make plans that work for you. The SCJ teams of landscape architects and engineers are ready for you.
"It's a fun process," says Jeff, who notes that some people establish their plan and implement parts of it over time. Your schematics and images of the products you want, inspire the optimum outcomes for all your exterior spaces. Cost is usually a consideration. "In most cases you can get money back by increased value," assures Jeff, and you get to enjoy it while you live in the house.
A substantial amount of the work Jeff completes is commercial projects. He has been involved with over 2,000 projects in Thurston County since 1980. Schools, parks, multi-family housing and senior living facilities are in his portfolio.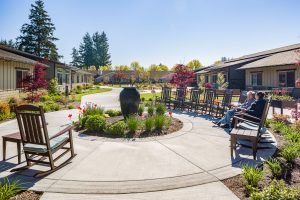 "Senior housing projects are fun," says Jeff. "My father-in-law lives in the independent living section of Fieldstone." It includes a small putting green and raised beds for community gardening.
In the memory care section there's a large, secure courtyard between the two wings that is accessible to all the residents all the time. Residents can go outside in warmer weather to sit while soaking up the scenery that includes a wide variety of plants and flowering shrubs. They admire the water feature and the vegetation changes continually through the season and always offers something new. There is seasonal interest and even fragrances to engage more senses. Those in wheelchairs can be pushed around the paved paths and get up close to the flowers. Many rooms face this park-like setting, which is an added benefit. Much thought and attention goes into the planning of shared spaces like this.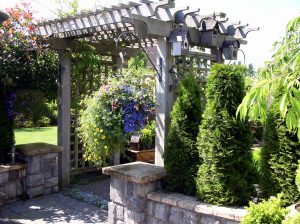 You've noticed that spring is in the air. Probably, your yard is calling for your attention. Milder days and the shift to daylight savings time give you more incentive to get out there with your rake and mower. "It's a good time to start thinking of moss control," suggests Jeff. Here are a few tips:
Thatch and treat your yard for moss now
Prune fruit trees while they are still dormant
Clean up all your beds
Clip back ornamental grasses
Prune the roses
Cut the dead growth from perennials
Tidy up the garden and consider what you'll be planting when the weather warms up
You can get more information about the services provided by SCJ Alliance on the business website. Get some help for implementing your outdoor dreams. Jeff would love to hear from you.
Sponsored