The tell-tale "click, click, click—whoosh" of your stove, the comforting embrace of hot water, the ambiance of your fireplace, the ability to get to and from—all from propane. Propane makes it possible. But what is propane gas? How do we get it? What kind of impacts does it have on our lives and the environment, and who will help us get it? Acme Fuel, Thurston County's favorite supplier of propane, heating oil, and gasoline is one of our area's leading suppliers of propane, and through the help of the Propane Energy and Research Council (PERC), they'll teach you all about it.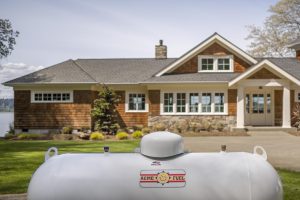 What is Propane Gas?
You may have heard propane referred to as LPG, or liquified petroleum gas. Though it is a gas, it is normally stored as a liquid after being compressed. Because it is non-toxic, colorless, and odorless, an identifying (and stinky) scent is added to the final product for safety in use.
Propane can be used for heating, cooking, and as fuel in certain engine applications like fleet vehicles and buses, farm equipment and forklifts.
You'll find it on restaurant patios in heaters, in backyard barbecue grills, in standby generators, even heated swimming pools. Propane applications are everywhere, and they enhance our quality of life.
Early History of Propane
Though it feels like propane has been around forever, it was only discovered by French chemist Marcellin Berthelot in 1857.
By 1910, Walter O. Snelling of the U.S. Bureau of Mines identified it as a volatile component in gasoline, marking the beginning of the propane industry.
Like most new discoveries, and especially ones of that era, it took several years for propane to reach residences. Over a decade and a half after Snelling's discovery, and around the time that Acme Fuel became a company in 1925, propane products finally began to be used in homes.
In the 1930s it had become popular enough for ethyl mercaptan, or ethanethiol to be added, the tell-tale rotten egg smell used to detect leaks.
By 1947, it was reported that 62% of American homes were then equipped with either propane or natural gas.
Where Does it Come From?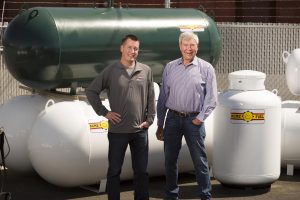 Propane is mostly a byproduct of natural gas processing, but some is derived from crude oil refinement. According to PERC, much of the propane supply in the United States comes from the northeastern U.S. through shale gas extraction.
Why Do People Choose It?
Many people choose propane as a fuel source because it's reliable and abundant. It helps provide energy independent of the electric grid, so the more propane-powered appliances you have in your home, the better you will fare in inclement weather.
PERC explains that propane made the approved clean fuel list as part of the 1990 Clean Air Act. When propane is used, it reduces the greenhouse gas carbon dioxide and further reduces air pollutants like carbon monoxide and nitrogen oxide. Propane is a great choice for consumers concerned about cutting their carbon footprint.
Who Can I Get it From?
Acme Fuel has been fueling the South Sound since 1925. They are Thurston County's favorite fueler, not just because of their competitive pricing, but also because of their unparalleled commitment to customer service and community philanthropy.
Their retro building on State Avenue in downtown Olympia is a throwback from yesteryear, just like their high level of customer service that came standard in a bygone era. For Acme, and perhaps this is a contributing factor in their family business' longevity, that commitment to their customers has never wavered.
The front desk staff is adept at helping customers determine what type of fuel is right for them. And whether it's joining the auto-fill program, new tank installations, an occasional fill, or something else, Acme Fuel is here for you, your home and your business. They strive to not only satisfy their customer's needs but also educate them on options. Through a partnership with PERC, Todd Deck, Acme's general manager, says they send out informative propane brochures annually to all of their customers.
Advancements in Propane
Propane has certainly come a long way, and it aims to fuel the future even further. A recent piece by LP Gas Magazine explains that propane offers benefits to the marine sector by helping them achieve a mandate that requires greenhouse gas emissions in international waters to be cut down significantly. When used as a maritime fuel, propane helps mariners meet those goals.
It helps European aerospace engineers power rockets, as Chris Larmour, an aerospace company CEO reports, "because of its unique physical property in that it does not freeze when chilled down to a similar temperature as liquid oxygen."
In the coming years, propane-powered engines will hit the market that are said to surpass diesel engines in performance and will cost significantly less, environmentally and to the consumer. (Either way, Acme's got you covered because they supply several types of diesel gasses too, at their Fast Fuel stations).
Whether you currently enjoy the marvels of propane, are building a new home and are wondering what types of appliances to use, or are ready to switch to a cleaner, more reliable and abundant fuel source, give Acme a call. They'd love to chat with you about all things fuel, and how choosing the right fuel for the job can help improve your budget and your quality of life.
Acme Fuel
Acme's Office
416 State Ave NE, Olympia
360.943.1133
Fast Fuel Stations
303 Thurston Avenue NE, Olympia
Lilly Road – 501 Lilly Road SE, Olympia
Sponsored