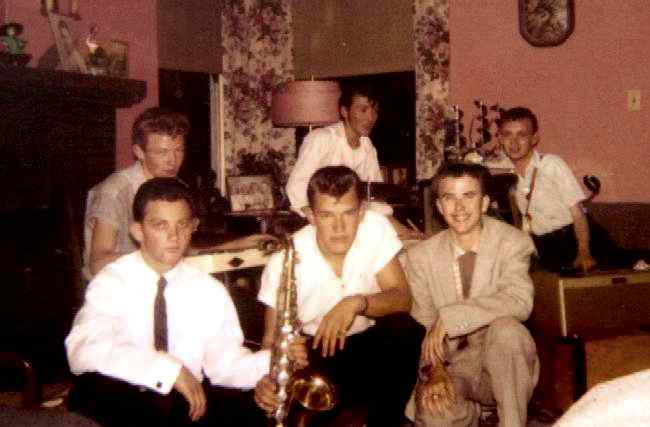 It is a little-known fact that school was actually in session at the Evergreen Ballroom. School for aspiring, young musicians, that is. The Green was more than just the local, rock-and-roll, dance-all-night roadhouse. Concert nights were study sessions. One of those bands was Little Bill and The Bluenotes, who not only studied the greats at the microphone, but who eventually took command of the stage themselves. Singers and performers of phenomenal talent headlined at the Lacey dancehall out on Old Highway 99 for almost seven decades. They not only electrified the patrons who came to dance until dawn, but they ignited the sparks of ambition in the bands who came to learn from them.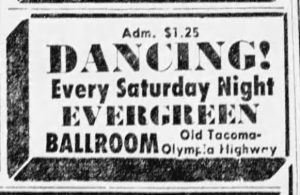 In the mid-1950s, Bill Englehart, Buck Ormsby, Lassie Aanes and Frank Dutra formed their own band, The Bluenotes, later becoming Little Bill and The Bluenotes. Aptly named, they played the blues, but they also played rock-and-roll to masses of dancing teenagers. They practiced in Bill's garage, and they managed and promoted their own teen dances, renting dancehall space while their girlfriends made posters. Driven to succeed as a band, they studied the greats, and one day they learned of a placed called the Evergreen Ballroom. "We would never have known about the Evergreen Ballroom except that we used to hang out at a record store on lower Broadway in Tacoma and they let us play all the records," says Bill Englehart as he retells the story. "I'm not sure which one of us, but one of us saw this poster on the wall that said, 'The Evergreen Ballroom' and a date and who would be playing there. And I thought, 'My God! What's this?' I asked if it was in Olympia, and he said, 'yeah, you'd like it out there. They bring in all the good groups.' That's how we found out about the place."
They arrived early at the popular ballroom out on Highway 99 in Lacey, before the venue filled with people, so they could get a good spot to watch the performers. "The ballroom itself was mainly a dance floor where people would dance," explains Englehart. "It was huge, really huge. At one end of the ballroom was where we always made sure we stood. We'd get there early and stand right next to it. We couldn't be close enough."
The ballroom inside the 1930's barn-style roadhouse boasted 1,670 square feet of maple wood dance floor. The stage was elevated at one end. The space was colorful with low lighting, and there was a bar at the other end. People of all ages drove out to the edge of Lacey on what is now Pacific Avenue having bought a $1.25 ticket at a local shop or waited to purchase one at the door. The fun started at about 9 p.m., and people stayed to dance through to the last dance around 2 a.m.
Englehart and his band studied many great performers who made the Evergreen their stop along the road between Portland and Seattle. Ike and Tina Turner, James Brown and B.B. King are just a few names that made a big impression. Many would take the time to talk with members of the Bluenotes who were eager to learn about music and performance. "James Brown was an amazing performer," recalls Englehart, "always had a great band. In fact, his band was like 10 pieces. We had never seen him in person and there he was. He had a song 'Please, Please,' and he would go, 'Please! Please!' and then he fell on the floor, just fell on the floor, and everybody looked. We thought, 'my God, what's happening here?' A couple of guys from his group came over and picked him up and walked him off the stage and he had his head down and sobbed, 'please, please.' We were just completely blown away. He got clear over to one side of the ballroom, and all of the sudden it was real quiet, and then we heard him again, 'please, please.' He was crawling back across the floor on his hands and knees with these two guys behind him. One had a cape over him. It was the most dramatic thing I had ever seen in my life."
Englehart and the band gained ground, and the band went on to start recording their music. In 1959, they recorded their hit single "I Love and Angel." Irv Sholund, the second-generation owner of the Evergreen Ballroom, invited the band to work Saturday nights. An advertisement in the Tacoma News Tribune on March 10, 1962, headlines Little Bill and The Bluenotes at the ballroom performing "between Fort Lewis and Olympia on Old Highway 99."
"It was amazing even being on the stage," says Englehart, "where these people that we adored had stood."
As the years went on more than 50 different band members came and went from the Bluenotes. Bill Englehart continued playing as the last original member. The band toured and opened for a number of notable performers, even B.B. King who had made an impression on the band previously. Englehart performed for 60 years before retiring. He and his band are among the many whose lives were intertwined with the rock and roll roadhouse on the edge of town.