There's been no shortage of talent coming through Olympia High School boys cross country program over Jesse Stevick's 15-year tenure as the Bears' head coach. But despite all the gifted athletes who have laced up a pair of shoes and donned the squad's traditional blue and white striped running shorts, it's hard to argue against the fact current senior Ethan Coleman is the best of the bunch.

While others set goals of competing against the top runners in the state, Coleman, over the last two seasons, has constantly put up times at the 5k distance that place him among the nation's elite.
"It's pretty amazing that he's able to run the times he's been able to run without anyone around," said Stevick, citing last year's shortened cross country season and lack of participation in top flight meets due to COVID-19 limitations. "Guys at his level are just trying to pick and choose the races where they're going to have competition, and right now you just can't do that. Ethan being able to take races that are not elite races and just do what he can with it and have fun with it and still be able to set course records, it really shows just how good he is."
Coleman has won all six races he's competed in this year, going three for three at the 5K distance. His victories in the 5Ks are highlighted by his winning time of 14:40.2 at the 14th annual Nike Twilight Cross Country Invitational and the 14:52.7 he put up while triumphing in the Bill Kehoe South Sound Invite.
His winning time at the highly-competitive Nike Twilight is not only the top time in the state this season regardless of classification, it's also the eighth-best time nationally – trailing the top mark among all high school cross country runners be a mere 11 seconds.
Remarkably, that time isn't even Coleman's personal record.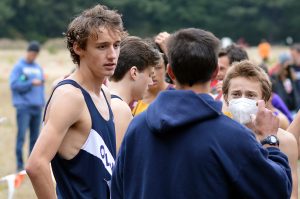 His best career time occurred during his winning run at last year's 4A Washington State Cross Country Coaches Association Virtual Cross County championship meet when he covered the distance in 14:39.2.
According to Athletic.net, Coleman's time in the 5K last season was the second fastest in the state over the last 15 years, trailing only the mark of 14:31.7 put up at the 2014 3A state championship meet by North Central's Tanner Anderson, who would go on to be a multiple-time All-American at the University of Oregon.
It's easy to understand why powerhouse programs such as Notre Dame came calling.
Already the school record holder at 5,000 meters—and a variety of other distances for that matter—Coleman will run for the Irish next fall, picking Notre Dame over an impressive list of high profile colleges, including Oklahoma State University, which is led by head coach and 1988 Tumwater High School graduate Dave Smith, who has led the Cowboys to three national titles.
"I had a couple different options when I went on my official visit to Notre Dame," Coleman said. "It was my last visit and I didn't really think I was going to go there, but within two hours I knew Notre Dame was it. The coaches and the people are just great there. Of course the program is great as well, but it was really about the people. It just made sense to me."
Within two days of returning home, Coleman made it official and committed to the Irish.
"Notre Dame is getting someone with so much potential," Stevick said. "He wants to go to a college that's going to be a challenge for him. He wants to be somewhere where there are guys who are faster than him so he can learn and improve and be part of a team. They're also getting a great leader."
Before he heads off to Notre Dame, however, Coleman still has plenty left to accomplish in his high school cross country career, namely capturing a 4A state championship and getting a time as close to 14-seconds flat.
Unlike last season when he won it virtually, Coleman now plans to secure a state title physically. Although he continues to apply much of the same technique he used while training and running alone last season.
"It's interesting how I didn't have the opportunity to race against other people during COVID (last year) and had to focus on running against myself," Coleman said. "You can run a fast race against other people but it takes a lot of mental fortitude to race by yourself and as time has gone on with some of these races (this year) all I am doing is racing against myself. I'm not thinking about a time. I'm just pushing myself as hard as I can."
Coleman closes out the month with the Westside Classic District 3-4 Championships in University Place on October 30 before heading to the Class 4A state meet in Pasco on November 6.