Many of us couldn't imagine life without sound. Unfortunately, there are many children across the country that experience hearing difficulties or even full deafness. The work of exceptional people such as Chris Schaefer can change their lives, including their relationship with education and learning. As the North Thurston Public Schools audiologist, Chris has a unique opportunity to work with youth across many grades and schools to provide them with the tools and resources they need to be successful in school.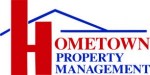 Chris was born in Seattle and grew up on a farm in Snohomish County. After graduating high school, he attended Western Washington University and earned his undergraduate degree in elementary education. "I went through the program and met neat people," he recalls. "I really liked it until I did student teaching and found it wasn't for me." Chris decided he wanted to work in a more personal and specialized capacity, so he decided to return to Western to pursue his master's in clinical audiology.
After completing his post graduate degree, Chris began working in industrial hygiene for Washington Audiology Services. "We had contracts with airlines and manufacturers to do annual hearing tests," Chris explains. "I would come in and do noise level studies, annual trainings for their staff, and test everybody's presentation." This job was very exciting for a while, but after 5 years the travel became tiresome. "Since I had a degree in education, I was able to do educational audiology for Tacoma Public Schools under an emergency certification program," he says. "One of their staff was out on leave and they needed someone to fill in for a year, so I jumped on the opportunity."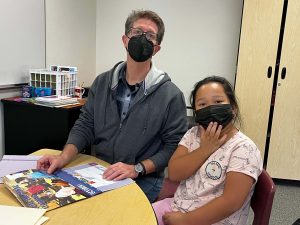 Once this one-year job was over, Chris bounced around to other school districts and clinics until a new law passed that established practicing audiologists had to have a doctorate in order to be able to bill health insurance. "Instead of getting a doctorate, I decided to go back to grad school and get a certification in speech language pathology with the intent to work with hearing-impaired kids," he shares. "I have known some kids and adults in my life that are near deaf, so it has been an interest of mine." He completed the program online through University of Northern Colorado and really enjoyed the experience.
With his new certification, Chris had the opportunity to begin working with North Thurston Public Schools as a speech pathologist. "I work in elementary, middle and high school, helping any child that needed speech services," he says. "I work with speech articulation, help kids who stutter, and support kids in life skills classes." This includes working with nonverbal students by helping them learn technology that allows them to communicate. "It seems to open up a world of things they can say and ask for," Chris shares. "They find utility in it and then just start talking themselves."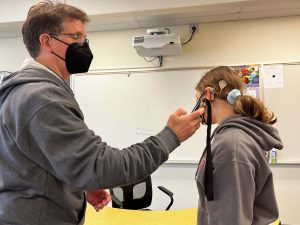 Eight years ago, the district audiologist decided to go part-time, so Chris was able to pick up 2 days a week doing audiology. "My job satisfaction really picked up," he says. "I get to help kids from preschool to post-grad school, so I really get to know them and build long-term relationships with the kids and their parents." Chris has had many students that he has helped over the course of many years. One of his students started with him when she was in 5th grade, and now this fall she will be starting at San Diego State University. For him, it has been extremely rewarding to see children overcome such a challenging obstacle and lead fulfilling and successful lives.
Chris has continued to split his time between speech pathology and audiology, and works with the district's Deaf and Hard of Hearing program. As the district audiologist, he also spends a lot of time making sure his students have access to the necessary equipment to be successful in school. "I order the right equipment to fit with their hearing aid, and maintain it to make sure it keeps working," he explains. Over his career, Chris has seen great advancements in technology that have completely changed the way hearing-impaired and deaf students can participate and learn in a traditional classroom setting.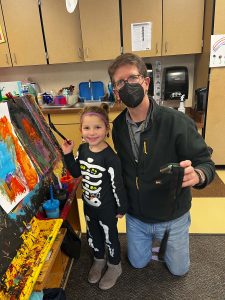 Serving as the North Thurston Public Schools district audiologist has been a dream come true for Chris. "For me, I think I have the best special education job," he shares. "There is only one position like this in the whole district, and I've got it. It is very satisfying." Chris feels blessed not only to have a job he loves, but also to have driven, wonderful kids that are pursuing their dreams too. His daughter is actually attending Washington State University to earn her degree in speech pathology as well, though she hopes to work more on the clinical side with stroke victims and brain injuries.
Through dedicated and passionate people like Chris, our youth can have the support and resources they need to be successful no matter what obstacles life may throw them. The children in the Deaf and Hard of Hearing program have made great strides with the consistent care Chris takes to help them, and as a community, we are lucky to have someone so invested in their success.