Since distribution of the COVID-19 vaccine began at the beginning of this year, Mason Health has been on the front lines, ensuring a healthy community for all by administering over 26,000 doses of the COVID-19 vaccine throughout the course of the year. With third booster doses now available for the COVID-19 vaccine, Mason Health is continuing to find new ways to keep the Mason County community healthy through continued vaccine distribution, community outreach and convenient rapid testing.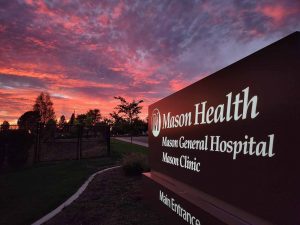 As COVID-19 vaccines became more widely available, the Mason Health team jumped into action at the beginning of this year to get the community vaccinated. At first, the goal of Mason Health was to vaccinate as many community members as possible. To create widespread access to vaccines, Mason Health set up a drive-up Vaccine Clinic, mass vaccination clinics (in partnership with Public Health), drive thru events and additional vaccination sites for community members to get their shot. As more and more Mason County residents became vaccinated, Mason Health decided to ensure not only wide distribution of the vaccine, but also that it was available to those that had socioeconomic challenges and/or language barriers.
"Our focus shifted from doing the masses, to doing more of an equity focus," says Nicole Eddins, PharmD, senior director of ancillary services at Mason Health. "In May and June, we decided to target our minority and underserved populations. We did a couple of outreach events at our local Catholic Church for the Spanish-speaking community members. We also went to homeless shelters, jails, and even brought the vaccine to some homebound patients. We wanted to ensure the entire community had equitable access to the COVID Vaccine.
The Mason Health team has become a leader in Mason County's vaccination efforts, helping to administer tens of thousands of vaccine doses since the beginning of this year. In recognition of Mason Health's work, as a hospital district, to vaccinate the community, the Thurston County Chamber of Commerce and the Thurston-Mason County Medical Society recently named Mason Health as a Health Care Champion honoree.  Accepting the award on behalf of Mason Health was Nicole Eddins, PharmD,  Terri Gushee, RN, director of population health, and on behalf of Mason County Public Health, Dave Windom, public health director and Lydia Buchheit RN, PHN, community health manager.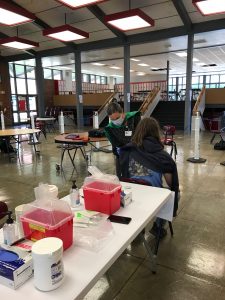 As vaccination efforts continue, third vaccine doses are also now available at Mason Health. Eligibility for a third dose is evolving, but currently includes people who are over age 65, people 18-64 with conditions that put them at higher risk for severe disease, residents of long-term care facilities as well as workers in a healthcare setting.
For community members hoping to learn more about vaccines, Mason Health has also teamed with the Shelton School District Superintendent, Wyeth Jessee, and Mason Health provider, Dr. Benjamin May, to create a question-and-answer video that answers common questions about the COVID-19 vaccine.
"We worked with the new superintendent of schools and his team as well as a local videographer, iFiberOne KMAS to put together a vaccination Q&A in both English and Spanish," says Capps. "The school district can share that educational information with their students and families. And we're sharing it more broadly on our YouTube channel, out for the community to help dispel some myths, help people understand the vaccine, the safety factors, so they can make educated and informed decisions before they decide, the direction they want to go."
COVID-19 Testing
Mason Health is also making it more convenient to get tested for COVID-19. Through partnering with the company Curative, Mason Health is now offering COVID-19 testing through a conveniently located kiosk on the Mason Health campus. Patients can either schedule an appointment, or walk up to the kiosk to receive a test. Whether a person has been exposed to the virus, has been traveling, or is participating in proactive community testing, the kiosk will deliver results within 24-48 hours of testing.
"The more people that can be seen there, the safer we can keep our communities," explains Jennifer Capps, chief development and communication officer for Mason Health. "We want to make sure that the testing kiosk stays here locally and stays busy."
Future Healthcare Workers
As the pandemic has progressed, there has been a new conversation directed toward the future of healthcare, including an increased need for nursing staff within hospitals. To help meet future demand, Mason Health is teaming up with the Shelton School District and the Health Sciences Academy (HSA) at Shelton High School to help prepare for next generation of healthcare workers.
Mason Health has been a longtime partner of the Health Sciences Academy program and as a part of the program, Mason Health has sought out new ways to prepare students for healthcare careers. Most recently, Mason Health has created a partnership with South Puget Sound Community College (SPSCC) to create a scholarship program for Health Science Academy graduates. Through the scholarship, Health Science Academy graduates can attend nursing school at SPSCC, supported by Mason Health. While in nursing school, these students have opportunities for mentorship and for job shadowing at Mason Health. In addition, we are partnering with the HSA to offer scholarships to attend our Registered Medical Assistant Apprenticeship program through Mason Clinic. Mason Clinic has partnered with the Washington Association for Community Health who provides oversight, online training, and hands on skills for students who wish to become Certified Clinical Medical Assistants in the State of Washington.  Mason Clinic will provide on-site training and mentoring.
"The hospital district will support the funding for SHS graduates to go to nursing school," says Melissa Strong, chief nursing officer for Mason Health. "And then during that time, they'll be able to come here one or two days a week, shadow the nurses and work on some of the different floors. Ultimately, the students are really going to get a broader view of what nursing is and hopefully set them up for success. We're also going to pair them with a sponsor nurse that can support the student while attending nursing school."
To learn more about COVID-19 vaccination or testing at Mason Health, visit the Mason Health website.
Sponsored