Aubrey Harrington needs just a few strides into the start of the annual North Thurston Ramrock 5K before she takes control of the field. The talented Capital High School senior gradually pulls away from her rivals, establishing a comfortable lead over the Saint Martin's University course before cruising to an easy victory. She covers the distance in a speedy 18 minutes, 51.3 seconds – more than 90 seconds ahead of her teammate Opal Ashenhurst and 2 1/2 minutes in front of third-place finisher and fellow Cougar Camille Dietrich, a senior who shares co-captains honors with Harington this season.

Her final running time is not only a personal best and meet record, it is also one of the top times in the 3A classification this year.
As impressive as the performance is, it's hardly a surprise. After all, Harrington won the first seven meets she competed in as a junior, including triumphing in the 3A South Sound Conference South Division championship, before running in the 3A Washington State Cross Country Coaches Association virtual state championship.
There's no denying it – she's one of the state's best.
As an incoming freshman, however, cross country wasn't even on Harrington's radar. "I was a soccer player for seven years before I even got into high school. I never even thought about cross country," Harrington admitted. "I loved soccer and I really thought I would do it all four years here."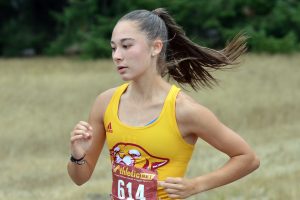 All that changed once she met a few long-distance runners at the school. "I give all credit to the team," Capital girls cross country coach Danelle Wright said about the recruiting process that brought Harrington over to the sport. "She saw how wonderful our distance crew was and she wanted to be a part of that."
The seeds were planted during Harrington's freshman track and field season and by the time fall hit, she had traded in her cleats for running shoes. "It was one of the hardest decisions I ever had to make," Harrington said about giving up soccer. "I heard amazing things about the (Capital cross country) community. I loved my time at soccer and loved the competitive aspect of it, but after track I realized running was something I could pursue in college. I thought I would just try it and ended up falling in love with the team and with the sport."
It also didn't hurt that Harrington ended up being exceptional at cross country.
In her first season, she placed fourth in the ultra-competitive 3A West Central District championships and posted a sub 19-minute time at the annual Bill Kehoe South Sound Invite, a meet that traditionally draws top teams from the Northwest, before competing in the state meet.
Though it wasn't just the success that appealed to Harrington. The running aspect was on par with the comradery and positivity she experienced while being a member of the team.
"I had an incredible support system of varsity girls," Harrington said. "They absolutely took me under their wing. They were just amazing. I would get super nervous before races and they would help calm me down. They pretty much showed me what being a leader should be."
And now as one of the senior captains, Harrington is applying what she learned two seasons ago
"I'm trying to show to the girls on this team what my seniors taught me. I am always trying to pull girls up who are maybe doubting what they can do and help with their self-confidence," Harrington said. "I want to empower them to go further and show them how to push themselves more because that's what the seniors did for me. It's been really great to be a captain and to be able to implement what I learned as a sophomore."
"She's just really positive, always encouraging the girls," Wright said. "She leads drills and explains why we are doing it this way. We have a lot of new people on the team and she's really patient with them. She's just been amazing."
Harrington followed up her win in the North Thurston Ramrock 5K by registering a 12th place finish in the 25th annual John Payne Curtis Cross Country Invitational at Chambers Bay in University Place, where she ran against some of the premiere runners from Washington and Oregon. She will look to defend her conference title on October 21 at the South Sound Conference championships before heading to the Westside Classic District 3-4 championships (October 30) and the state championships (November 6).
"You always wonder, what it would be like if I made the other decision (to stay with soccer)," Harrington said. "But I am so happy I decided to do cross country. Being able to have the relationships I have with this team has been so fun. I am so happy with where I am at as a runner and as a person."