Last season, Yelm High School registered its first undefeated football season in more than 80 years, leading to the question, "What do the Tornados do for an encore?"

Well, two weeks into the new season the answer appears to be picking up right where they left off.
Yelm opened the year with impressive non-conference wins over Lincoln, a 3A state semifinal team in 2019, and Mount Si, a 4A state semifinal team two years ago. A pair of victories that more than justifies the Tornados place among the state's elite.
Currently ranked No. 4 in the 3A classification by maxpreps.com, trailing only perennial powerhouses O'Dea, Eastside Catholic and Bellevue – a trio of teams that have combined to win nearly two-thirds of the state titles over the last 30 years – Yelm has won a program-best eight consecutive games, tying Spanaway Lake for the longest winning streak among 3A teams.
"We want to make a big state run. The goal is always to win a state title," said junior standout Kyler Ronquillo. "We've changed the culture around here over the last few years and you can see how much it's changed every day at practice. It's honestly an amazing feeling. This is a winning program now. Our goal is to keep it that way."
Kyler, whose father, Jason Ronquillo, is now in his ninth season as the Tornados' head coach, has certainly done his part in making that happen as he is a large reason Yelm posted its first undefeated season since 1938 last year and one of the main reasons the squad is tabbed as favorites to win the 3A South Sound Conference this year.
One of the state's top skilled players, Kyler, a starter at receiver and safety, is coming off a sophomore campaign where he was named the conference's co-MVP and has shown through the first two games this year be an even bigger nightmare matchup for opposing defenses.
Kyler, a lightning-quick playmaker who plays considerably bigger and stronger than his 5-foot-10, 170-pound frame, had 8 catches for 101 yards in Yelm's convincing 34-18 win over Lincoln. He also showed off his skill set, highlighted by a 71-yard punt return for a score, in the team's 41-20 road win over Mount Si.
"I would say my versatility is my strong suit," Kyler said. "I try to be able to do everything. Be everywhere on the field. That's the goal."
But it's not just the physical side of the game that makes Kyler so exceptional. As his dad puts, it Kyler is a "Coach's kid through and through," meaning he's a student of the game, picking his father's brain and looking to improve every chance he gets.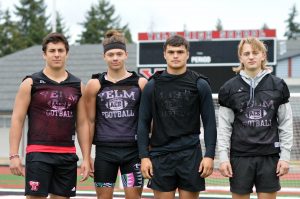 "It's obvious what he offers physically, but it's what's between his ears too that makes him such a good player. He picks up everything very fast," Jason said. "When we game plan we're looking to find a weakness on defense we can exploit. We're looking for mismatches and Kyler's the perfect candidate for us to take advantage of situations like that."
Already a three-year starter, Kyler was the Tornados' starting free safety as a freshman, helping Yelm advance to the state playoffs for a second straight year and for just the third time in program history.
"He had large shoes to fill that first year," Jason said, adding his son was an undersized 5-8, 145-pound freshman playing varsity football. "You're on display when you play safety. And when you make mistakes, everyone notices. It's not just mom and dad. Everyone notices when you're back there."
However, whatever growing pains Kyler went through as a ninth grader more than paid off the following year, as the valuable varsity experience he gained during that first season helped contribute greatly to his MVP season the following year.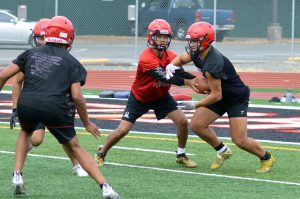 "Every day I was out here on the field working. I was going to camps, playing 7-on-7. I just wanted to improve," Kyler said. "I put on 25 pounds (from my freshman to sophomore years). I got bigger, faster, stronger. It just all started to come together. I just started improving rapidly."
Kyler, however, was not the only sophomore last season that went above and beyond with their preparation. He was joined by fellow classmates Ray Wright, who was the South Sound Conference's defensive co-MVP last season, William Carreto, a first-team all-conference linebacker, and Aden Schaler, a second-team all-conference defensive back.
"They're all hard workers. We're always pushing and motivating each other," Kyler said about his teammates. "They're dedicated. On the field they're explosive and they all have super high football IQs. It's just a great group to be a part of."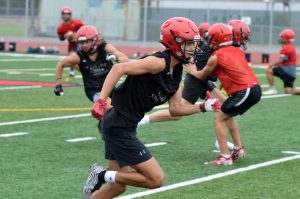 "We don't have to tell them anything about working. They're working all the time. I'll drive by the school on Sundays and see them out on the field," Jason said about his talented juniors. "Between September and March (last year) they were always in the weight room. They were putting in the work behind closed doors that entire time and the work really showed up on the field."
All four juniors are now focused on accomplishing something that hasn't been seen in Yelm in more than eight decades.
"We want to keep the winning streak going," Kyler said.