The reopening of downtown Olympia's restaurants is a welcome sight. Diners are flocking through their doors for a taste of normalcy and enjoying meals indoors, on sidewalks and patios, or via to-go and delivery services. At the Well 80 Brewhouse, managers are happy to return to work but want to remind guests that ramping up to full speed will take time and patience on both sides of the kitchen, bar or table.
Head Brewer Paul Pearson has been with Well 80 since before they officially opened. He loves his coworkers and is excited for what this summer brings. But he wants people to "be patient as we reopen, things are still a little weird." His hope is that "we keep moving towards a more normal social environment, where we don't have to worry about getting sick when we meet people."
Rebecca Hummer is their sales and marketing manager. "My favorite part about working at Well 80 is the people. Not only my coworkers, but getting to interact with people across the industry, like brewers, bar owners, and the other employees at locations I am delivering to. It's an incredibly rewarding industry to work in and there's a 9.5/10 chance people are in a good mood when you are delivering beer to them. Well 80 was well established when I entered into this role, and I find myself very fortunate to represent a company that already had grown such a strong reputation for itself."
She hopes the summer brings events like brewers' karaoke, beer crawls, live music and brewers' dinners back to the restaurant. But, Hummer acknowledges: "as things begin to go back to normal, I want everyone to remember that we are all transitioning. We have some staff who have never worked here while being fully open. We are going through a major staffing shortage in the hospitality industry, which we are not used to. But one thing will remain constant: the same great food and drinks you've come to know and love. Plus, we have amazing staff who are excited to welcome everyone back."
Working behind the scenes is Chris Lascik, kitchen manager. He praises his coworkers. "It feels like a large family," he says. "Also, how we keep the history of the artesian-made beer alive!" But as with his fellow managers, Lascik admits that the Coronavirus has impacted more than simply in-person dining.
"The COVID supply issue with food is just starting to surface now, a year and a half later," says Lascik. "Some of our long running products have had to change momentarily, which can sometimes affect quality. We try to get the best possible product available but sometimes our hands get tied with what we can offer. Also, with staffing challenges, as well as the uptick in guests, there are times things may take longer. Patience and understanding that we are doing our best at all times is essential during this phase of reopening."
On the other side of the service spectrum is Donnie Wong. As front of house manager and bartender, he is often the first contact customers have with staff. He hopes visitors are "understanding and patient if any restaurant has a specific policy in place. Whether it be table size capacity, mask requirements or spacing and seating availability. I know it doesn't always make sense but just be ready to accommodate and be understanding."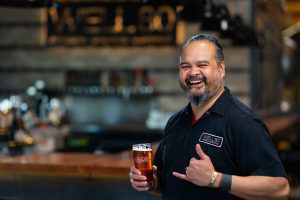 He too is looking forward to celebrations, especially their third anniversary and "the bigger in-house promotions when we all got to be loud and have a good time: moustache contest!"
As insiders, all the Well 80 managers have advice for first time visitors. Pearson recommends guests "ask for a bowl of pub corn, it is delicious!" Hummer loves the quirk that "our restrooms have TVs playing classic Olympia Beer-related videos."
Foodie Lascik explains how their "Ale cheese sauce is made in house using our Original '64 and the Artesian IPA. Also, our bratwurst sausage that we use during Oktoberfest uses a local company right up the road, Delmonico's Heritage Butcher, and it is slow braised in our Leopold's Original 1896 Lager."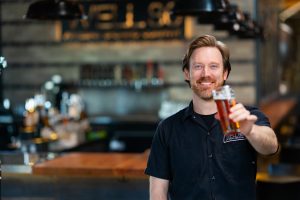 Donnie Wong agrees. "I've noticed a lot more people from out of town or new people moving to Olympia. We have an artesian well on site. The only way to get glass of tasty artesian well water is through our beer that Paul brews. If its your first time here, always try the Original '64 Lager."
Follow Well 80 on Facebook and Instagram for updates, restrictions, guidelines, menu changes, and drool-worthy photos of their food and drinks. Then head over with friends, family and an extra dose of patience for a meal everyone's sure to remember.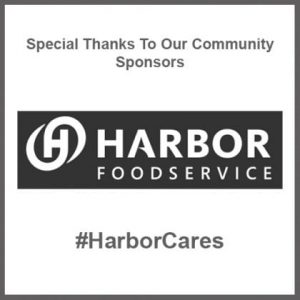 Well 80 Brewhouse
514 4th Ave E, Olympia
360.915.6653
Sponsored