The South Puget Sound Community College (SPSCC) volleyball team will kick off its Northwest Athletic Conference West Region slate of matches on Wednesday, September 22 when the Clippers travel to Lower Columbia.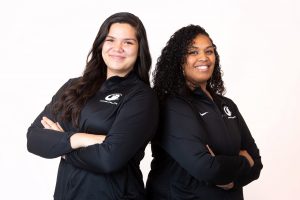 SPSCC will play a total of 12 conference matches, concluding at Pierce College on November 10. The Clippers, whose roster features just one sophomore in defensive specialist Jayde Grams, will hold their conference home opener on Friday, September 24 when they host Green River.
Additional West Region home dates include October 13 (Pierce), October 20 (Lower Columbia), October 27 (Centralia), November 3 (Highline) and November 5 (Tacoma).
The Clippers opened September with a 3-0 non-conference road win (25-21, 25-17, 25-11) over Olympic in Bremerton on September 3 to notch their first victory on the season.
South Puget Sound hit .284 as a team, led by 5-foot-9 outside hitter Jahnessa Hill, who finished with a game-high 10 kills. The Clippers also received eight kills from Khalia Craig and four kills from Vasa-Lilo Langi.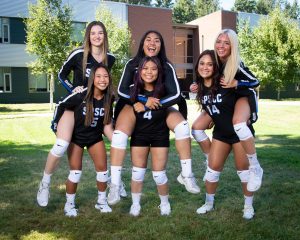 Kolonasio Tua'one posted a game-high 14 assists, while teammate Emily Snider dished out 8 assists. Silke Constant and Grams led the way with eight and seven digs, respectively.
Snider assisted on a Layne Martin kill which broke a 16-16 tie in the first set and ignited a 6-2 run by the Clippers before a Hill kill ended the set to give SPSCC the 25-21 triumph.
The second set saw the Clippers race to a 11-5 lead following a service ace by Grams. Olympic was able to cut the deficit to 20-17, but back-to-back kills by Craig and an ace from Tua'one ended the threat to give South Puget Sound the second set (25-17).
The third set was never in doubt as the Clippers held leads of 12-4 and 17-6 before a Snider kill and Olympic attack error ended the set (25-11) to give SPSCC the sweep.
The Clippers followed the win by losing at Skagit Valley 3-1 (25-20, 25-17, 26-28, 25-21) on September 7 before playing in the NWAC Crossover at Bellevue College where they lost to Columbia Basin (3-1) and host Bellevue (3-1) on September 10 and Southwest Oregon (3-1) on September 11.
Through September 15, Craig, a 5-foot-10 freshman from Tacoma's Mount Tahoma High School, leads the NWAC in hitting percentage, attacking at a .359 clip. She also ranks 19th overall in kills per set with a 2.71 average and is 25th in blocks per set at 0.65.
Sponsored