Firefighters are an asset we hope we never need, but in times of danger or loss, they are an invaluable resource. You may not know that nationwide, nearly 70% of departments are made up of volunteer firefighters. Locally, South Bay Fire District 8 is a volunteer-based unit which serves more than 12,000 residents in a 33-square-mile radius. They receive more than 1,200 calls each year, each handled with care and skill. They're looking for additional volunteers to welcome into the South Bay Fire family and you could be the one.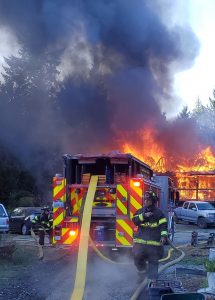 Assistant Chief Brandon LeMay explains that currently: "We are a combination Fire Department, meaning that we rely on a combination of both career and volunteer responders who respond side-by-side and as part of the same crews. We currently have over 40 volunteer and 15 career responders that rotate shifts to cover our fire district 24/7."
To keep their two active fire stations fully prepared, LeMay encourages residents to apply. "We accept applications any day of the year however we only process them and conduct interviews twice a year in order to prepare a new group and enroll them into our certified county fire and/or EMT academy. Our cut-off date to interview applicants is October 1 and April 1 in order to select, prepare and process new members in time to enroll them into Academy. Ideally, we are looking for members who are willing and interested to become both Firefighter and EMT certified, however we do have members that do one or the other."
And no experience is required, though lateral—already certified—applicants are always welcome. "Most or our new members join us with no experience," says LeMay. "We provide and pay for all the training and certification, and we even assign a current member to them as a mentor to guide and support them while getting trained."
Starting out involves some up-front testing costs and quite a lengthy application process but once selected upon graduation from the academy, chosen recruits are offered a small stipend of $500 to cover earlier costs. There are also stipends available depending on the number of shifts worked.
"One of the things I see when we get our new recruits in, is the pride that is earned in starting in the fire service," says Janet Notarianni, the station's administrative assistant. "It is exciting to see the enthusiasm they bring as they are entering the field. There is extensive training that we guide them through and the result of their effort and skill is greatly respected in our community. Serving the community, having pride in that service, and sharing respect among fellow firefighters and citizens, is key to the departments "Servant Attitude."
Volunteering is a great way to help your community but it's also tremendous hands-on work experience. "A good number of our volunteers are interested in changing careers (or starting a new career) in the Fire Service," admits LeMay. "Volunteering is a great—and very common—way to get that initial training, certification and experience to get a foot in the door."
This is because "volunteers can network, respond with, and meet other members in the fire department," LeMay continues. "This helps to learn how the hiring process works as well as make some connections and possibly new references. Many of the vacancies we have now are a result of losing volunteers to new career opportunities. While we miss those members when they move on, we are very happy for them, and we are proud we could be a part of helping people achieve their goals."
Volunteering is also a good way to see if a first responder career is for you. Calls can be dramatic, emotional or dangerous. LeMay strongly encourages "anyone considering becoming an emergency responder, do some research on local fire departments. Find the best fit for you! Not all departments have a volunteer program, not all volunteer programs work the same way. Learn about the selection process and the expectations and full commitment before applying anywhere. Being a volunteer firefighter has drastically changed over the years—it's far more competitive and challenging than before. Once you understand the options and expectations you can make an informed decision."
Notarianni agrees. "What I see is that starting as a volunteer Firefighter/EMT offers a lot of opportunities to grow and expand skills," she says. "We have pathways designed to advance each volunteer up in ranks. For some it is a path to a career in fire service, some find that it has opened a desire to work in other related fields like paramedic or nursing, and others find that being part of our volunteer crew is very fulfilling in itself. We have volunteers who have been here for more than 20 years, which is a testament to the team here at South Bay Fire."
Reach out to LeMay directly with questions. He's available at 360.491.5320 or lemay@southbayfire.com. He's happy to discuss the program, requirements, enrollment details and volunteer process. "Currently due to COVID-19, we don't have the station open to outsiders," says LeMay, "However, I normally invite people to come in and have a coffee and get a tour while we talk about our program and if it lines up with their goals in order to be a win-win for all. I hope to hear from anyone out there interested in learning more." You could be part of the South Bay Fire team helping your community stay strong and safe.
Learn more at southbayfire.com.
Sponsored