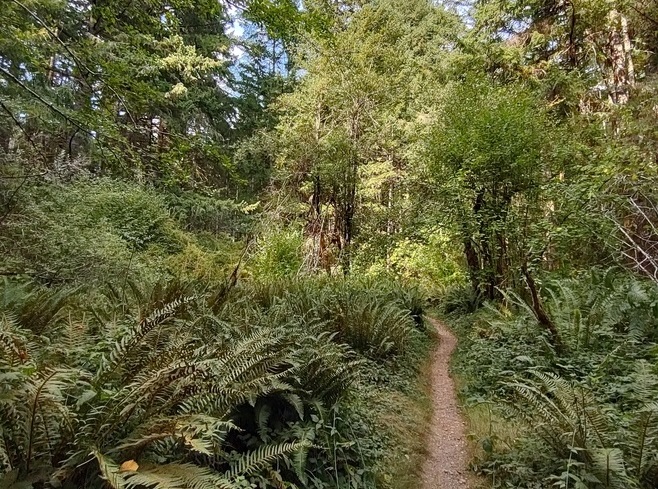 Walkers like to get out often, and they can't wait for perfect weather. Here in Thurston County the good news is that they don't have to since we've got walking trails for any type of weather. If there is rainfall, snow or blazing sun, there are trails long and short to fulfill trekkers' needs. Walkable woods from Mima Mounds in the county's southwest to Tolmie State Park in its north give plenty of options. Whether you are bringing dogs, kids, binoculars or all of the above, here are some great places to hit the walking trail for each season in Thurston County.

Admittedly, relegating these wonderful places to a specific season is difficult and not at all prescribed. Nearly all can be enjoyed year-round, but some features are accentuated or more appreciated in a particular season. Keep a Discover Pass handy in the glove compartment as one is required in most parks. And, with Washington weather, keep both your raincoat and sunglasses close at hand.
Where To Go for a Walk in the Spring in Thurston County
A walk at Mima Mounds Natural Area Preserve allows for absorbing the warming sun that was missed over the winter months. After emerging from the parking lot and tree line, the prairie opens to multiple trail loops and two lookout platforms. Visitors can choose whether to cover two or three miles of gravel trail, stroll shorter loops or explore along a half-mile ADA accessible path. Prairie flowers, grasses and wildlife such as frogs, gophers and birds live among the hundreds of acres of geological phenomena of the mounds themselves.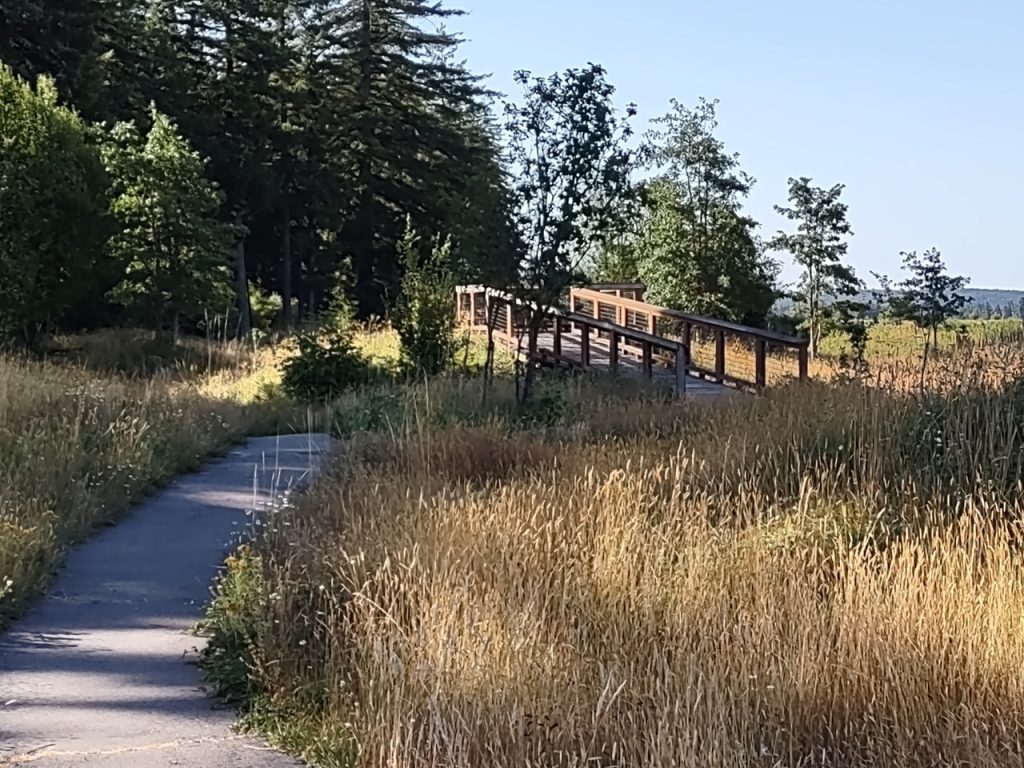 Springtime at McLane Creek Nature Trail is the time and place where your preschooler can try out those new rain boots. Trail terrain is made up of dirt and gravel paths, perhaps some mud in a rainy spell, and there are long spans of raised, wooden boardwalks. Paths are laid out with a larger outer loop with a path across the middle for a shorter route. Bring binoculars, the kids, the dog and visit the beaver pond and see the multitude of resident wildlife. Close observation will reveal native bird species, turtles sunning on logs and newts swimming among the lily pads.
Where To Go for a Walk in the Summer in Thurston County
Walk where woods meet the salt water at Woodard Bay Natural Resources Conservation Area for a short but shady journey along Whitman Road. Closed to traffic and meant for observing nature, this single lane, three-quarter mile road leads to Weyer Point. While there is little shade out at the point, there is a restroom, beach to explore, serene views of Henderson Inlet, interpretive signs and hopefully a nice cross breeze. On the way back, take the loop trail from Whitman Road that reconnects after a woodsy 1.5-mile stretch.
Olympia's Grass Lake Nature Park on Kaiser Road is 171 acres of woods and water nestled into a West Side neighborhood. The trail is a narrow, one mile loop of dirt and gravel through shady cover where bird watchers can look for over 100 different species. Look for a bench among the trees on the far side of the loop for a quiet sitting spot to watch the birds, frogs or rabbits pass through. There is no bathroom and dogs are not allowed, but it breaks the summer heat and gives one the notion of being far off in the forest.
Other cool escapes include Mima Falls Trail in Capitol Forest that weaves in and out of shade with a waterfall and creek as the destination. Tolmie State Park has its wooded Four Cedar Loop and access to Puget Sound. In Olympia, Priest Point Park trails often provide glimpses of Budd Inlet through the trees, has a great footbridge and access to Ellis Cove beach. Lacey's William Ives Trail stretches 1.5 miles through suburban woods from Willamette Parkway to Campus Park Drive in Hawks Prairie.
Where To Go for a Walk in the Fall in Thurston County
Millersylvania State Park in late October and mid-November is a multi-colored array of leaves. Towering maples carpet some stretches of trail with leaves bigger than a frisbee. From the parking lot, go west to the tree line where you will find a map posted. From there, you can choose the length of your walk or small hike. The Park offers plenty of short loops from less than a mile to nearly four miles covering the whole park. Trails are mostly dirt paths with little to no elevation gain and one small span of raised boardwalk.
Where To Go for a Walk in the Winter in Thurston County
Rain and cooler temperatures merely mean planning to keep dry and warm along many of the same trails that you enjoyed in the other seasons. An amazing shift happens among the deciduous trees and the sleeping spring plants. Heavy mosses, lichens and algae get to show off their brilliant greens and blueish hues. Walking Whitman Road through Woodard Bay or taking the Four Cedars Loop at Tolmie are just two examples that demonstrate this otherwise hidden display.