Speaking to local attorneys in a virtual acceptance speech for the Thurston County Bar Association (TCBA) 2021 Daniel Bigelow Award for outstanding service, attorney Chuck Szurszewski says: "I think being a lawyer is a gift. I ask that you share that gift, that you help people with that."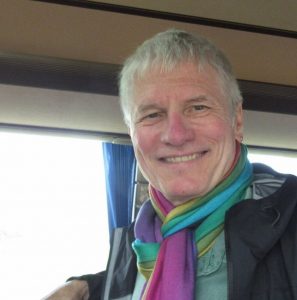 Szurszewski is a lawyer with the Connolly Tacon and Meserve firm in Olympia. Daniel Bigelow, a pioneer attorney in Olympia, was instrumental in creating the Washington Territory in 1893. Bigelow was an advocate of equal rights, women's suffrage and public education. The TCBA established the annual Bigelow Award to recognize longstanding exceptional legal and community service in the Thurston County area. Due to COVID-19, Szurszewski accepted this year's award remotely.
The TCBA is a nonprofit organization that opens doors to legal resources for its members, the judiciary and the public. Examples of resources include providing legal education seminars for members, conducting monthly membership meetings, giving notices of job and volunteer opportunities, and maintaining a website of law-related information. TCBA President Geoff Hulsey, an attorney with Rodgers Kee Card & Strophy, P.S., says due to COVID-19 the TCBA moved several activities online, like the recent award acceptance process. "We used to get together for lunch," he says. "We'd pat each other on the back, set aside legal arguments, get updates on the law. We have had to go to an online situation, with no food."
Husley says the association takes time each year to acknowledge particularly significant contributions to the community by members through efforts like the Bigelow Award. This year, the state's legal community also recognized another association attorney, Meredith Gerhart, with a yearly award. Nominated by the TCBA, Gerhart received the 2021 Local Hero Award from Washington State Bar Association. The WSBA gives the award to attorneys who have made noteworthy contributions to their local communities.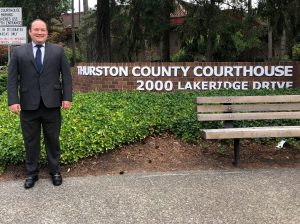 Gerhart also chairs the TCBA Family Law Section. The TCBA's sections focus on certain practice areas or law-related interests. The sections include criminal law, family law, pro bono, real estate/land use/environmental law, young lawyers, and diversity and inclusion. Hulsey says the Diversity and Inclusion section is just one example of visibility the association can bring to legal issues of high interest. "The more voices we have, the better we are going to be," he says. "I really appreciate those who are involved in this."
The TCBA also looks for opportunities to interact with persons outside the legal field. "We want to bring our profession to the community," Hulsey explains. For example, the association's public website provides links to information on legal research, courts and government agencies.
The website also lists member lawyer contact information and their practice areas, as well as providing the TCBA newsletter, The Legal Brief. The online newsletter gives updates on what is happening in the local legal community, including developments in the local courts like the Thurston County Superior Court. "The newsletter is a big topic almost at every board meeting," says Hulsey. "We definitely see this as keeping our membership up to date on what's going on. We have events going on, we have awards we need nominations for."
The association's outreach extends to co-sponsoring, with the Rotary Club of West Olympia, a yearly high school student speech and essay contest on a legal topic. The competition commemorates Law Day, nationally recognized May 1. "Our Director of Public Defense (Patrick O'Connor) has been in charge of Law Day," Hulsey says. The local 2021 Law Day topic was "Free Speech in the Digital Age." Student contestants addressed whether the government should do more to regulate online forums, given the U.S. Constitution's free speech protections in the First Amendment.
The TCBA also joins with other local bar associations such as the Washington Women Lawyers Capitol Chapter and the Government Lawyers Bar Association to support efforts like Thurston County Volunteer Legal Services (TCVLS). TCVLS is a legal clinic with trained volunteers providing free legal advice and information on civil (non-criminal) matters to low-income residents of Thurston, Mason, Grays Harbor and Pacific counties.
While many TCBA activities went virtual in the past year, Hulsey says the association hopes to get back to its typical in-person format in the future. He adds that they are also considering a hybrid model of in-person plus remote attendance, or other feasible options, depending upon any social distancing limitations. "Fingers crossed this will be what we need," he says of the virus contingency planning. Luckily, this year the association was able to cautiously proceed with its August annual outdoor picnic for members and their families at Burfoot Park.
The association's estimated 350 members practice in both private law firms and government agencies. More information on the TCBA is available on its website.