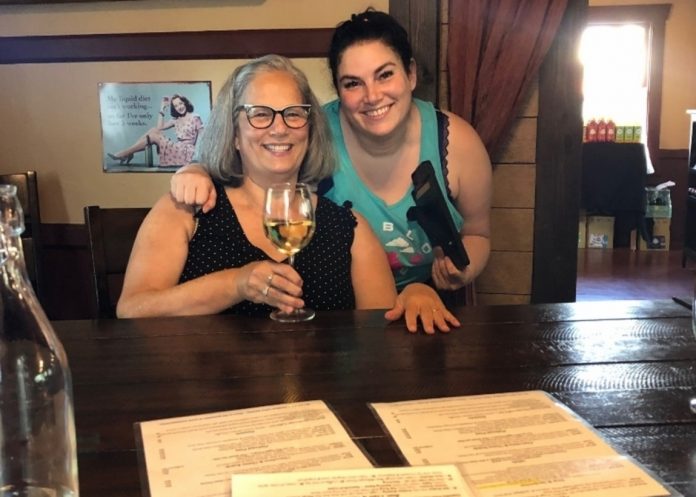 If you are feeling a bit pushed these days, then unbend, unblock, untwist, uncrate, unsnarl, untangle, unburden and unpack your stressed-out mind at the Uncork & Unwind wine bar. "We are the only one in Tumwater," says owner Michelle Pierce. "The first and only."
The wine bar offers a variety of regional wines and beers. Uncork & Unwind also serves small plates of appetizers, sandwiches, salads, charcuterie and cheese boards, flatbread pizzas, soups and desserts. "Our menu is small but mighty," says Pierce. "And it does change seasonally."
For 11 years, Uncork & Unwind has been dishing up beverages and food at it same location at 324 Custer Way South in a cozy, refurbished bungalow above the Brewery Park at Tumwater Falls (formerly Tumwater Falls Park). The wine bar has indoor seating for 24 adults (as a tavern, only persons 21 and older may enter) with the largest table holding eight customers.
The wine bar also provides a charming outdoor seating area that is perfect for crisp autumn and winter days, especially when alfresco dining is in demand during COVID-19. The outdoor seating offers covered and heated areas. Pierce says the outdoor space has helped the business survive the impact of the virus. "We did a lot of pivoting," she says. "We utilized the outside and were able to stay open."
Fall is also an ideal time to try one of the multiple popular soups on the monthly variable menu. Soups often include gluten-free and vegetarian options. Soups span the flavor spectrum, with varieties such as Mexican street corn, chicken posole, Hungarian mushroom, sausage eggroll, coconut curry lentil, tomato basil, garlic white bean, sweet potato, and dill pickle, to name just a few. For several months when indoor dining restrictions were in effect, Pierce launched soup-related remote communications with customers via an online "Souper Sipper." She provided viewers a soup recipe and showed them how to make it. "It was super fun," she said. "The idea was to keep people interested."
"We also did a virtual wine tasting," Pierce adds. "We worked with a sommelier." Uncork & Unwind sponsors events each month like wine tastings, holiday celebrations and other special occasions. Some recent tastings, labeled "#WineNotWAWednesday Wine Tastings," featured a different Washington winery each week. Ambassador Wines of Washington, Tertulia Cellars, Naches Heights Vineyard and Dusted Valley/Boomtown were just four of the several wineries highlighted this summer. Upcoming tastings from additional wineries are listed on the wine bar's website and Facebook page. Rather than a particular winery, other tastings at Uncork & Unwind feature a type or types of wine, such as sparkling and rose wines. Events often sell out in advance.
Pierce says she is still working on setting up other wine tasting events for the remainder of 2021. "We are trying to figure out [going forward] how to utilize the #WineNotWAWednesday wine tastings," she says. One seasonal event Pierce hopes to schedule is a Halloween candy and wine pairing. Pierce says they will invite customers to wear costumes of their favorite 1980s cartoon character. Pierce also plans to bring back a murder mystery event, and then later to organize an "Advent calendar" of wines. "It's fun to do all kinds of weird things like that," Pierce says. "It's fun to try new things."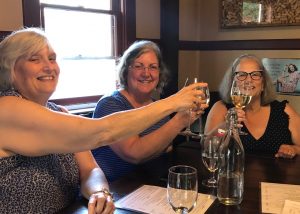 Uncork & Unwind is the home of a Red Wine Club and a White Wine Club. Members are invited at designated times to participate in blind taste tests of five wines. Members then choose two wines for later pick-up, with payment at a discounted rate. Members also receive a discount at other wine tasting events.
Another option permits customers buy a case of 12 bottles assembled on a theme designed by Pierce. Themes can focus on activities for a particular time of year, such as a football season case of red wine is called "Are you REaDy for Kick Off?" and a case of white wine is named "Friday Night Whites."
As part of its support for the local community, the wine bar spotlights other area businesses and organizations. At some online soup events, Uncork & Unwind held drawings for a gift certificate to a local business. At other events, 10 percent of the sales go to organizations such as those providing backpacks and shoes for local children, supporting animal protection groups, and raising funds to combat amyotrophic lateral sclerosis (ALS).
Customers can also book the facility for birthdays, showers, retirements, anniversaries and other gatherings. But at the end of the day, Uncork & Unwind is also just a perfect place to sit, enjoy a local wine or beer, and unpack your troubles. "It's such a great place to meet friends," says patron Bev Roder. "The atmosphere is so warm and inviting."
Uncork & Unwind
324 Custer Way South, Tumwater
360.943.9463