Long summer days are either delightfully lazy or booked solid with activities. Day trips, vacations, summer camps, afternoons on the water, camping, sunset drives, sports, farmers markets…it's a lot. A little planning (and a hearty meal) goes a long way to keeping your family in the right place at the right time and in the right mood to enjoying all that the Northwest has to offer. But keep Thursday evenings free to Get Your Trucks in a Row hosted by Olympia's Capital Mall.
Get Your Trucks in a Row takes place every Thursday from 5 p.m. to 8 p.m. from July 8 through August 26. In the parking lot near Century Theaters, come explore food trucks, music and summertime fun galore. "We want to bring together locally-owned eateries to celebrate and promote small business in the area and offer our guests a new center event and eatery options," says the Mall's Marketing and Business Development Manager Stef Muegel.
These events have so far brought in more than 300 guests per week and the numbers are growing. They are part of an ongoing—and welcoming—effort on behalf of Capital Mall management. "Post COVID, we are reinventing, and we are listening to what the community wants and how they want to gather at the center moving forward," says Muegel. And if the past has taught us anything, it's that food trucks are beloved hubs of delicious food and become an instant gathering place.
Each week's attendees will be posted to the Capital Mall's Facebook and Instagram pages. Music will be provided by 96.9 KAYO and rotating vendors like Rejuvenate IV Hydration & Wellness Center and the Washington Army National Guard will be on-site. Stacy McIntyre, owner of Rejuvenate, enjoys these weekly get-togethers. "It's a great event with lots of great food and entertainment," she shares. "We loved being there and will be there again next week. Worth the visit."
There will also be a 21-and-over beer garden each night hosted by Taqueria La Esquinita. With three food trucks, based in Tumwater, Olympia and Littlerock, they offer hand-crafted food described as "a tribute to the small family kitchens that adorn the corners of Mexico." In addition to the beer garden, their food truck menu includes fajitas, tamales, quesadillas, tortas, tacos, burritos and amazing specials and sides.
Other rotating food trucks include Polish Cuisine on Wheels and their homestyle golabki, stuffed cabbage, pierogi, Polish dumplings, real smoked Polish sausage, crepes and nalesniki. Prefer pizza? Visit Bastard Pies for one of their truly unique compositions. Whether you choose the Anne Boleyn with potatoes, caramelized onions, rosemary, black pepper and parmigiano Reggiano, or the Walker Texas Ranger with smoked tri tip, chimi churi sauce, sweet potato, aged cheddar and topped with fermented cabbage and crispy shallots, there's something for everyone.
On Thursday August 5, come see the Washington National Guard's Humvee and learn about the National Guard's 8,000-plus citizen soldiers, first organized in 1855 to keep our state and region safe in times of crisis.
For updates and additions to the weekly lineup, follow the event via Capital Mall's website. There you'll see that week's attendees and find links to their menus and storefronts. You can also share the details via Facebook to make it a home-away-from-home block party for family and friends.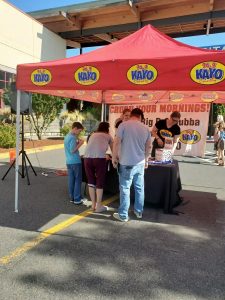 While at the Capital Mall, grab tickets for Sam Miller Presents Comedians I Love Doing Comedy each Saturday in July. With two shows a week, comedians from Seattle, Portland and everywhere in between will be on site to have you rolling in the aisles.
You can also sign up for the American Red Cross Blood Drive taking place on Friday, August 20. Even before the rigors of COVID-19, blood supplies were critically low nationwide. If you can, register in advance and swing by the store front next to Hawley's Gelato and donate between 1 p.m. and 6 p.m.
Summer's beautiful, sun-drenched nights are not to be wasted. Get your ducks in a row and head to the mall for a little back-to-school shopping—yes, it's already that time of year—followed by dinner under the stars. Whether you stay and eat or take treats to go, Capital Mall's Trucks in a Row is the perfect end to your day, however you enjoyed it.
Sponsored