Our country has been protected and supported hugely by the veterans and active-duty service members across our different branches of service. The Evergreen State College wants to support them back by providing the resources and services they need in order to pursue higher education. Evergreen established the Veterans Resource Center to serve as the sole resource for veterans, dependents, and active-duty members to utilize while attending college. Director Randy Kelley shares how impactful this service has been for individuals returning to school or attending college for the first time.
Evergreen was the first school in Washington state to open a Veterans Resource Center. The conversation began after 9/11 happened as college leadership staff realized there would be a wave of veterans returning from the Middle East to pursue a college degree. "They started looking at ways to help veterans because they knew there would be soldiers returning from the battle zone that would want to go to school," Randy explains. "They knew they would need some kind of support mechanism." Evergreen set to work in 2004 and after establishing funding and bringing on a director, they finally opened the Veterans Resource Center in 2013.
Randy has been with the Veterans Resource Center as the director since the very beginning. He spent 25 years serving in the Navy before retiring as an officer. After leaving the Navy, Randy worked for 13 years as an assistant superintendent for k-12 in Virginia before retiring. In his retirement, he decided to teach at a small private university in Virginia. It was here that Randy really began to see how many veterans were attending college and needed assistance. "I got involved answering their questions and helping them," Randy recalls. He decided he wanted to learn more about how the Veterans Affairs (VA) system worked, so he obtained an internship with them. "I worked with them for a year learning about how the aid system works and how they fund education," he says.
After gaining knowledge and insight on the VA system, Randy started working for a local community college as a director of their Veterans Resource Center. 4 years later, Evergreen announced their search for a director for their new resource center and Randy jumped at the opportunity. After applying and interviewing, he was hired for the position and has been with the Veterans Resource Center ever since. "I fell in love with it here," he says. "The campus is absolutely gorgeous and it has been a great job." Originally, Randy was going to stay with the center for a year to get it up and running, but 8 years later he is still here helping support veterans through a range of services.
Randy has been impressed with how passionate Evergreen is about helping this demographic further their education. "I think Evergreen is one of the best schools I have seen for veterans," Randy says. "I have seen the way veterans are handled at different universities and Evergreen really bends over backwards to make sure veterans get all the help they need." The Veterans Resource Center at Evergreen has been awarded Principles of Excellence with the Department of Defense and has passed every program inspection with flying colors. "Veterans can be assured when they come here that we meet the standards the VA requires to use their benefits here," he shares.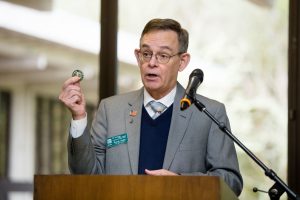 The Veterans Resource Center is a one-stop shop for veterans, dependents, and active-duty members. "It is the only place on campus they have to come to for whatever they need," Randy explains. "From the time they step on campus to the time they walk across that stage, we will give them assistance and support in any direction they need." This encompasses a wide range of services, including financial needs, counseling, and medical care. Additionally, the Veterans Resource Center has a lounge area to give veterans, dependents, and active-duty members a space to relax and connect with one another. Some of these students also have the opportunity work for the Veterans Resource Center as a way to earn income in addition to their VA benefits while going to school.
The Veterans Resource Center also has exceptional connections within the community and throughout the state to ensure all of their students can get the help they need with any issue they are facing. "We are located near the third largest base in the U.S. and are also located in the same city as the main headquarters for the Washington State Department of Veterans Affairs," Randy explains. "We coordinate very closely with them and even have a representative on campus called a vet corp. navigator that helps." With such strong relationships and resources in the area, veterans can attend school with the support they need.
Evergreen has become an exceptional place for veterans, dependents, and active-duty members to go to expand their knowledge and pursue a new career. To learn more,  visit evergreen.edu, follow the Evergreen on Facebook or email them at veterans@evergreen.edu. Randy and the rest of the team are eager to help.
Sponsored