Submitted by North Thurston Public Schools
Child Care Action Council is now serving children in-person at both of their Early Childhood Education and Assistance Program (ECEAP) preschool locations and is enrolling students for the current school year at our Pleasant Glade Elementary School location. Families can also begin enrollment at both locations for the 2021-22 school year.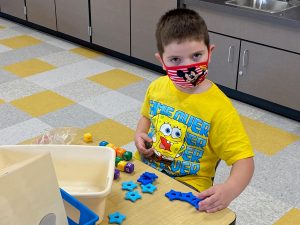 "There is a growing demand for child care in our district and county," said Courtney Schrieve, spokesperson for North Thurston Public Schools. "These additional ECEAP slots will help us serve more working families with high-quality, affordable child care!" "Success in the Early Years" is one of the primary goals of the district. Read more about it in their Strategic Plan. The district also has its own preschool program for both Special Education and typically-developing students.
ECEAP provides free preschool to children who turn 3 or 4 (by August 31) in families who qualify. Our ECEAP program tailors services to meet the needs of the families we serve. We also provide nutritious meals and snacks, health screenings, and family supports. We know that many households are struggling to get their basic needs met during this challenging time, so we work with families to connect them with resources in the community.
To learn more or to start your child's enrollment, please contact the numbers listed below.
Pleasant Glade Elementary ECEAP
19120 Abernethy Road NE
Olympia, WA 98516
tifani.keith@ccacwa.org
360-412-4897
Shelton Early Learning Center ECEAP
2412 W Railroad Avenue
Shelton, WA 98594
larissa.johnson@ccacwa.org
360-426-2898