If it was just about winning championships, Mike Michael would have retired from coaching cross country and track and field at Northwest Christian High School a year ago completely satisfied.

"That was the original plan," said Michael, "retire after last year's track season."
That plan obviously changed.
Sure, the Wolverines have captured numerous state titles, a total that could likely rival just about any other athletic program in the state, but winning at the school always took a backseat to one other aspect.
"It's definitely a family around here," said senior Becca Sowers.
And it's those strong bonds that had Michael return for his 21st coaching season.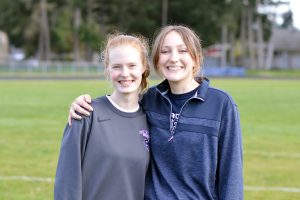 Fresh off of winning a remarkable sixth consecutive Class 1B/2B state boys cross country championship in the fall of 2019, the Wolverines were in an excellent position a few months later to potentially add the 2020 track and field state title to the school's already stuffed trophy case. Northwest Christian was simply loaded talent-wise that season, returning virtually every athlete who helped the team place a close second at the state meet the previous year.
A state track and field title was well within reach and it would had been a perfect conclusion to a stellar coaching career for Michael, who took over as head coach at Northwest Christian for both track and cross country in 2016 after working as an assistant coach for the Wolverines and at River Ridge for 16 years.
"We had four guys last year in track who all ran sub-two minutes in the 800. We had big plans," said Michael. Tops on that list was a potential appearance in the 4×800 relay at the prestigious Arcadia Invitational as a nationally-ranked team.
Only the season never happened.
"It just didn't work out that way. A week into practice the season was cancelled due to COVID," Michael said, "but we continued to work with those four boys and the bottom line is we did what we needed to get those guys into college."
That they did as Garrett McSheffrey (Arizona State), Noah Phillips (Northwest University), Cameron Nielsen (Northwest University) and Ryland McCullough (University of Idaho) are all now college runners.
While those four athletes moved on from Northwest Christian, Michael stayed, putting his retirement on the backburner for one more year.
"I just couldn't leave after how the year before ended," said Michael, a North Thurston graduate who ran track at the University of Washington.
Of course not. Not with Sowers and fellow senior Gretchen Stottlemyre – two athletes Michael had known since the two were in elementary school – on this year's squad.
"It would had been hard not coaching them during their senior years," said Michael, whose son, Aaron, was a 2012 NWC graduate and ran track for the Wolverines. "They've both been around the program for so long."
Few can speak in greater detail about the strong family-like bond the Northwest Christian track and field program has than Sowers and Stottlemyre as older sisters Heidi Sowers and Elizabeth Stottlemyre helped the Northwest Christian girls win back-to-back state titles in 2016 and 2017.
However, it doesn't end there for Sowers, one of six children in her family. Her father, Tad Sowers, coaches the throwers at the school, while, in addition to Heidi, older sisters Allison and Joanna were both coached at Northwest Christian by Michael.
"It's been weird this year because it's such a short season," Sowers said, "but I'm really thankful we were able to compete. I might not have reached all my goals since it was a short season, but I am grateful for what we got. It's just really nice to be out here spending time with Gretchen and my dad. It's nice to just to have those connections through sports."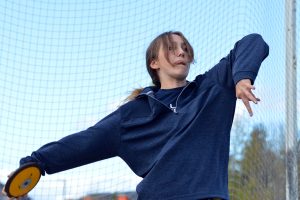 While there was no state championship meet this season, both Sowers and Stottlemyre closed out their careers as Wolverines by placing high in multiple events at the Pacific League Championships. Stottlemyre finished first in the javelin and third in the discus, while Sowers was second in the discus and fifth in the shot put.
"I was so happy just to have sports back," Stottlemyre said. "It made everything less stressful. It's been really exciting to come out here and throw with Becca every day and have fun."
Stottlemyre will attend Northwest University where she plans to return to running the 800 after not participating in the event her senior year due to a hip injury. Sowers will continue to throw the discus at Wheaton College, a Division III school near Chicago.
"They both have such great attitudes and are such hard workers. They're going to excel wherever they go," said Michael, who has already ruled out putting retirement off for one more year.
"I've joked that I've been coaching so long I need to get out before the kids of the kids I coached start showing up," Michael said. "If that happens you'll never leave."
Certainly not considering the bonds Northwest Christian creates.