In the early 1970s Dave Wilson, the founder of Dirty Dave's Pizza Parlor in Olympia, drove past a small restaurant that had recently opened just off of Pacific Avenue in Lacey. Looking to open his own pizza restaurant, Wilson was drawn to the building, despite his real estate agent's warning that the business had just opened and was sure the owner did not want to close up shop. Not deterred, Wilson decided to walk into the restaurant and offer to take over the space. Coincidentally, the owners were interested in leaving the restaurant industry and took Wilson up on his offer. From there, Dirty Dave's Pizza Parlor in Lacey was born.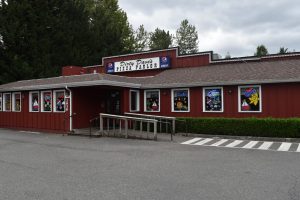 Through almost five decades of operation, Dirty Dave's has become a second home to many families in the South Sound region. After relocating from Pacific Avenue to the current Dirty Dave's location on Martin Way, Dirty Dave's has become the go-to spot for family dinners, birthday celebrations and other milestones in the community. And along the way, Dirty Dave's has developed a range of iconic menu items, whose fanfare has been passed down through the generations.
"Not much has changed," explains Stephanie Hemphill, marketing director at Dirty Dave's Pizza Parlor, and granddaughter of Dave Wilson. "You've got the posters all over the walls and some of the posters have been there since the very first days. It's just really nice, because it's got this same vibe that it's always had. It's a great place to have baseball team gatherings when we can, when we're not having social distance restrictions. It's a birthday party favorite, team favorite, great for high school reunions. We love that it's multi-generational and people love to bring their families here. And that lets our food carry on throughout it all, as people's favorites."
A tradition from mother to daughter, from grandparent to grandchild, many family memories have been created while dining at Dirty Dave's. And through the decades numerous menu items have become fan favorites, including Wilson's French Caesar dressing. Known as a type of "secret sauce" featured on the iconic Jake sandwich, the recipe wasn't much of a secret at all. Hand written and folded in Wilson's wallet, the recipe was available to anyone who asked.
"My grandpa carried the recipe around in his wallet with him," explains Hemphill. "Although it's the secret sauce, my grandpa would share it with people. Of course, the recipe was for making it in a five-gallon bucket, because that's how you make it in the restaurant. That's what I loved about it, my grandpa just wanted to feed people and make people happy. And what better way to a person's heart than through food, right? I always thought that was really interesting and that it wasn't like the secret KFC recipe. He pulled the recipe out of his wallet and would say 'here you go, I want to share it with you.' I thought that was really special."
For decades, the Jake sandwich has been one of the most popular items on the Dirty Dave's menu. Stacked high with pepperoni, salami, ham, cheese, lettuce and tomato, the Jake is complete with Dirty Dave's iconic French Caesar dressing. The Jake sandwich started out as a custom order from a regular customer. After the sandwich became popular amongst the staff, Wilson decided to make it an official menu item. When Wilson asked the sandwich's inventor if he would like the sandwich to be named in his honor, the inventor offered up an alternative name, the Jake.
"The history of the Jake is that it's not actually named after somebody named Jake," says Hemphill. "There was a guy who came in and he would order a ham sandwich and would need to substitute and add items on it to create what is now the Jake. Everyone liked it so much that they decided to put on the menu. And so, Jake is not anybody's name. People ask us that all the time. There are no Jake's in our family, the customer who invented the sandwich said call it a Jake. And so my grandpa did. That sandwich has been on the menu for a long time and it's definitely loved."
Complete with a crispy, cracker-thin crust, the pizza at Dirty Dave's features fresh ingredients with a handmade touch, including the top-selling Gay 90's Special pizza, which features pepperoni, sausage, cashews and onions. With preparations starting at seven each morning, the Dirty Dave's pizza crust, called skins in the restaurant, is rolled daily and toppings, such as the sausage, are made in-house.
"I think that that really sets us apart," says Hemphill. "We make our own sausage. So, it's not something that other restaurants will have. It's our own recipe for our sausage. We are slicing our own meats, making our own pizza sauce. Everything is homemade, even our salad dressings are homemade."
Born out of a desire to bring people together through food, Dirty Dave's has been the home of good meals and family memories. With vintage posters lining the walls and plenty of room for the entire family, Hemphill credits the warm atmosphere of Dirty Dave's to her grandfather. Wilson was passionate about sharing his love for food, while also taking time to care for the greater community. And as social distancing measures ease in the future and more people are able to dine in at Dirty Dave's, the Dirty Dave's team hope to continue that love and support for community.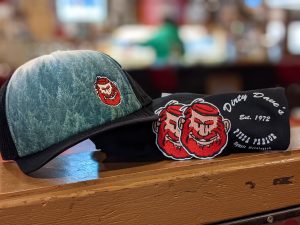 "My grandpa was just this huge personality, and people were so drawn to him," says Hemphill. "And not only was he a huge personality, but he was so ingrained in his community and he gave back. That was really, really important to him. And I think that people really resonate with the fact that the food tastes really good, but also that it's also a really good experience dining at Dirty Dave's. We're so thankful to have customers back in the doors, in the restaurant, because our food is great, but it's an even better experience to come in and eat in the restaurant. It's a very family friendly restaurant and I think that people really appreciate that."
To learn more about the most loved menu items at Dirty Dave's, visit the Dirty Dave's Pizza Parlor website.
Dirty Dave's Pizza Parlor
3939 Martin Way E, Olympia
360-456-1650
Sponsored