Your long-distance travel may be limited these days, but you can treat your tastebuds to ethnic and regional cuisine without leaving Thurston County. The Olympia Farmers Market hosts eight unique eateries, each working diligently to offer fresh, authentic food. "This is the largest collection of international restaurants south of Seattle," says Tony Judah, owner of Paella Pro.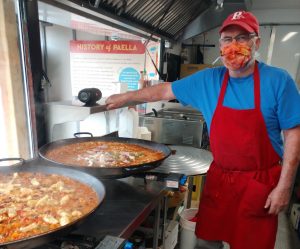 What countries interest you? Make your choices and find expanded seating at the Farmers Market. You could also take your delights and head to the waterfront or take everything to your own kitchen table. Here is what's waiting for your tastebuds at the Olympia Farmers Market.
Paella Pro
At the east end of the Market, locate the giant Spanish paella pans and you'll find Tony with Paella Pro. He prepares a trio of possibilities every day. The vegan version highlights mushrooms, garbanzo beans, Kalamata olives, artichoke hearts, Bomba rice and more. The mixed paella features custom-made chorizo with chicken thighs, shrimp, onions, tomatoes, green beans, Bomba rice and saffron chicken stock. The third varies with Tony's mood and available ingredients. Tony shops at his neighbor Sea Blossom Seafoods and other vendors, too. You can check the Paella Pro website for the weekly specials. "I love the atmosphere and the vibe," says Tony. "The nicest customers of all the places I have worked are here."
Curry in a Hurry
Featuring flavors from northern India, Curry in a Hurry has been part of the Olympia Farmers Market for well over a decade. If you are new to curry, it is not automatically spicy hot. You can adjust the heat with the homemade hot sauces and chutneys. A mango lassi is a perfect accompaniment to any curry dish, whether you need the cooling properties or not. Gluten-free is no problem and there are lots of vegetables as well as meat, if you want it. You can order meals to-go online including ones to heat and serve at home.
Los Tulenos
Roberto Perez and Saul Serrano have been cooking together for 37 years. Both men retain good humor and a relentless work ethic. "We do everything," says Roberto, which I believe means they chop, prep, cook, serve, wash, take out the trash and everything in between at Los Tulenos. They love their home country and bring soul-warming dishes to the Market. "There are no bad days," affirms Roberto.
Dingey's Puget Sound Cuisine
Dingey's Puget Sound Cuisine is now run by Dan Ricklick, who carries on the business of his parents Teresa and Craig Ricklick. I remember Craig walking around the Farmers Market with a duo of stemmed cherries draped around his ear like jewelry. The intimacies of food and family are intertwined, and we create memories when we share recipes and meals together. Dingey's continues to serve flavors of the northwest with crab cakes, strawberry lemonade and chowder.
Madeline's Bavarian Wurst
Eating wurst is a world of its own. At Madeline's Bavarian Wurst the names are funny – bratwurst, bockwurst, knackwurst, and the Hot Mama. The sausages have distinct flavors, colors and looks. They are good any time of day or night. While in Austria, wurst led me to discover mustards, another realm of tastes and textures. If you prefer pancakes and eggs in the morning, you're in luck. You can add curly or sweet potato fries. Madeline's chooses Olympia Farmers Market vendors and other local sources in creating daily selections.
Heyday Cafe
There's plenty of coffee at Heyday Cafe, along with breakfast all day. Heyday has sandwiches and soups plus green smoothies, milkshakes and plenty more. They also do business with their neighbors. Beans come from Batdorf & Bronson and bread from the San Francisco Bakery.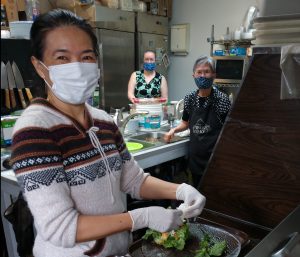 Soba
"It's fun seeing our customers, then their kids and their kids' kids," says Bonnie Smith who works side by side with her mom Minh Smith at Soba. Noodles are popular with kids of all ages and using chopsticks is fun. The popular spring rolls are made daily. It's an art, making them smooth and tight so you can see the colorful insides, but it's not easy, I've tried. It's a developed skill. "These are my favorite spring rolls in town," says a loyal customer, "including the sauce!"
Pithos Gyros
Lucky for me, I married into a Greek family. I'll never be hungry, and someone will always love me. It's great. Just imagining gyros, roasted potatoes, feta and tzatziki gets my stomach ready for a feast. You will find these favorites and more at Pithos Gyros.
There are far more food choices than days, which means you can try a new dish every time you are in the Olympia Farmers Market neighborhood. "I'm a vegetarian, and I have choices here," says John Nason, assistant market manager. Meat lovers are welcome, too. The Olympia Farmers Market is in full swing open Thursdays through Sundays 10 a.m. to 3 p.m. You will find free parking and vendors delighted to see and serve you. You don't need a passport for this travel.
Olympia Farmers Market
700 Capitol Way N, Olympia
360.352.9096
Sponsored