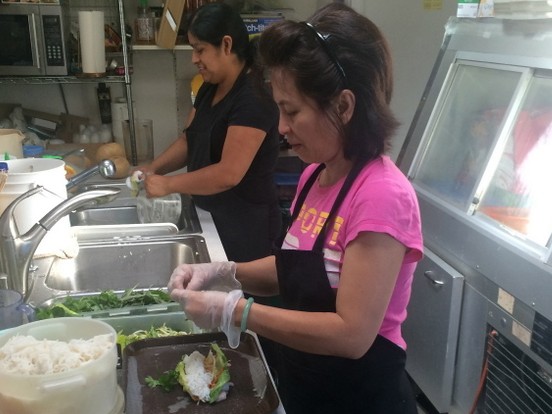 By Lynn West

If you are in the mood for delicious square noodles, as our family often is, brave the long line at Soba.  Eating lunch at the Olympia Farmers Market provides options for every culinary taste, but Soba proves to be one of the most popular restaurant choices for many market-goers.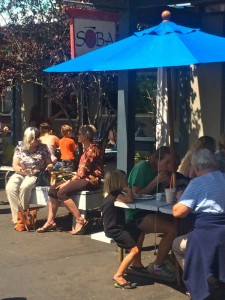 As the matriarch and owner at Soba, Minh Smith says, "We are the second oldest food venue at the market.  Only San Francisco Street Bakery boasts a longer tenure.
"Before the current site opened in 1990, we sold our noodles out of a tiny trailer when the market was down the road off Capitol Way," reflects Minh.
Minh came to Olympia in 1968 from Vietnam and began her restaurant career with her husband in 1973 as owner of Ben Moore's.  Her daughter, Bonnie Smith, who worked with her mom for many years at Soba, now spends most of her time at Ben Moore's.
Over the years, Soba's menu has expanded from noodles and chicken skewers to include teriyaki, chicken salad, egg rolls and fresh spring rolls.  The Soba noodles, square rather than round-like spaghetti or flat-like udon are still the signature dish.  Minh explained, "Each restaurant at the market has a specialty and no other restaurant can duplicate it.  Even though Asian curry is distinct from Indian curry, since that is Curry In a Hurry's trademark dish, you will never find curry at Soba."
A look at the behind the scenes preparations early on a market day exemplifies both Soba's family atmosphere and the fresh, healthy quality of the food they serve.  Bibiana Cruz has worked at Soba for fifteen years and is master of the egg roll.  She had already made two large trays before I arrived around 10:00 a.m. and the symmetry of the rolls was amazing.  Take a moment when you next order one to appreciate their precision before you crunch your first bite.
Kim Nguyen, who has worked at Soba since 2010 is in charge of the ever-popular spring roll. She didn't blink an eye as she gathered fresh ingredients from the prep cook, stuffed and rolled.  She must be flexible, willing to adjust to the market's demands.  On a slow day, she may make only 50 rolls but on a busy day, as many as 120 rolls pass through her talented hands.
To accommodate folks on their lunch hour, Soba prides itself on quick service.  However, everything is fresh and made from scratch each day. To keep customers happy, and moving, starting early in the day is essential to being ready for the rush.  Minh plans carefully so leftovers are at a minimum.  Still, if noodles are left at 3:00 p.m., the staff has a nice evening meal for their families.  One secret I learned? Don't believe the sign that says spring rolls are only available on certain days.  If Soba is open, Kim is making them.
Around noon on a recent Thursday, I asked the fifteenth person in line, "Is the wait worth it?" Yes is the resounding answer. Carolyn Rice told me she comes to the market every week, and Soba is usually her first stop.  "The service is great, the food is fresh, and they always accommodate my needs," she explains.
The little ones in my family enjoy slurping the noodles any way they can, often not in the most elegant manner.  Emily Stephen's girls, Hazel (7) and Cici (4), were nicely eating their noodles.  They are definitely beyond the slurping stage.  Hazel says, "I like both the eggs rolls and the soba, but I also like the snow cones!"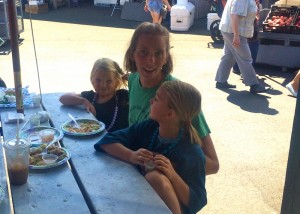 That's what is nice about the market – all tastes can be accommodated.  A family at the same table chose Thai Tea from Soba rather than snow cones from the adjacent cart to finish off their meal.
It's amazing to learn of the friendships forged through the windows of Soba's tiny 16 by 19 foot restaurant.  Bonnie says, "Over the more than 30 years I worked with my mom at Soba, I have made many lifelong friends. I have also watched young children grow up before my eyes, and now they are parents bringing their children to Soba."
Minh commented on the affordability of the menu items, but says, "We try to keep the prices as low as we can, but still maintain the quality.  However, each year rent and wages go up, so it is a delicate balance.  We always have the loyalty of our customers in mind."
A quick survey of those in line revealed locals had brought out of town guests from Portland and California to their favorite spot at the Olympia Farmers Market. Bonnie explains, "We have never had to advertise as Soba has been self-promoting.  We so value our relationship with all who come to Soba."
Bibiana adds, "It is amazing to see the same folks coming over and over."
Soba has become a summer tradition for many hungry market shoppers.  If you haven't yet become a square noodle lover, make Soba your next lunch stop at the Olympia Farmers Market.  For hours and location, click here.