The epiphany came to Terryl Graham while she was driving down College Street one day in 2019. At an age where many consider retirement, she had recently found herself unemployed. "I was thinking about what I wanted to do that would make me happy," she recalls, "and what came to mind was working at the Lacey Chamber. The chamber makes a difference in people's lives."
As far as she knew the chamber had no job openings, but she called her close friends Madelin White and Martin McElliott, both chamber board members, anyway. It turned out several transitions were in process. Blaine Land, who was executive director at the time, recommended Graham for the position of finance director and shortly thereafter, Graham was hired.
She initially joined the Lacey South Sound Chamber in 2012 through the nonprofit All Kids Win, formerly known as Homeless Backpacks. "Our partnership with the Chamber was wonderful," she says. "Whenever we had a fundraiser, they would give us address labels to send to members and they made sure we were part of community events."
The new role allowed her to do what she loves: crunch numbers. "I'm a total numbers nerd who loves working with data and financial statements," Graham laughs. "Analyzing how you got where you are financially and how to get where you want to go, that's kind of my Nirvana."
In the three years that she's held the role, many changes have occurred, the biggest resulting from the COVID-19 pandemic. During lockdown, Land took a job out of state, the office manager began working remotely and Graham became the chamber's sole on-site employee, working just one day per week. "It was a struggle to do everything that needed to be done in that eight hours, but we made it work," she says. "The board was wonderfully supportive." By August, Blake Knoblauch had signed on as the new executive director.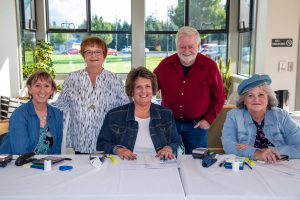 The most challenging aspect of that time was watching businesses struggle, Graham says. "We had many members who couldn't pay their dues and couldn't keep their doors open. We arranged it so they could stop paying dues until they were able to re-open." She made a point of spreading the word on social media about any virtual events or specials that member businesses were hosting.
Such support is common among Chamber members. "We're like a big, supportive family," Graham explains. "I love the opportunity we always have to give shout-outs to other businesses and it's great to see how many people line up to do that. The caring and support within this Chamber is wonderful."
Several moments stand out for her. One was when her sister Kelly Wilson was honored with a Chamber Angel Award for her tireless work with Homeless Backpacks/All Kids Win. "It was so emotional," says Graham. "We had never done an award like that and I didn't know it was coming. It was very special." Graham and Wilson are two of the founding members of the nonprofit that has been providing food for the weekend to food insecure students in Thurston County since 2004. The all-volunteer organization delivers food bags to local middle and high schools in Lacey, Tumwater, and Olympia and K-12 schools in Yelm, Rainier, Tenino and Rochester.
The Kidwiler Scholarship Foundation awards are another highlight. At monthly Chamber meetings, members have an opportunity to contribute raffle and auction items for a scholarship fund created in honor of Ray Kidwiler, one of the Chamber's founding members and its president from 1963 to 1964. Those funds are used to assist high school seniors in North Thurston Public Schools. "I love watching board treasurer Stuart Ridgeway give away our chamber-funded scholarships to these deserving seniors," says Graham.
She also enjoys grand openings and ribbon-cutting ceremonies for new businesses and participating in Lacey Loves to Read!, an annual Chamber sponsored event that's part of a larger North Thurston Public Schools initiative designed to generate the discussion and celebration of a notable author.
When she's not creating financial reports or finding ways to support chamber members, Graham is an avid Seahawks fan. "I have a woman cave," she reveals. "I am a sports girl. When I'm not here, I'm all about my Seahawks, Mariners, Sounders and soon the Kraken, my gardening and my craft room. That's the other part of my life. She is also a mother of two, grandmother of six and great-grandmother of four. "They are my life and I am so blessed," she adds.
Three years after she had her "aha" moment on College Street, Graham says her dream has come full circle. "Working here has been everything I hoped it would be. It's a wonderful community dedicated to making a difference for everyone. I'm so looking forward to what this year is bringing."
Learn more by visiting the Lacey South Sound Chamber of Commerce website.
Sponsored