To paraphrase Shakespeare, a business by any other name is still a business. But there's a huge difference between Costco and someone running a dog-walking service out of their home. It's a discrepancy Cheryl Sparkuhl picked up on when she first joined the Lacey South Sound Chamber of Commerce while representing her scrapbooking company, Creative Memories.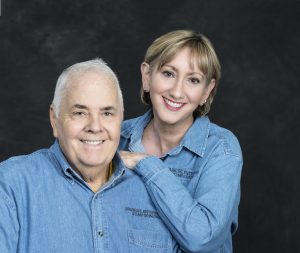 "I started noticing a lot of people, whether they were CPAs, network marketers or small mom and pop stores, that didn't have a way to connect," says Sparkuhl. "A group of us went to the board and said, 'We need a home-based business committee.' They said okay, and the idea took off."
That was 20 years ago. At the time, Sparkuhl ended up joining the board with encouragement from the  Marv Kopp, a board member at the time.  "He was like a father figure to me," she says. "He sat me down and said, 'I really think you need to be on the board. You have something to give to our community.'" It was enough to convince her to say yes.
Over time, however, she left the chamber to take on a full-time job at a local hospital. Then, in 2017 her husband started Sparkuhl Stump Grinding, a tractor work, debris removal and stump grinding company. She left the medical job to join him in January 2018 and returned to the chamber, where she was again asked to join the board. Again, she said yes.
The relationship has proved to be reciprocal. Sparkuhl brings natural leadership and an ability to question and bring in ideas. "I will ask questions, not disrespectfully, but to learn and understand," she says. "I like coming up with ideas and I don't have a fear of presenting them to people."
On the flip side, she learns new skills and is introduced to unfamiliar concepts by other board members. "I'm learning things from people like past President Daryl Murrow," she notes. "He teaches people about setting up systems so that no matter who's doing the job, it functions the same way. That has benefitted our company immensely."
Another advantage is the exposure for her family's business, which is still relatively new.  She appreciates hearing the company's name repeated during monthly meetings. "There were three members of the Lacey chamber who gave a shout out to our business in one day," she says. "It makes me feel good to know that other people can look and see, 'Oh, Sparkuhl. People are doing business with them.' It's great in the networking sense."
After living in the area for 31 years, the Sparkuhls know just about everyone, which proved to be a double-edged sword for her sons when they were growing up. They couldn't get away with much because one of Cheryl's fellow chamber members was Dr. Jim Koval, superintendent of North Thurston Public Schools. "He would come to visit their school and call my son Anthony by name, and Anthony would say, 'There's nowhere to hide.'"
On the plus side, her two boys felt completely comfortable approaching former Lacey Mayor Graeme Sackrison about developing an ice rink in the city so they could play hockey. "It wasn't my idea," Sparkuhl laughs. "We'd be driving home, and they'd tell me, 'Mom, we talked to the Mayor.' It was because of the chamber."
When she rejoined the chamber after all these years, one of the first people Sparkuhl encountered was Sackrison. He still remembered her sons and how they had lobbied him for their project. "I told him, 'They're young men now,'" she says, "and he said, 'Time is passing. We'd better get that going.'"
Having just rejoined the chamber board, Sparkuhl is not yet involved in any committees or initiatives, but the pandemic has already brought its share of absurdity. At one recent virtual meeting, she spent several moments lauding three different businesses that she had recently used for various services and products. "I was being really funny and eloquent," she says. "And all of a sudden someone looks at me and board president Christine Forrey and says, 'We're off air.'"
Rejoining the board after so much time has brought her in contact with old friends and new faces. "Fast forward all these years, I've been in the business workforce and in healthcare, which I've done all my life. Now I'm coming back in with new people in the chamber. I like the interconnectedness of the business owners on the board, looking forward for the community and thinking about how we could make things better. That's what appeals to me."
To learn more, visit the Lacey South Sound Chamber of Commerce website.
Sponsored